An around the world trip sounds like an out-of-reach, bucket list adventure. But it's possible, and many have done it – some in just 80 days.
We wanted to take things to another level and had a wild idea: what if you could travel the whole world for a year in perfect weather? Our research found the general consensus of between 70-75 °F, or 21-24 °C is ideal for most people.
What follows is an epic around the world itinerary, perfectly planned out for you to hit 52 cities in 52 weeks, with less than two days of travel time between each location. Let's jump in!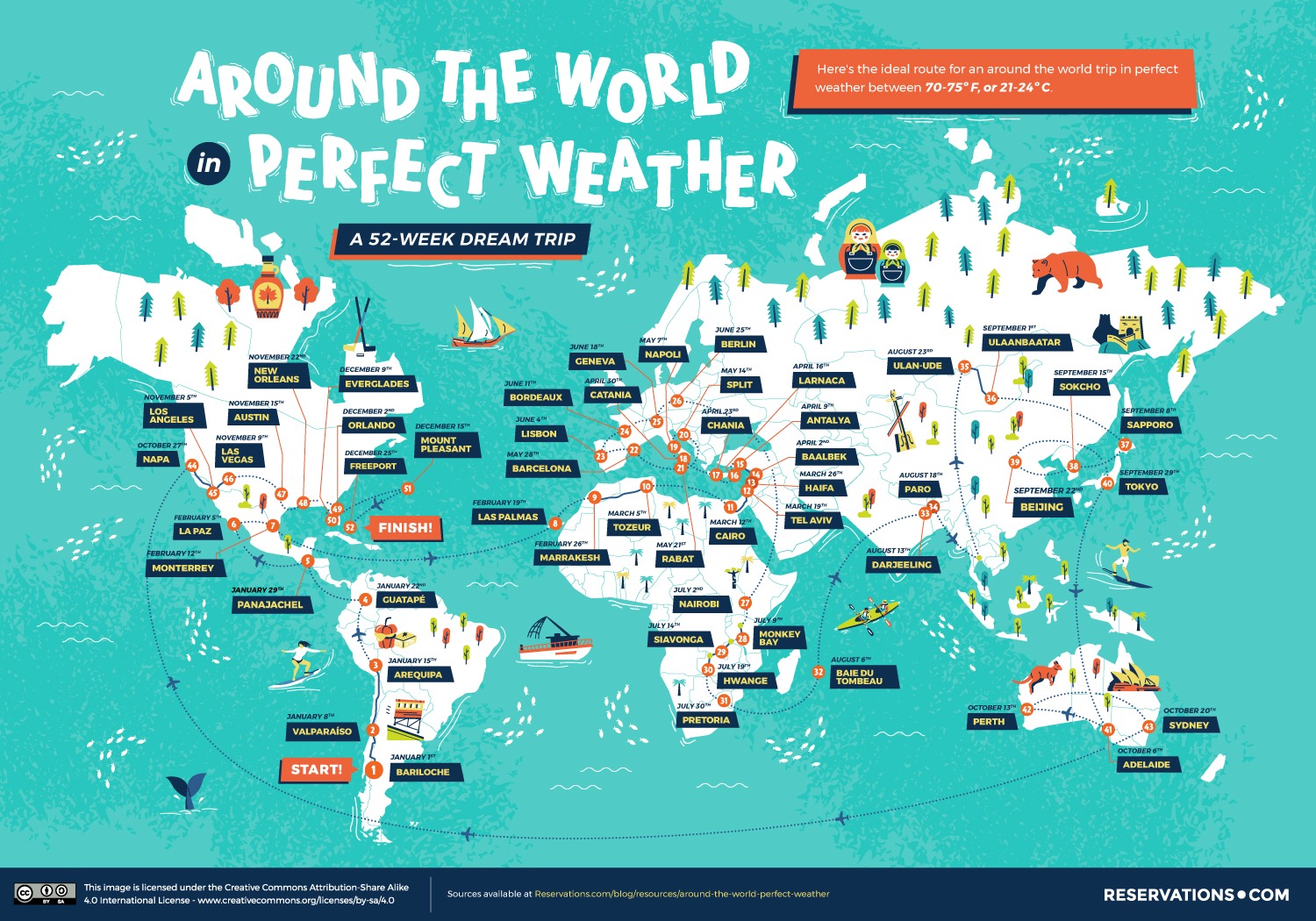 Around the world small talk often centers around weather. It's something we each experience daily and deal with from day to day, so it's not surprising that language and culture have developed in relation to the varying climates found around the world.
As we thought more about this relationship we have with weather, we wondered: is there a consensus among people about what temperature is the ideal? Each person has their own personal bias, so it's a tricky thing to pin down, but we've read a number of articles and posts and found that the range of daily highs between 70-75 degrees Fahrenheit, or 21-25 degrees Celsius was a pretty solid indicator of acceptable temperature among the majority of people.
So if you're interested in a year filled with perfect temperatures, we've carefully mapped and planned a single year that travels through 52 cities across the world resting at the ideal temperature. And trust us, finding these very specific places around the world isn't an easy feat as most of these locations are pockets with very specific times within the year when they are within this magical range. 
Latin America (Weeks 1-7)
Jan 1 – First we head deep down to the South to Bariloche, Argentina, a city nestled perfectly within our temperature range, sitting near a glacial lake with unbelievable scenery and Swiss-level chocolates.
Jan 8 – An easy coastline drive or short flight straight North gets us over to Valparaiso, Chile, a colorful, bohemian port town that inspired the famous poet Pablo Neruda to write his own lyrical ode to the city.
Jan 15 – Either by car (a rather lengthy 28 hours but exceptional views) or simply hopping on a plane, will get you to our next destination. With a magnificent volcano in the distance Arequipa, Peru is a beautifully baroque, colonial city worth exploring. 
Jan 22 – Continuing along our Northern trajectory, take a day to fly to the Colombian resort town of Guatape. Between always warm Medellin and chilly Bogota, we had a hard time finding a city within the temperature range and delightfully uncovered this gem. 
Jan 29 – Now shifting directions a bit, we veer to the northwest and fly to Central America, landing in Panajachel, Guatemala. Here the enormous Lago de Atitlán provides shimmery water and those ever so perfect temperatures we're following.
Feb 5 – Now entering, Mexico. La Paz to be exact, a city perched just at the tip of the Baja California Peninsula. Rich with beachy wildlife, you just might catch a distant glimpse of a sea lion flapping his flippers or a splashing whale tail.
Feb 12 – We turn our trip east to Monterrey, Mexico. Known mostly for being Mexico's industrial hub, this modern city is the perfect place to explore both museums and nightlife, while enjoying the mountains just beyond.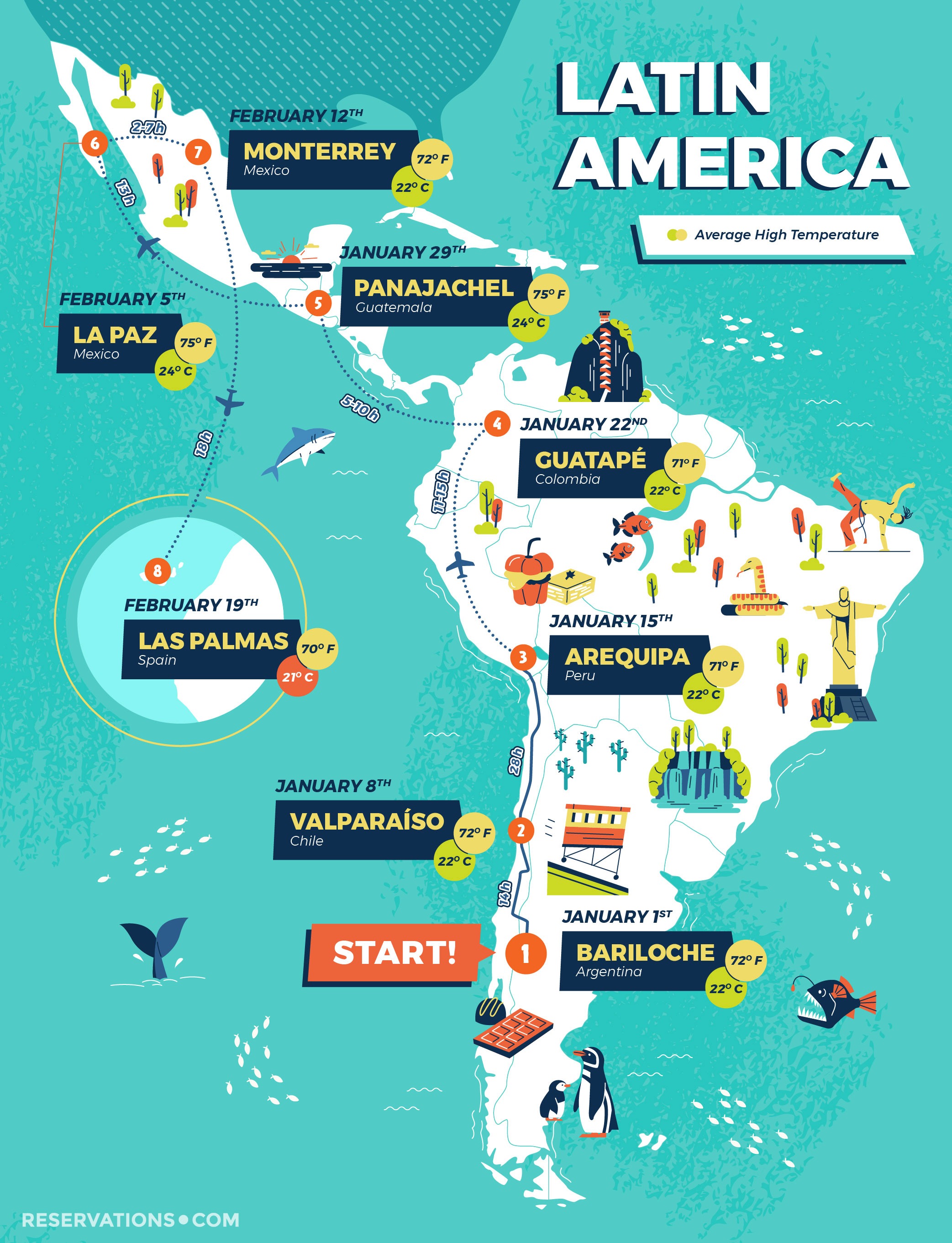 North Africa (Weeks 8-11)
Middle East (Weeks 12-15)
March 19 – Continuing along this path of typically hot destinations, our next two stops are in Israel, starting with Tel Aviv which sits on the Eastern part of the Mediterranean coast.
March 26 – Taking a swift train along that Mediterranean coastline, our next stop is nestled in the slopes of Mount Carmel where you will find the hip, beach town of Haifa, Israel. This surprisingly green city is located near the largest National Park in Israel.
April 2 – The next stop isn't far but does require a combination of travel methods to get you to Baalbek, Lebanon where you can find impressive 23 meter high columns of The Temple of Jupiter and the unbelievably preserved carvings of the Temple of Bacchus.
April 9 – No this isn't Istanbul nor Constantinople, but our next stop is a short northwestern foray to Antalya, Turkey. Here you can find Roman ruins (Hadrians Gate) alongside turquoise waters and immaculate beaches.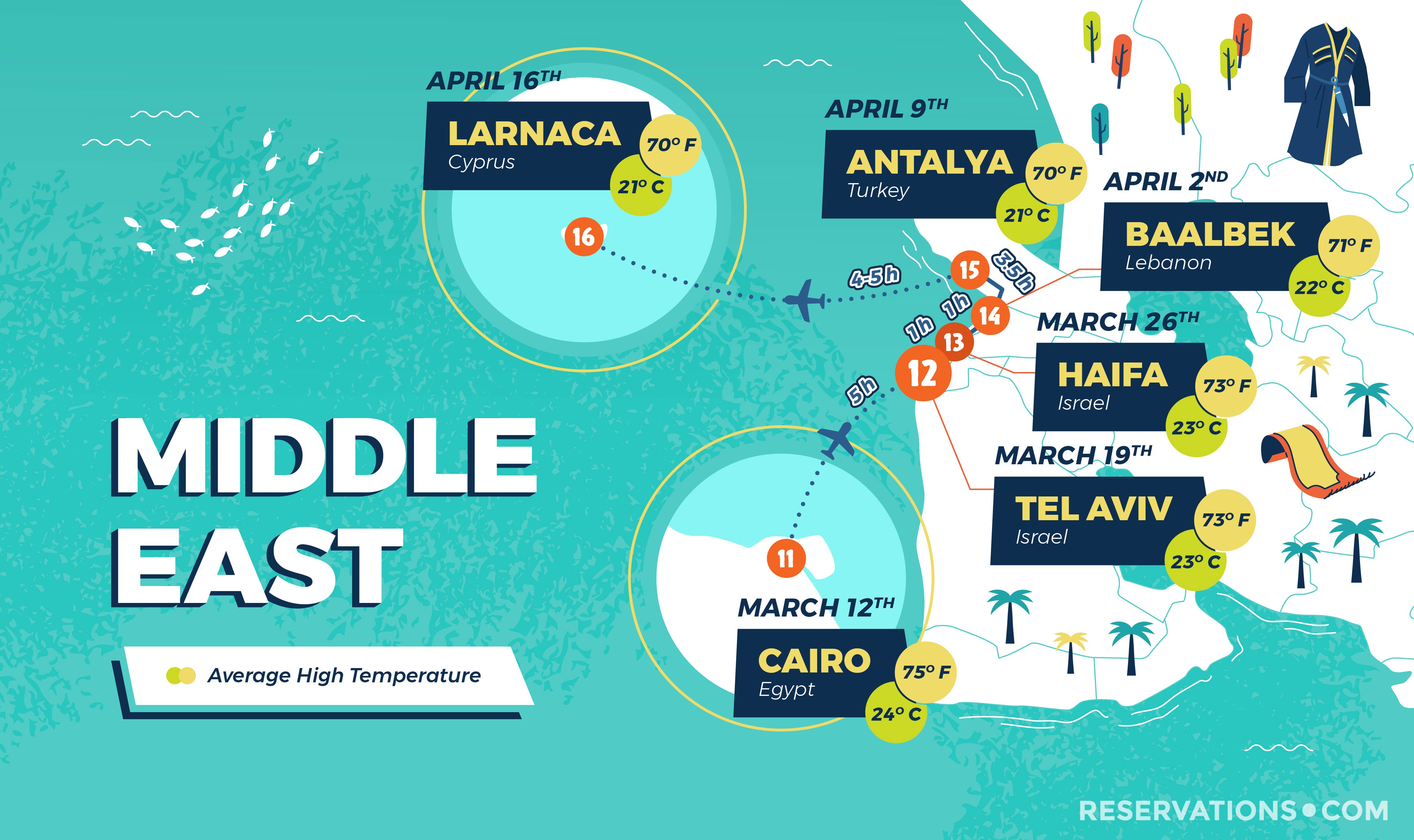 Europe (Weeks 16-26)
April 16 – Next up: Larnaca, Cyprus, fly first to the Turkish side of the island and then walk to the Cypriot side for the easiest and most direct route. This tiny (now) amicably shared island territory is enclosed with crystal clear water and home to mountains, caves, and sunken ships.
April 23 – Taking a turn West, we fly to a popular summer destination, Chania, Crete. Say hello to Greek Island paradise. Here life slows way down, you might lose yourself meandering tiny alleys ways or simply laze endless hours on epic beaches.
April 30 – Our next destination flies us further west to Catania, Italy. This Sicilian port city is a hefty 2,700 years strong, it has resisted terror posed by the ever active and towering Mt. Etna Volcano.
May 7 – A quick northern flight up the boot of Italy to Napoli, will take you directly to that gooey traditional wood baked Neapolitan pizza. This sprawling historical metropolis offers beautiful architectural cathedrals and busy fresh markets full of local fish and products.
May 14 – A short hop and a skip across the Adriatic Sea takes us on to Split, Croatia. If only old walls could speak, this historic Roman coastal town is a bustling hive that was home to the emperor Diocletian upon his retirement.
May 21 – Back to the Mediterranean, our next flight is to the every so tiny island of Malta and into the city of Rabat. This small island is an unexpected mashup of Arabic (Rabat is named after the Arabic word for Suburb), Mediterranean and Latin traditions.
May 28 – Continuing our European exploration we head further West to Barcelona, Spain. A city renowned for the intoxicatingly original and innovative Gaudí architecture, there is also world class gastronomy, thriving nightlife and numerous beaches.
June 4 – At the edge of Western Europe is Lisbon, Portugal. A quick flight puts you back on the Atlantic and in the second oldest European capital city. Built across seven hills, walking the city streets will have your calves beach-ready in no time (or you could just take the tram).
June 11 – Turning a bit North as summer heat creeps in, a direct north-east flight takes us into wine territory. Bordeaux, France is of course home to world-famous vineyards, we suggest sipping a nice glass along with buttery French cuisine or touring the vineyards.
June 18 – A quick flight over France drops us into the Alpine City of Geneva, Switzerland. A peaceful and serene city destination near a gorgeous glittering lake where you can breath in the fresh mountain air coming off the Jura Mountains and The Alps.
June 25 – Our final European stop is a short flight North to Berlin, Germany. A city transformed since the fall of the wall, don't forget to see that now Graffitied remnant of the past along with all the other stately and impressive government architecture and memorials.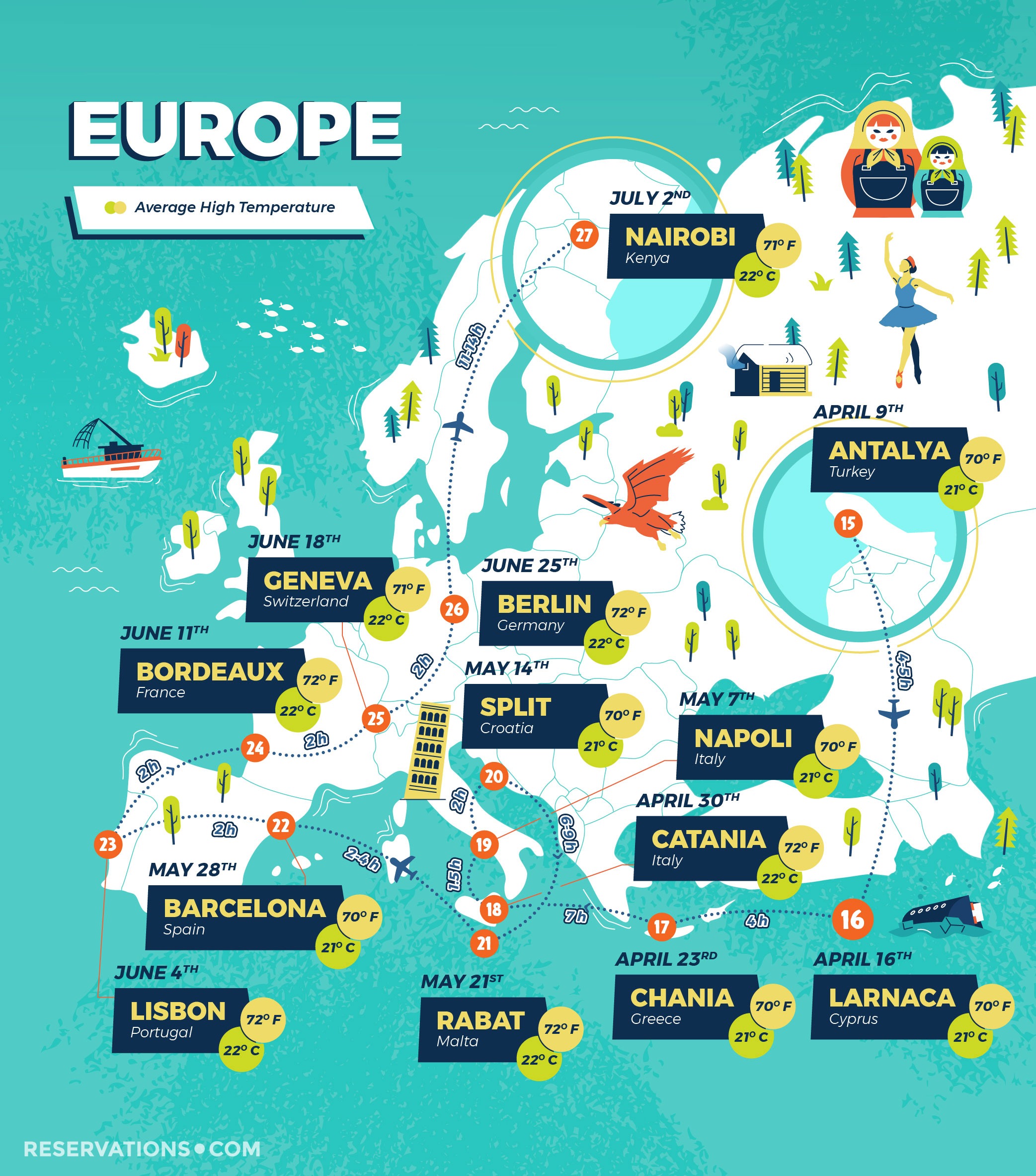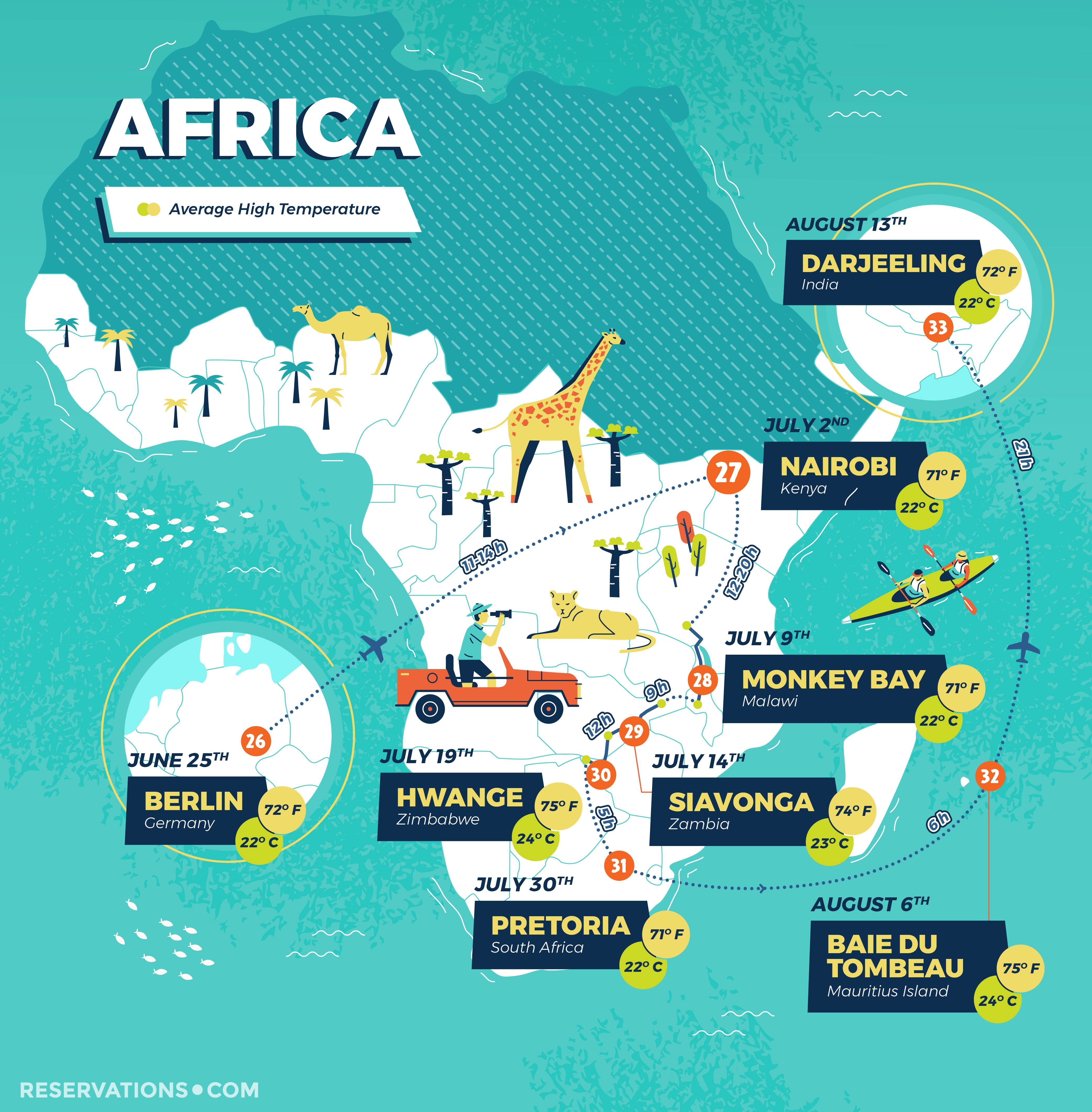 Asia (Weeks 33-40)
Aug 13 – Allow two days to transition (travel) your body and spirit to Darjeeling, India. Soak in the views of snowcapped Kanchenjunga (the 3rd highest peaks in the world) and melt into lush Himalayan life. Become one with mind, body and nature in this Buddhist paradise.
Aug 18 – Just a days drive North-East will allow you to dive deeper into the meditative and pure subtropics of Bhutan. Head to Paro, a valley town with beautiful views and phenomenal architecture including Tiger's Nest – a monastery perched on the side of a cliff.
Aug 23 – Now moving far North, we take a day to travel past the bulk of China and up to the edge of Russia in the Siberian city of Ulan-Ude. This quiet, friendly city offers a look into the Buryat culture and food traditions and their signature throat singing.
Sept 1 – Mongolia, Ulaanbaatar is a longish (and a tad bit bumpy) bus ride but it's the best way to travel south into Mongolia to the surprisingly populous capital city. Originally a mobile monastic tent community that settled into this spot in 1778, it is now a major hub for trade and culture.
Sept 8 – Our next flight is a long day of travel to the edge of the Pacific to Sapporo, Japan. Better known as host to the '72 Olympic Winter Games, now this thriving city is in close proximity to beautiful mountains and hot springs and a great place to find delicious Japanese ramen and beer.
Sept 15 – Just a short flight across the Japanese Sea and then a swift train and you will be in Sokcho, South Korea. After a Pokemon Go glitch attracted many young South Koreans to this city it's exploded in popularity. Nearby mountains in the Seoraksan National Park and a thriving food scene (Korean Fried Chicken is the KFC around here) are what have kept this city in the spotlight.
Sept 22 – Continuing West towards China mainland, we take a quick flight into Beijing. An intriguing and fascinating city with both modern and ancient elements, be sure to visit the massive Great Wall slung along the nearby hills.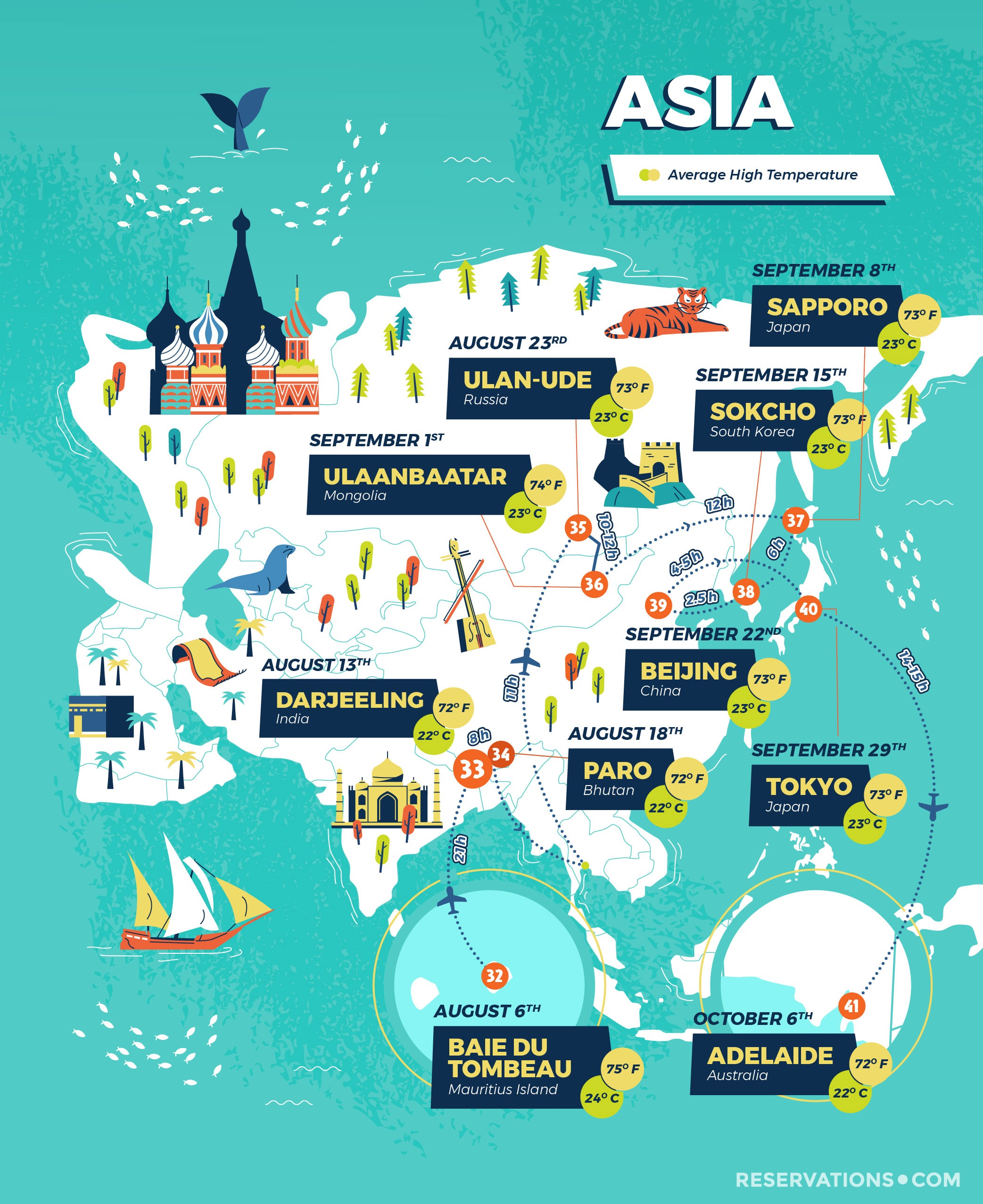 Australia (Weeks 41-43)
Oct 6 – Shifting gears as the months start getting later in the year we head down under to Adelaide, Australia. Allow a day or two for getting to this young, bright city with renowned museums that explore the unique history and art of this once upon a time convict island.
Oct 13 – Sticking to the island, we fly to the far west across the Outback to the isolated city of Perth. A treasure of a city far from the rest of the world, you can find everything you need. We recommend checking out their extensive zoo to meet some of Australia's unique wildlife.
Oct 20 – Heading back West, Sydney is our last stop as we fly again across the Australian continent. This famous metropolis is photo ready with instantly recognizable landmarks such as the Sydney Opera House, Harbor Bridge and Bondi Beach.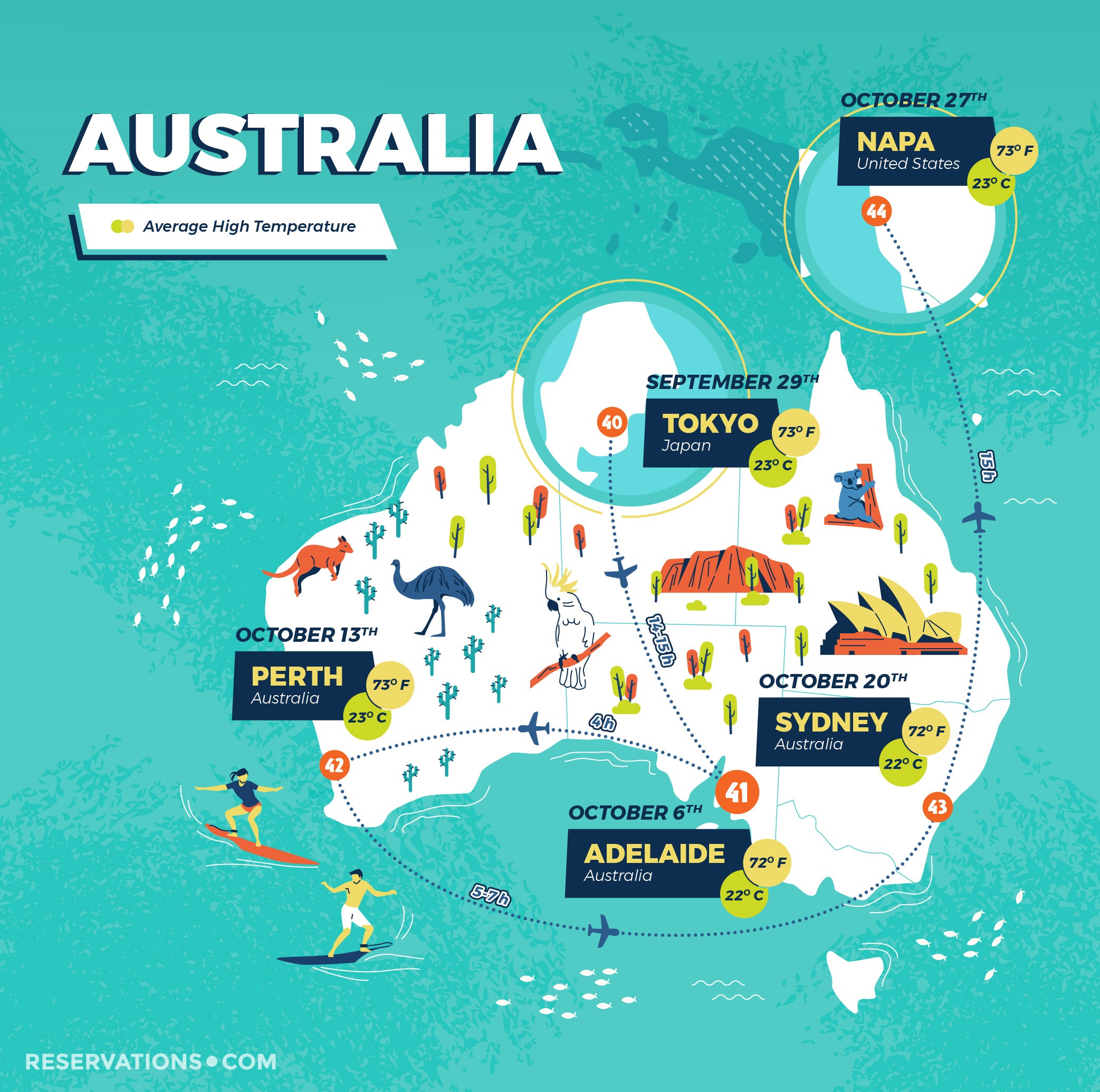 Oct 27 – As we approach the year's end, we take a couple days to journey up, up North and far West across the vast Pacific Ocean to Napa, California. Luckily there's plenty of wine in Napa Valley to help you unwind and relax after that trek.
Nov 5 – An easy drive South will take you further into golden California. Head straight to the heart of Los Angeles where you will find sunny skies, outdoor concerts, and a shining star-filled city.
Nov 9 – An even shorter drive just north-east, takes you past Death Valley to Las Vegas, Nevada. This flashy, high rolling city is a nice crisp 70 in November, so whether you're into the shows or the money, this is the time to be here.
Nov 15 – Next we fly Southeast, down to Austin, Texas. With longhorns decorating the barbeque joints, Tex-Mex that's off the chain, live music (dare we say "Live Music Capital of the World"), and fresh springs to dip into, this friendly city is hard not to like.
Nov 22 – Directly east of Austin, a short flight sends us to swampy New Orleans, Louisiana. A rich French-Creole history and Bourbon Street to boot, flavors this easy-going, swinging city that will reinvigorate your spirit.
Dec 2 – Entering the final month of our long year of beautifully temperate travels, we head further East to Orlando, Florida. Most know this city for being home to hyper-realistic yet otherworldly and magical theme parks.
Dec 9 – Driving to the western side of Florida we head over to the enchanting Everglades. The largest national park within the continental United States, here you will encounter mangroves, coral reefs and untouched wildlife.
Dec 15 – Taking a quick flight, we reach out into the Atlantic to Mount Pleasant, Bermuda where you can relax in tiny beach coves of rock and pink sand, enjoy the clear waters of this island paradise.
Dec 25 – With a final flight we end this epic year in the Bahamas, flying into Freeport. We suggest getting yourself straight to one of their numerous beaches to end the last few days of this year enjoying that perfect weather. This is the end of your epic around the world journey, and you're probably exhausted – so why not just stay right here for another year?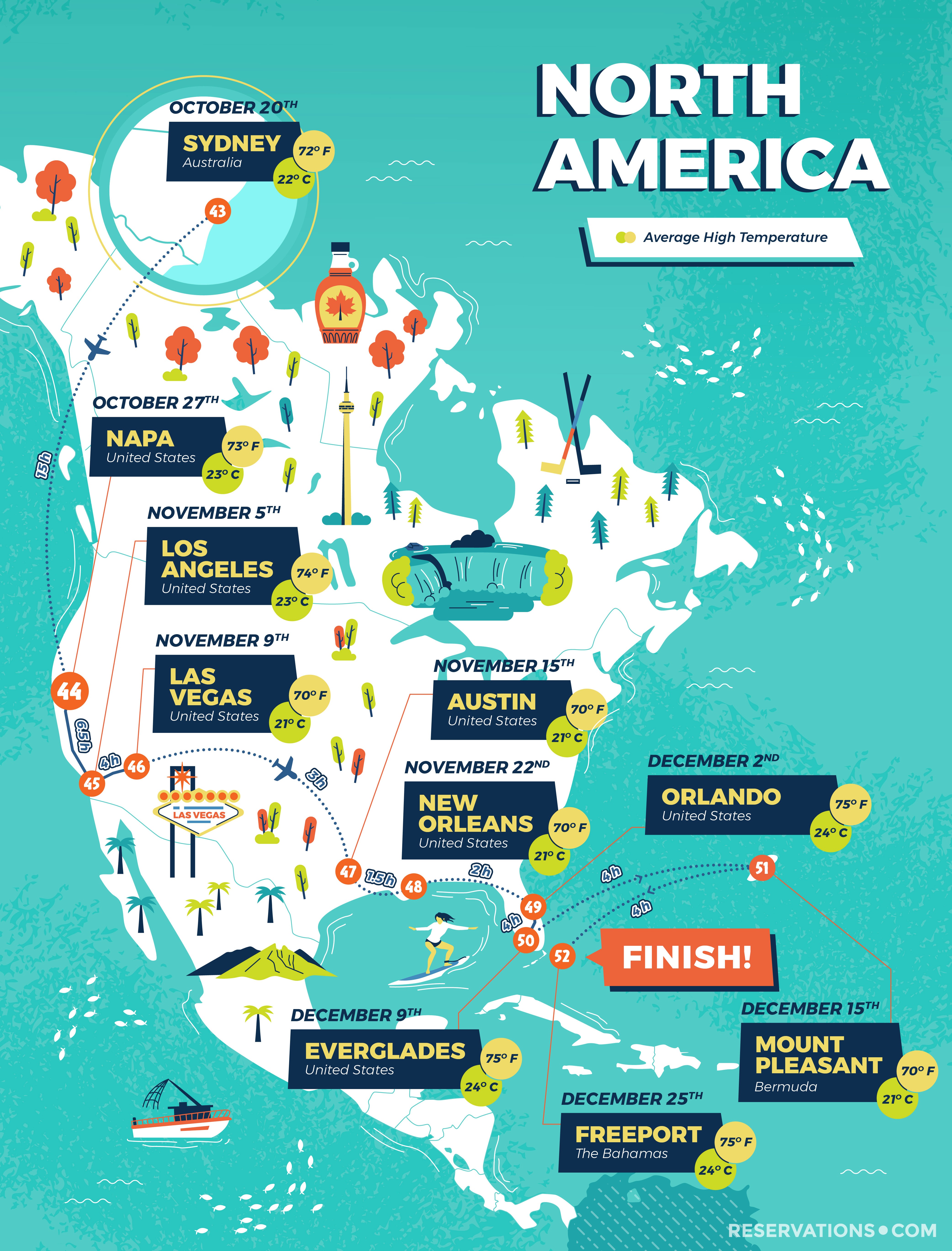 How Much Would this Cost?
Everyone travels differently, from low-budget backpackers staying in hostels and taking buses, to wealthy travelers staying in ultra-luxe 5-star hotels. We roughly estimate that it would cost between $500 – $1,000 per week to do this trip. Which makes the overall cost between $26,000 – $52,000 USD. We definitely agree that it can be done for cheaper by some, and much more expensive by others, so your mileage may vary.
Sources: Accuweather | Wikipedia | NOAA | Google Maps