1315 Sixteenth Street Northwest

,

Washington

,

District of Columbia

20036

1315 Sixteenth Street Northwest

,

Washington

,

District of Columbia

-

20036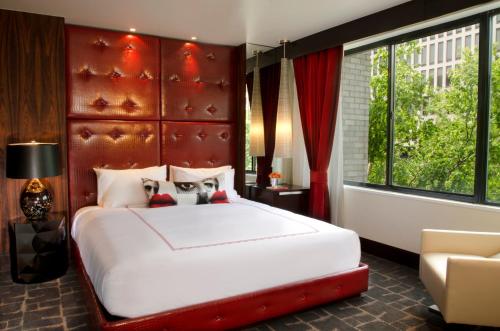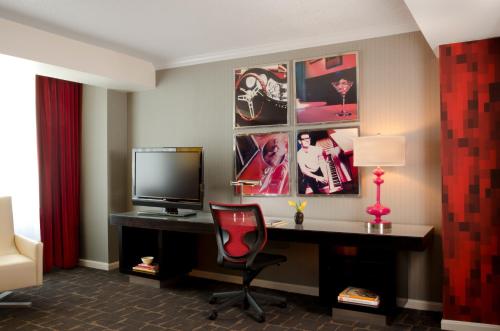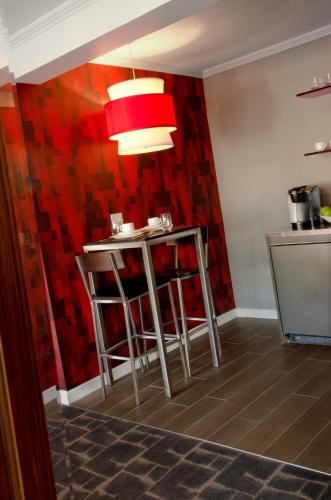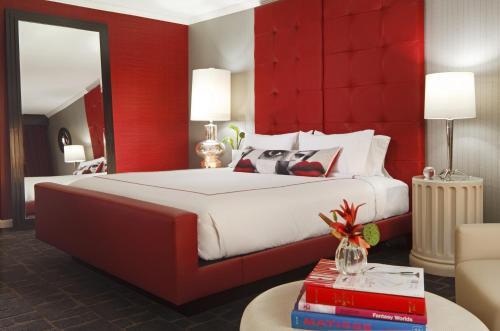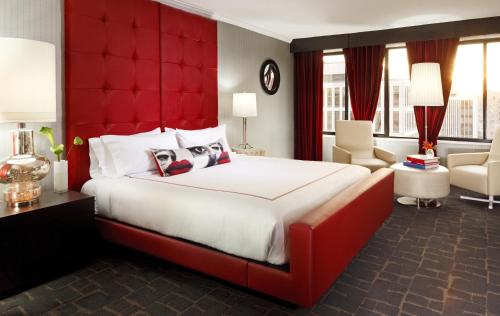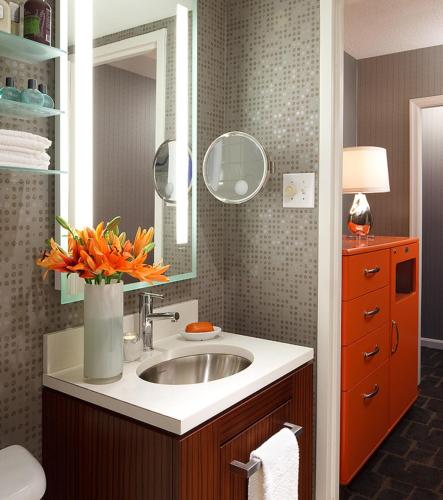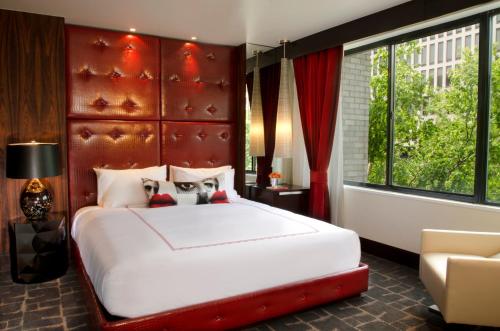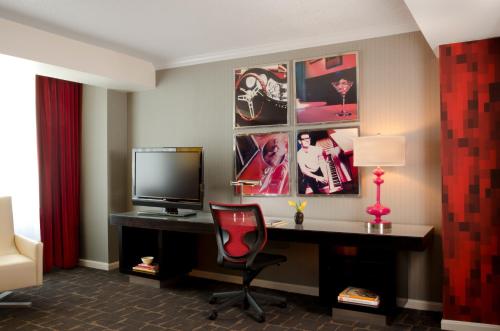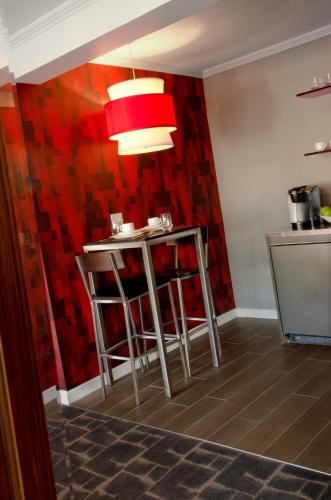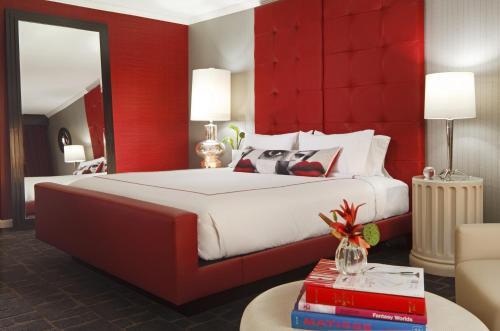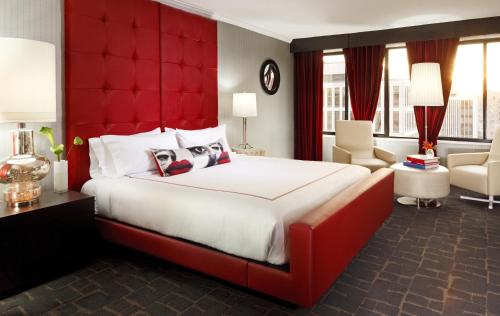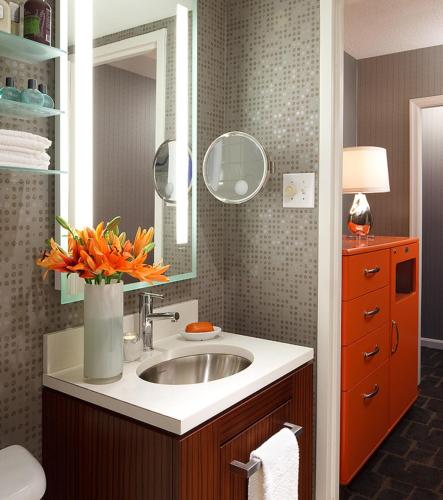 About The Hotel
About Kimpton Rouge Hotel Hotel
Located 12 minutes' walk from the White House, this Washington, D.C. hotel features in-room spa services and an on-site restaurant. Dupont Circle is 8 minutes' walk away. Decorated with bright red accents, the modern rooms at Kimpton Rouge Hotel feature a flat-screen TV, Wi-Fi access, and a work desk. An private bathroom and a mini-bar are also included. Bar Rouge offers breakfast, dinner, and weekday happy hour specials in a sleek, modern environment. Morning coffee and tea are available for guests to enjoy. A 24-hour fitness center and a business center are provided. The Kimpton Rouge Hotel offers morning newspapers at the reception. The Washington National Monument is 1 mile from the hotel. The Lincoln Memorial is 2 miles away.

Kimpton Rouge Hotel Hotel Amenities
General Amenities
Accessible
Pet Friendly Hotel
Laundry
Indoor Swimming Pool
Valet Parking
Room Service
Shops in Hotel
Tour Desk
Elevator
Bicycle rental
complimentary bottled water
General Amenities
in room video games
car park
Doorman
Golf Course (On Site)
Wi-Fi In Public Areas
Daily Housekeeping
free Wi-Fi in all rooms
English
Convenience Store
car park charges applied
100% non-smoking
General Amenities
Golf course [on-site]
Free Wi-Fi in all rooms!
Front desk [24-hour]
Cash withdrawal
Breakfast [free]
Car park [charges apply]
About Kimpton Hotels Brand Hotels
Kimpton Hotels & Restaurant Group Inc. is the manager of the San Francisco, California-based hotel chain. The brand is owned by the Intercontinental Hotels Group (IHG). The hotel chain was founded by William Kimpton in 1981 with the leadership appointed to CEO Mike DeFrino. By 2011, the group was the largest chain of boutique hotels in the United States. Before that, the company launched two other brands named Hotel Palomar and Hotel Monaco in 2005. Ever since the establishment of these two hotels, they have received multiple recognitions from organizations. Fortune listed the company as the #11 Best Company to work for right within that year.
Due to that marketable recognition, IHG decided to acquire Kimpton for $430 million in cash. The name was retained to expand global managements. Since then, the company now owns 65 hotels with a total of 13,357 bedrooms. Their other services like restaurants and bars also continue to have separate yet equally notable brands, bringing the company ahead of its industry. As of 2014, the revenue of the brand has amounted to $1049.88 million. The IHG's decision to acquire the brand was indeed a remarkable move. IHG has even reached $4.337 billion revenue in 2018 following more developments in the Kimpton Hotels.
Hotel Location
Nearest airport and around Kimpton Rouge Hotel - Washington, District of Columbia Hotel
Group Hotel Rates
(9+ Rooms)
Get competing quotes for free and save up to 70% on group rates for Weddings, Meetings, Sports Teams and other Events.
We have lowest special group rates and discounts for any type or group size.
Traveler Sentiments
Verified Guest Reviews for Washington, District of Columbia Hotels
Can you get free breakfast at this hotel?
Yes, complimentary breakfast is offered to guests staying at the Kimpton Rouge Hotel, Washington hotel. A good choice among Washington hotels with free breakfast.
Does this property have a swimming pool?
Yes, Kimpton Rouge Hotel has a hotel pool.
Are pets allowed at the Kimpton Rouge Hotel?
Pets are allowed and welcome at this property. This is one of the pet friendly hotels in Washington.
What brand is Kimpton Rouge Hotel?
Kimpton Rouge Hotel is a part of Kimpton Hotels.
What is the street address for Kimpton Rouge Hotel?
The address for Kimpton Rouge Hotel is 1315 Sixteenth Street Northwest , Washington, District of Columbia 20036
What is the price for tonight?
Based on recent averages, the price for tonight can start at 224.
What is the nightly room rate for this weekend?
Based on recent averages, the room rate for this weekend can be as low as 224 per night.
What is the hotel theme?
Travelers find this hotel .
Guest Reviews
Kimpton Rouge Hotel Reviews Summary
Additional Hotel Reviews
Kimpton Rouge Hotel

Reviews Summary

Verified Hotel Guest
Pros:
The Retro look, very classic from 60's or 70's yet modern. The location was walkable to various shops/restaurants, buses, book stores etc.

Verified Hotel Guest
Pros:
Hotel staff was very friendly and answered the questions we had since were not from the area!
Cons:
We were not happy about having no other options but paying $50 valet. Also we were charged a amenity fees on top of the valet. Which I'm not sure what for because we did not use anything? The rooms/hotel is VERY dark. Like SUPER dark and barley a

Nitin
Pros:
Front desk, excellent service

Marian
Cons:
The hotel tried to charge me $25 for amenities, even though I hadn't used anything. They didn't even give you a shower cap. Kimpton Rouge: Do not require staff members to lie about a confirming email about a mandatory fee!!! Bad policy!

Jesse
Pros:
The Rouge was very central, very clean, our room was large, had a great view from the 9th floor, breakfast was included, as were glasses of wine in the early evening. My family and I really enjoyed this hotel.
Cons:
The breakfast staff were not the friendliest...

Verified Hotel Guest
Cons:
They tried to charge me an additional amenities fee plus tax that was not listed in the charges when I booked. I used the option of booking one of three hotels at a price level and then the hotel was revealed after selecting this option.

Daniel
Cons:
Location is not the best if you are using the DC metro lines . Metro stop is a very long walk .

Verified Hotel Guest
Cons:
The bed sheet had blood stain, the tv worked on and off, the complimentary breakfast terrible the bread was very stale. The charges for the parking which was underground absurd and didn't like the fact the guest amenities fee was not described .

Chester
Pros:
Everything was great except the unexpected fees. Theres some fee by the hotel that comes as a surprise once you get your receipt before checking out. I found it to be a slick and dishonest way to get more money out of the hotels customers.
Cons:
The price is reasonable until met with unexpected fees.

Brian
Pros:
I liked the fact that it was small, but had real character. The staff were great. I also like that they had valet parking and that it was half off for a hybrid car.
Cons:
I would have liked a coffee maker in the room, but I appreciated that they would have sent one for no charge to room.

M

Wayne
Pros:
All the staff here are friendly, polite and professional. The rooms are big and with the upgrades being performed Kimpton Rouge Hotel will only get even better.

Deana
Pros:
Large clean room w/ terry robe. Good location , helpful staff.

William
Pros:
Location Some of the front desk
Cons:
Hidden excessive charges. I.e resort fees from a non resort place. Also, 2nd elevator didnt work the entire time,&linen charge/room service charge I received was unfair and mgr ofhousekeeping understanding'&some front desk staff acted ridicu

Verified Hotel Guest
Pros:
Design of the hotel.
Cons:
I would have liked to have soda and snack machines inside of the hotel.

Ivan
Cons:
1 out 2 eleavators not working charge mand fee for calls and morning transportation up to 1mile . Asked front desk for tranportation friday and saturday no transportation evar provided would like refund of half my mand. fee

Wayne
Pros:
The staff are fantastic, very friendly and professional and always helpful. The rooms are big and very clean. Good little bar on site with cocktails. Great location.

INMACULADA
Good
Cons:
Staff. Some of them was rude