Travel agents. The phrase is reminiscent of the times before online flight and hotel booking at your fingertips.
Yet there has been somewhat of a renaissance in the space as former travel agents shift to the role of a travel advisor, leveraging a combination of modern technology and personal touch to craft bespoke vacations.
While the COVID-19 of spring 2020 is turning the travel world upside down, we shift our focus to the near future – perhaps planning for trips in mid to late 2020 and beyond. While travel is limited now, we can still plan for future escapes.
To get a sense of how the public perceives travel agents and travel advisors, Reservations.com ran a series of polls in late February 2020 to get a sense for the space. These surveys were run before the COVID-19 virus hit the United States, and so these are representative of typical views before the pandemic. They likely reflect the views after the pandemic is over as well.
Our survey of 2,000 people revealed a general consensus on plans to use travel agents or advisors, yet there are important demographic and geographic distinctions between groups.
Survey Finds 22% Likely to Use Travel Agent Advisor
The key takeaway here is that the majority of Americans do not plan to use a travel agent or advisor in the next two years.
But the opportunity is in that slices of approximately 1/5 of people that are likely to use a travel advisor. These are often higher net worth individuals looking for longer, more expensive, and more custom trips.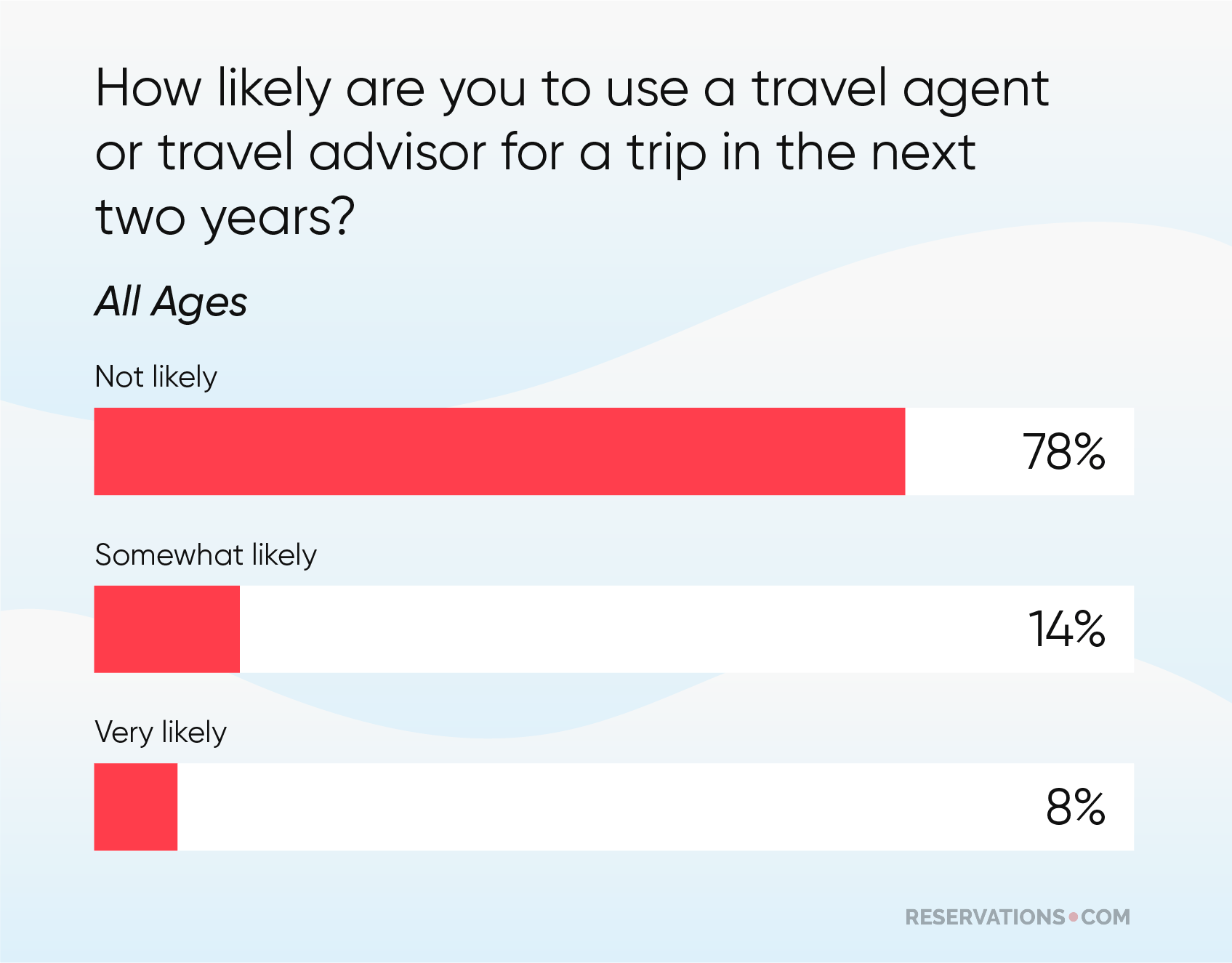 Now let's take a look at different age brackets and geographies.
Ages 25-34 – Millenials and Gen Z
Travel is extremely important to these generations, yet it's different from other age groups.
In fact, a study by Deloitte reveals that "'seeing/traveling the world' is their No. 1 aspiration", above starting a family and buying a home.
Taking a look at the 25-34 age bracket, we see an increase in "not likely" responses.
This is possibly influenced by lower incomes in this age range or more carefree and unplanned travel. And while travel agents are often not more expensive than booking yourself, they do still have that perception.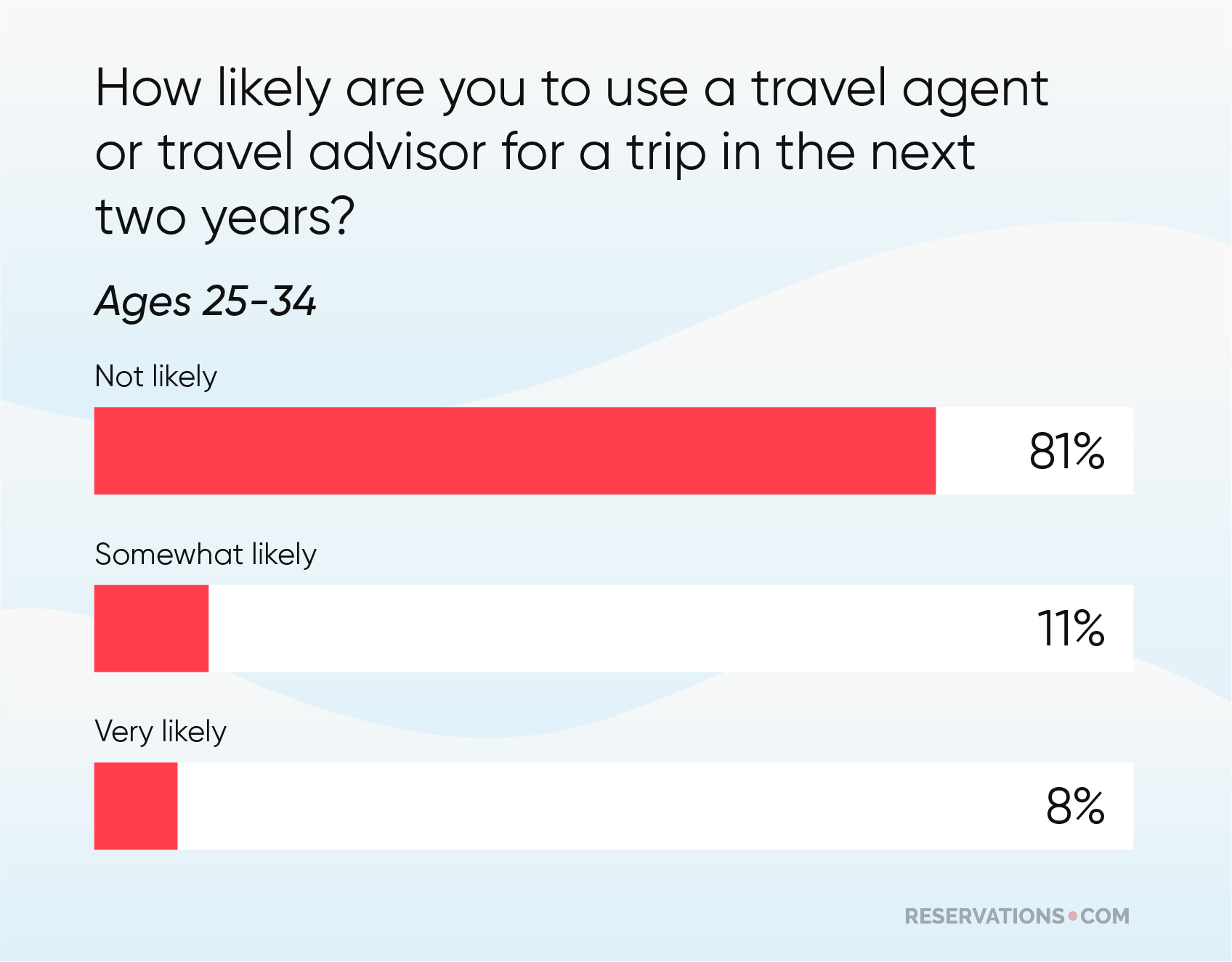 This age range is a combo of the much-discussed millennials and Generation Z – and they can remain an enigma to marketers.
According to Vox, a study from MMGY Global found in 2017 that up to 33% of millennials would potentially use travel agent services, much higher than this study's finding in 2020. This may indicate a decrease in interested, or more likely, a different source for the polling.
Ages 35-44 – Gen X and Millenials
Most surprisingly, this age group is the most likely to use the services of a travel agent or advisor.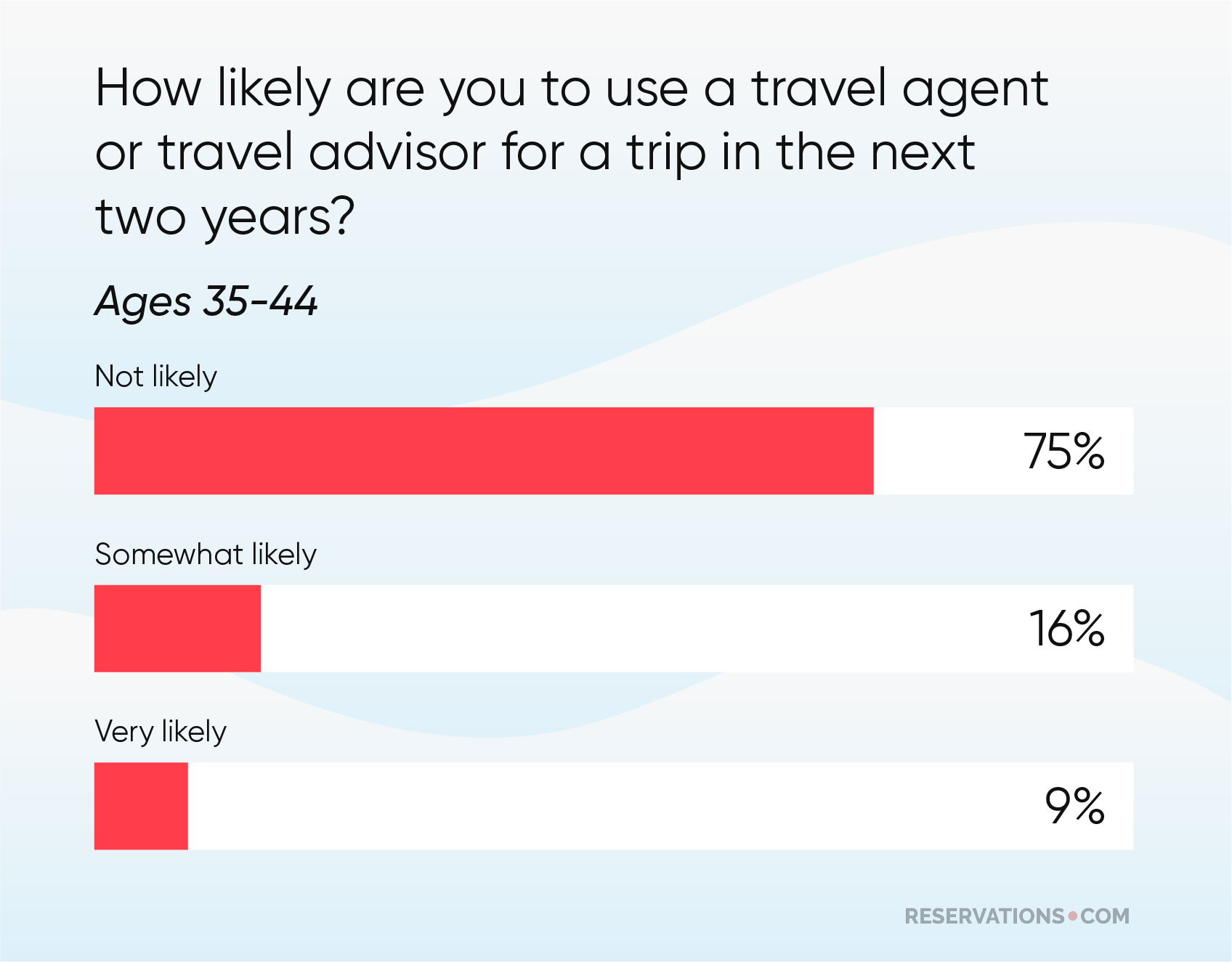 They even edged out the older demographic of 65+.
A full 25% is likely to use these services within the next two years.
Speculating on reasons, we can logically assume that this group is well established in their careers, and thus have more discretionary income to spend on travel. They may value done-for-you services from travel advisors rather than spend their own time. They are likely more traveled than the younger cohort, and thus are looking for more unique and bespoke experiences.
One of the megatrends identified by Skift, is that luxury travel must be transformative. "For luxury travelers, the personal fulfillment and self-improvement one gains from an experience now takes precedence." This rise of transformative travel heavily influences use of travel advisory services.
We can further assume that they were not as much a part of the first revolution in the late 1990s when the biggest shift from offline to online booking happened. In effect, what's old is new again.
They are not going to the travel agents of the 1980s, however, they are seeking out more luxurious consultants to help plan the most Insta-worthy trip within budget.
Given their relatively young age range, they can become loyal to a trusted travel advisor for years to come and provide a sizable lifetime value (LTV) to the advisor.
Advisors take note, this is your target market.
Ages 45-54 – Gen X
This cohort matches most of the other cohorts, leaning closer to the 80% that are not likely to use travel agent services. This generation has strong buying power but is often overlooked.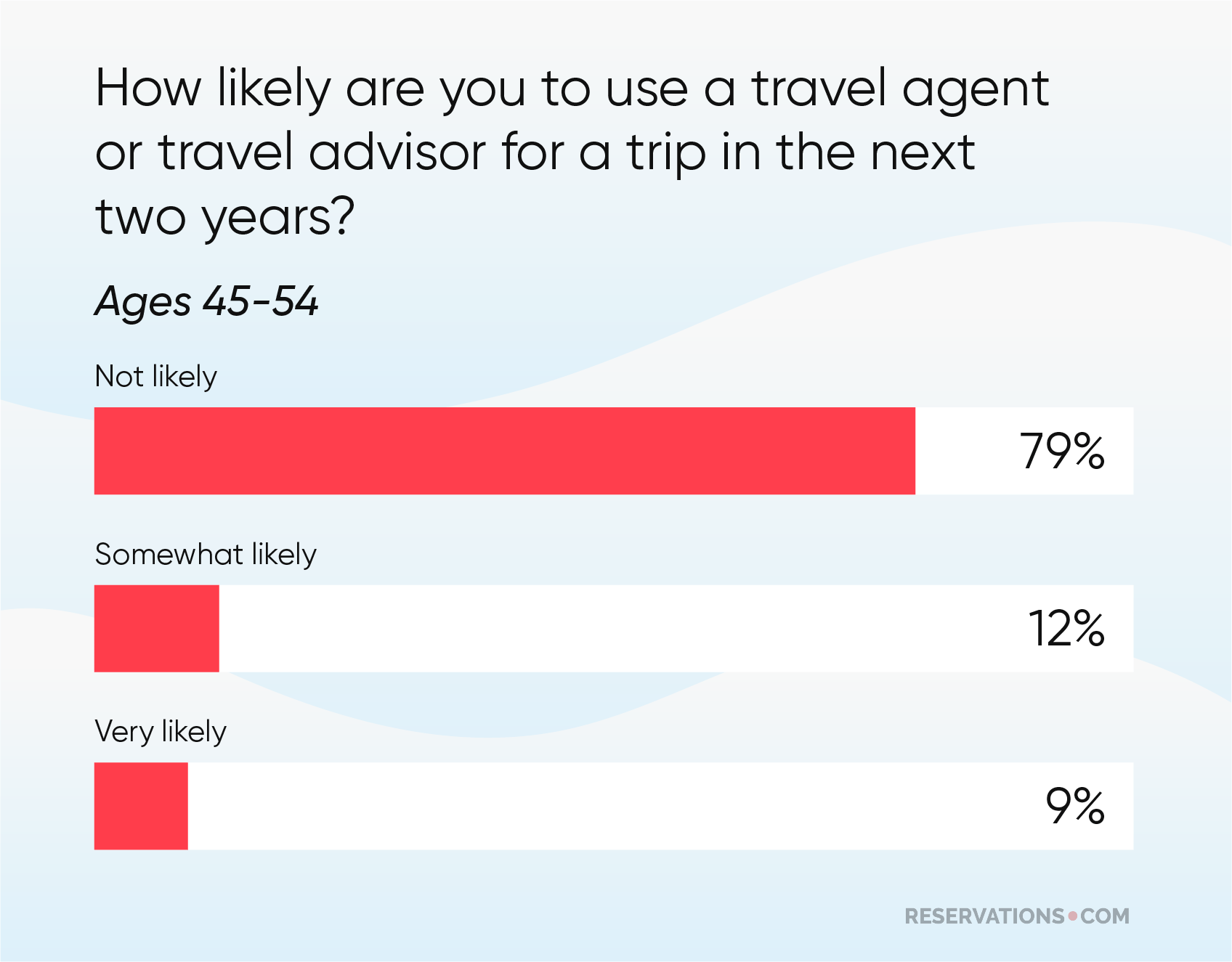 According to Trekksoft, "Gen Xers tend to have the most buying power and financial freedom of any generation right now."
Furthermore, "83% are working full-time or part-time and currently spend the most money on travel compared to their younger or older counterparts. On average, they will spend $627 during each day of travel."
While millennials get all of the attention, Gen Xers are the sleeping giants of the travel industry.
Ages 55-64 – Baby Boomers
Baby boomers are no more likely to use these travel agent services than younger cohorts, and less likely than the 65+ group.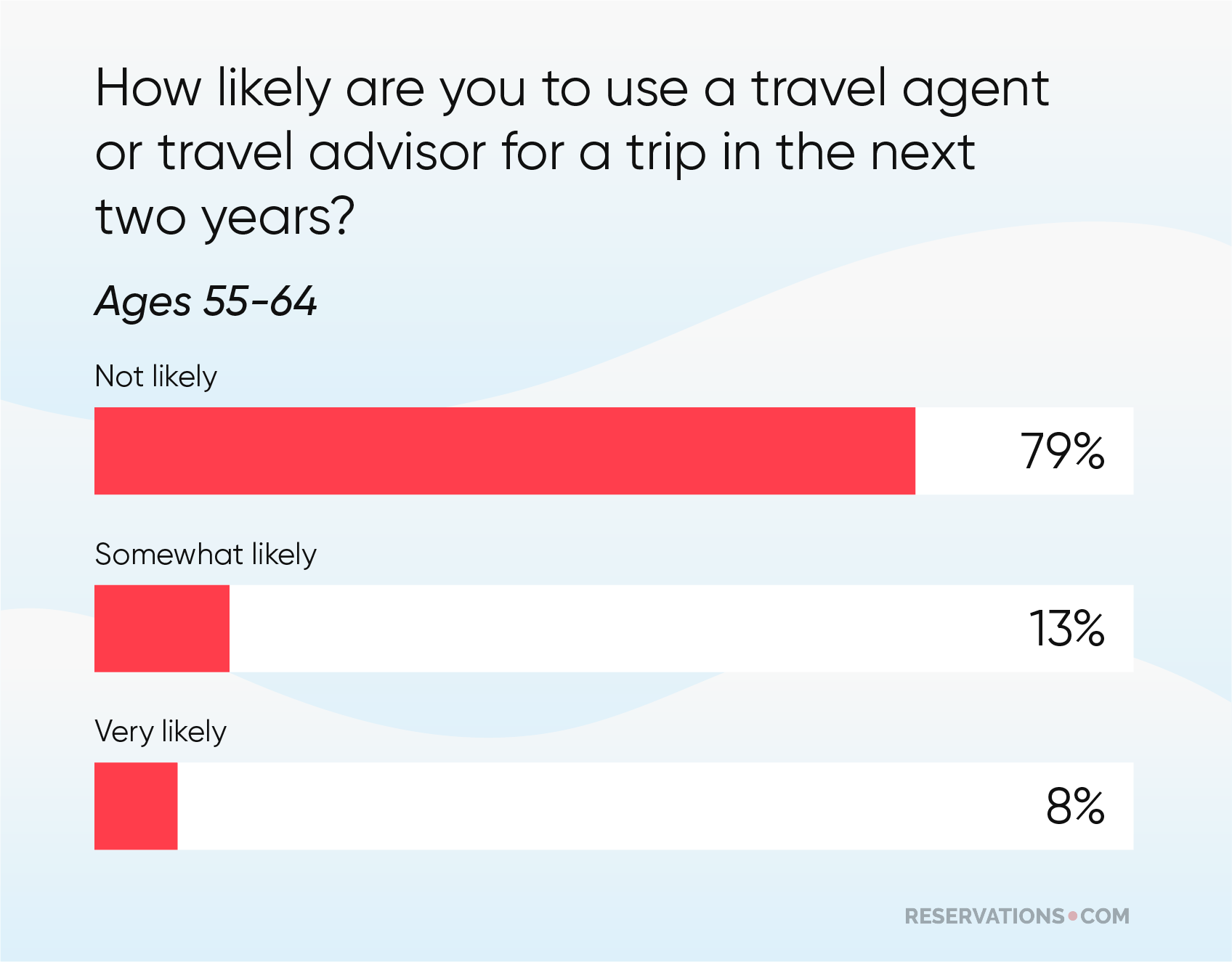 Boomers travel differently from millennials and gen X – looking to unwind and get away from it all, moreso than becoming transformed.
This AARP report found that "millennials are more likely than boomers to include the desire for adventure (27% vs 21%), to try something new (24% vs 15%), or to improve their health (12% vs 2%) as motivators for travel."
Ages 65+
The oldest generation cohort is much more open than the overall average to use travel agent services.
Whether they have stuck with a travel agent or agency for decades, or are using one for the first time, they're the 2nd highest in the group that are planning on using these services.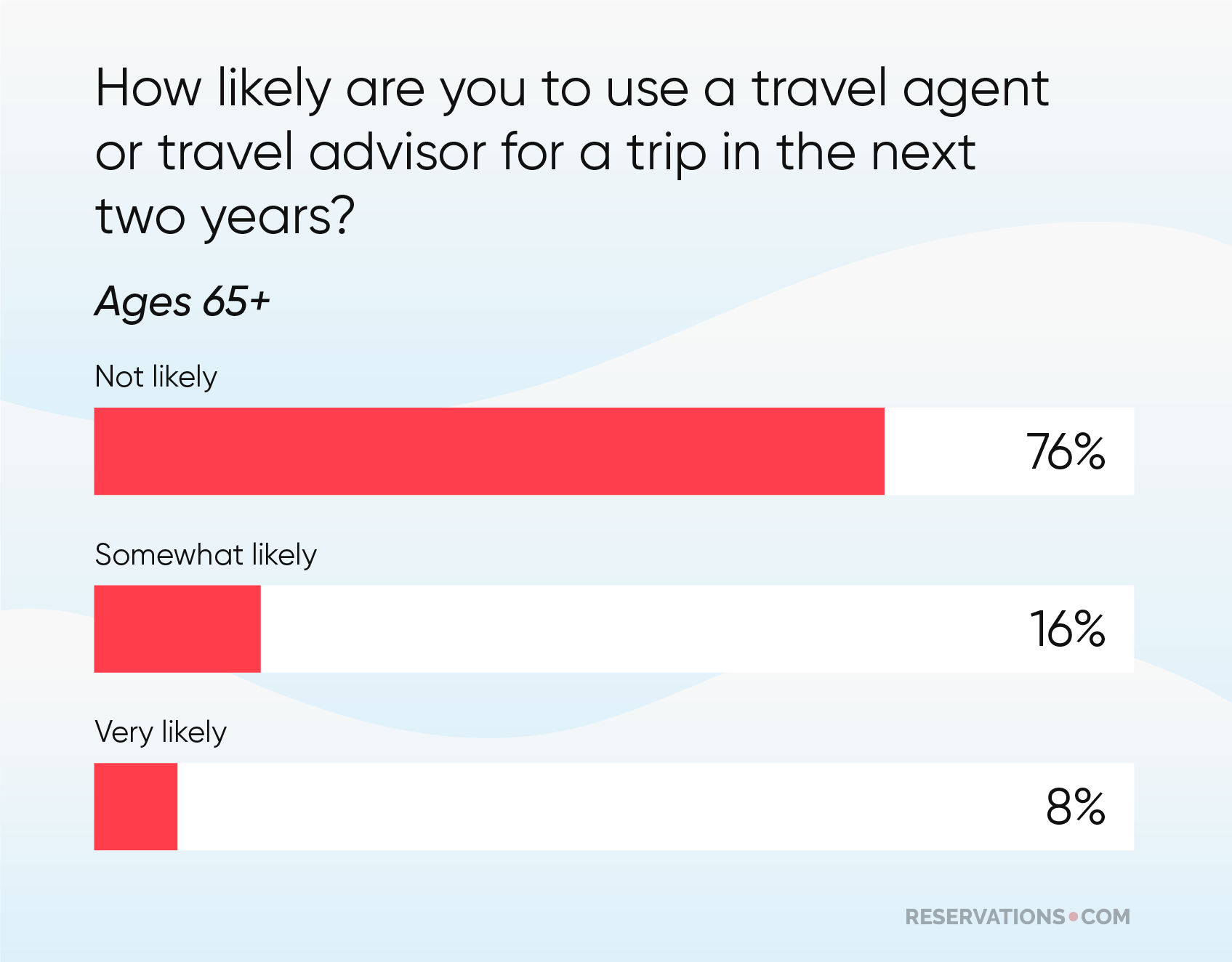 Somewhat surprisingly, we were expecting a more lopsided response from this group indicating that they were holding onto traditional methods, but that's not the case here.
Men – 20% would Use Travel Agent Services
80% of men are unlikely to use travel agent services, which is higher than the gender average by two percentage points.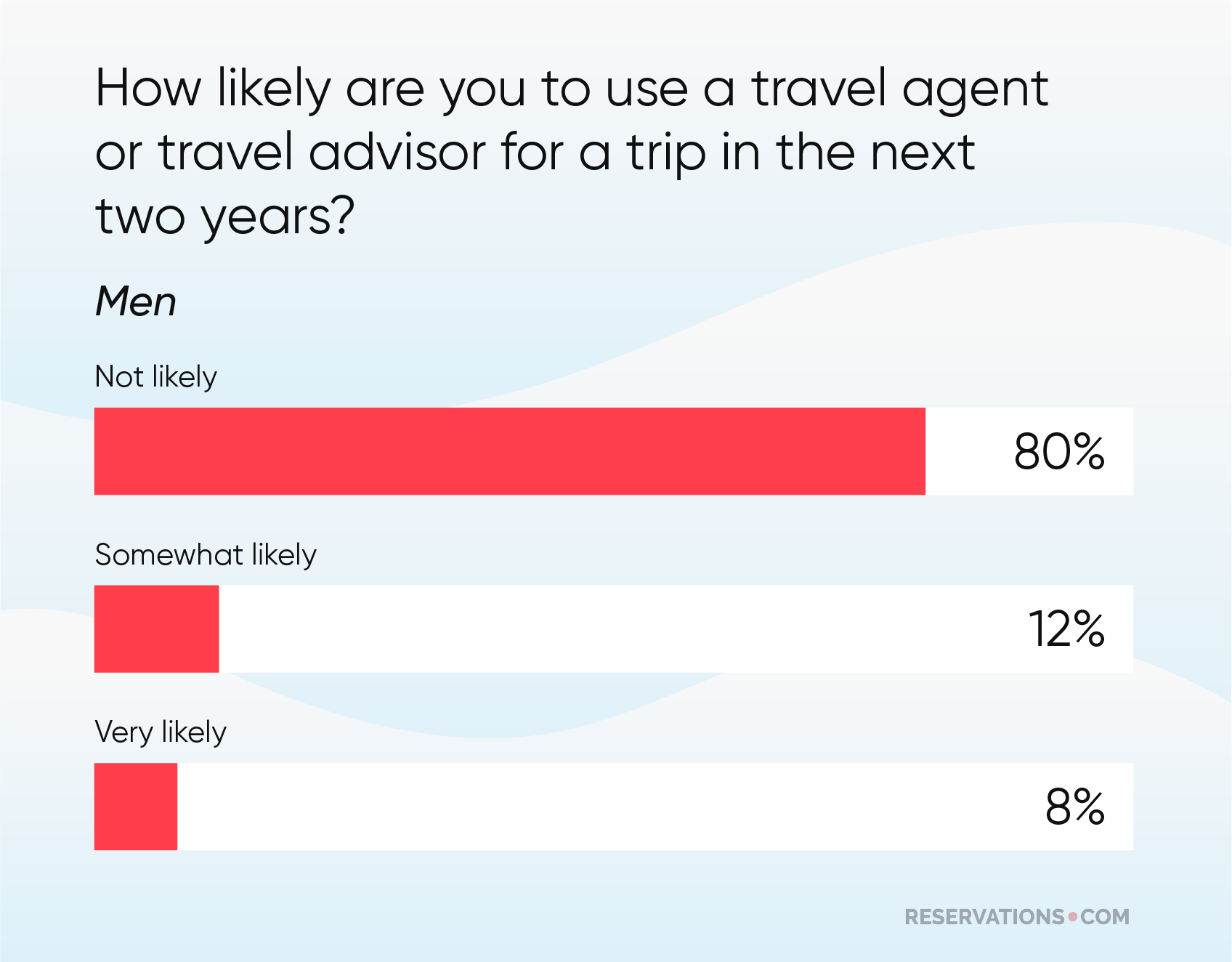 Women – More Likely than Men
Overall, women are more likely to book than men, with 23% likely to vs just 20% for men.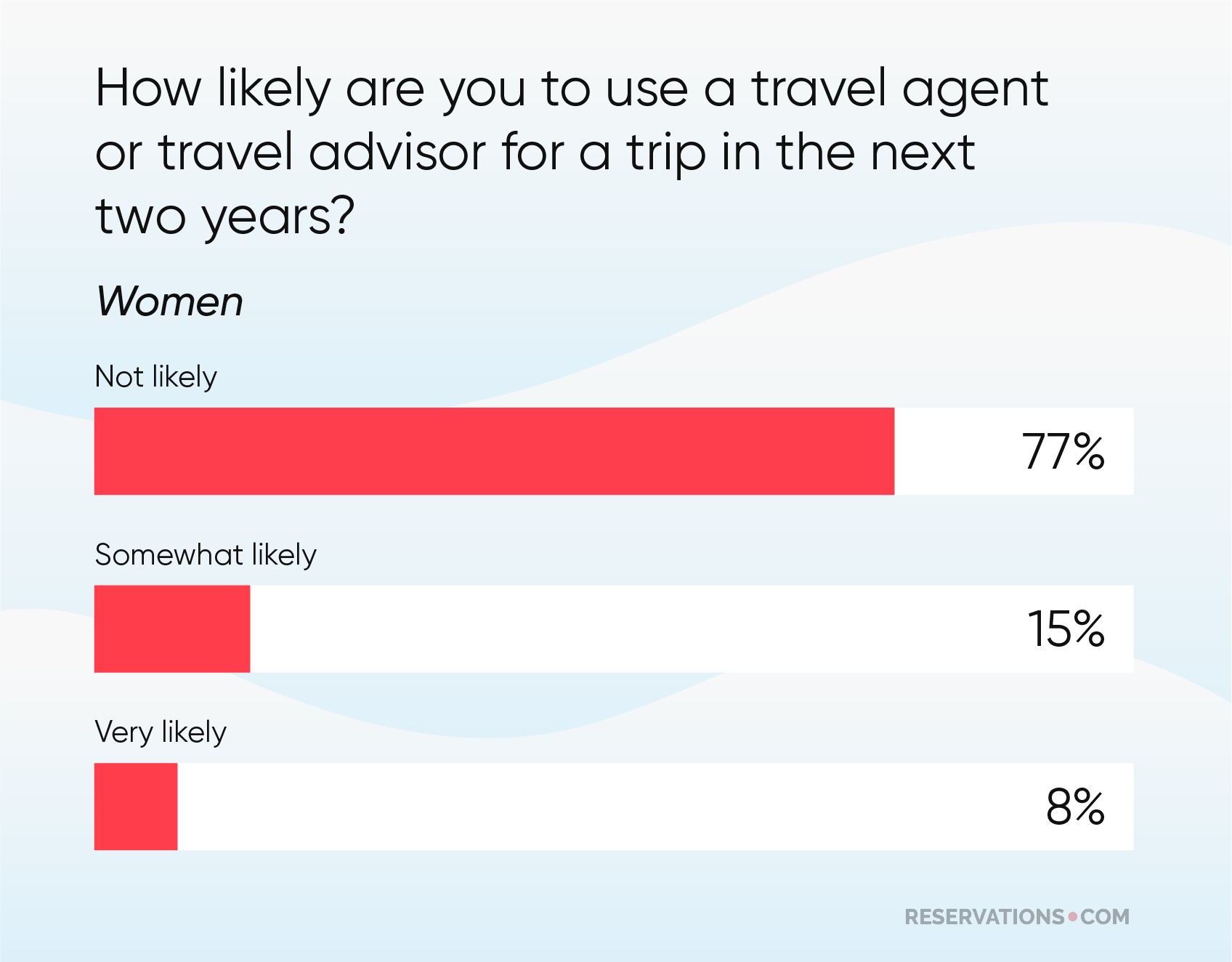 California – 29% Likely to Book with Agent or Advisor
Of all geographic and demographic slices analyzed here, Californians are the most likely to use advisory services.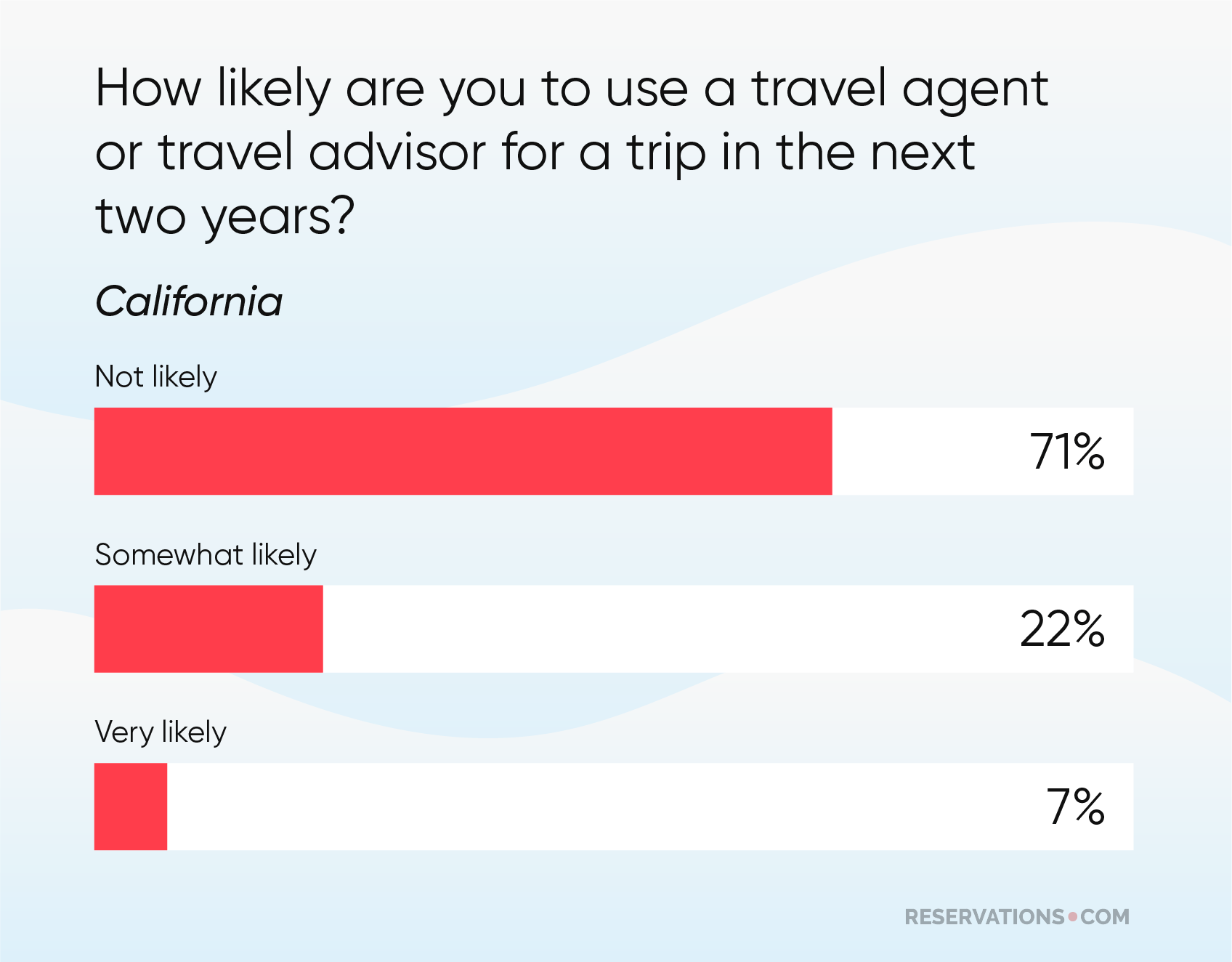 Perhaps, as trendsetters in popular culture, Californians are ushering in a new era of travel planning?
Texas – Just 17% Likely to Book with Agent or Advisor
In this poll, Texans swung in the other direction of Californians – something they pride themselves on across the board.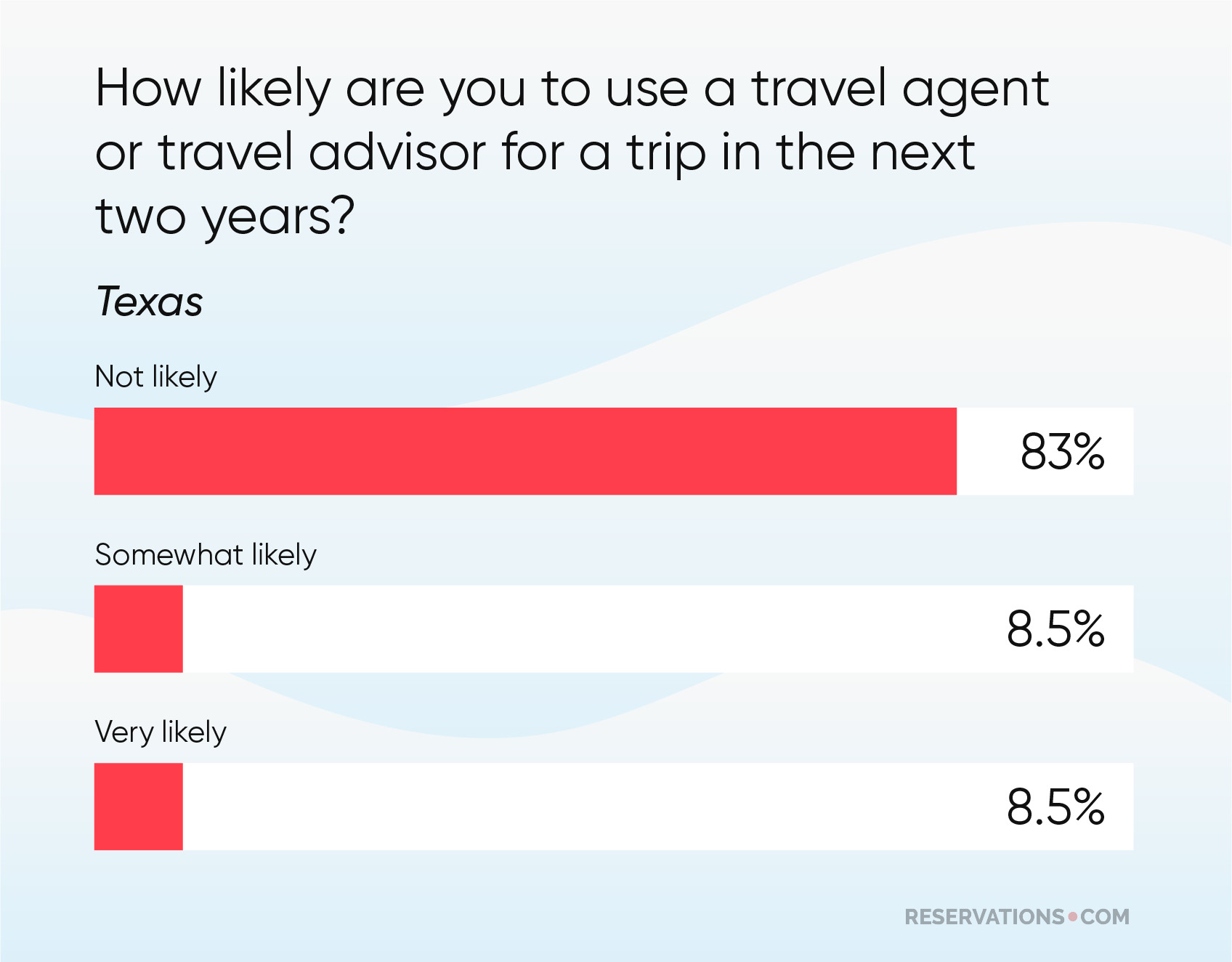 Just 17% plan to book a trip in the next two years with these services, a full 12 percentage points lower than Californians.
Florida – Just 18% Likely to Book with Agent or Advisor
Respondents from Florida align closely with those from Texas, although a shockingly low 3% claimed they were "very likely" to book.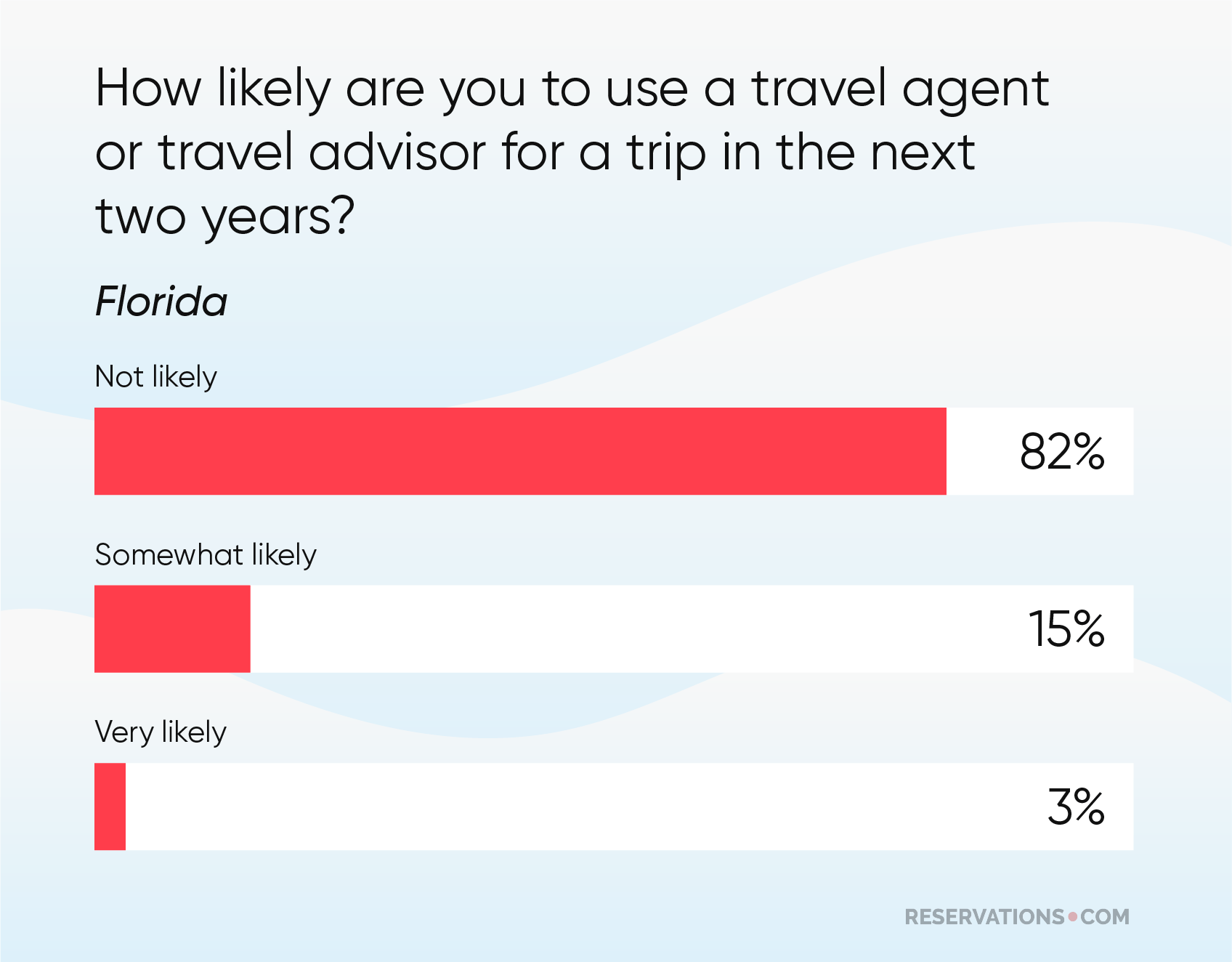 New York – 22% Likely to Book with Agent or Advisor
Those in New York responded somewhat in the middle of the California vs Texas divide, with 78% unlikely to use a travel agent.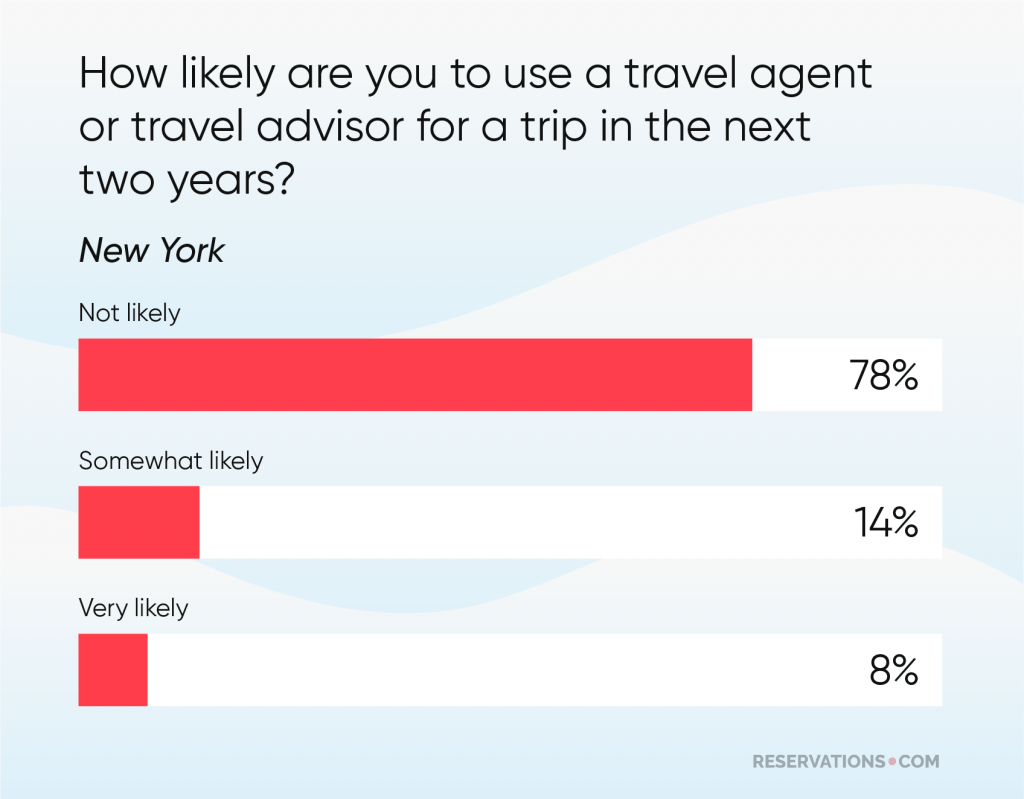 Responses from New York mapped perfectly to the overall responses across all demographics and geographies. Perhaps New Yorkers are the most representative of us all.
Takeaways
While the majority of those surveyed seem to favor the do-it-yourself route and not use travel planning services, a sizable portion do have plans to use these services.
The important key lesson this survey shows is that there can be significant differences between age ranges and geography that influence consumer travel trends. Each generation is different, as they seek to distinguish themselves from those who came before. Smart travel agents and advisors will use this data to inform their strategy for reaching these consumers.