Ken Burns called the National Park System "America's Best Idea", and while the most popular parks such as Great Smokey Mountains National Park got a whopping 11.4 million visitors in 2018, there are plenty of hidden gems getting a fraction of that.
Those looking to get outdoors and explore the National Park System likely aren't looking for a parking lot that is a zoo, or a Starbucks in the middle of Yosemite.
We were curious: given the fact that by definition, a National Park is a beautiful, serene wilderness, what are the least visited parks?
In an effort to raise awareness of some of the more neglected parks, we took it upon ourselves to become the Unofficial Promoters of the Least Visited National Parks. Our first step to spread the word of their existence was to create these vintage travel posters, celebrating the unique features that make each of these parks stand out.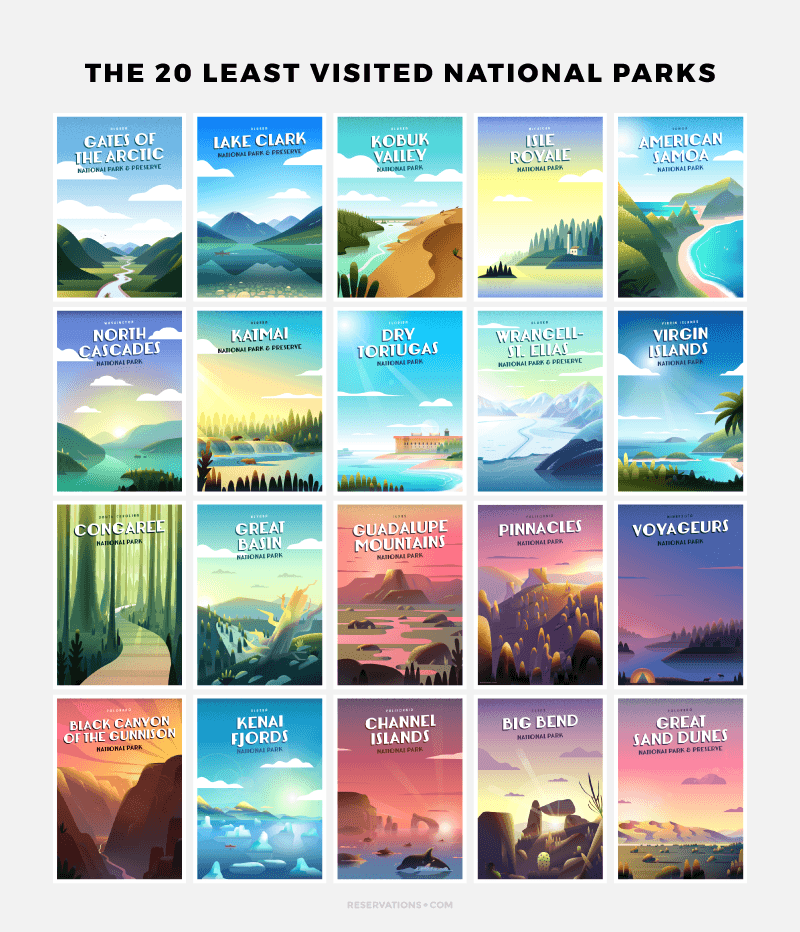 20. Great Sand Dunes National Park & Preserve, Colorado
Visits in 2018: 442,905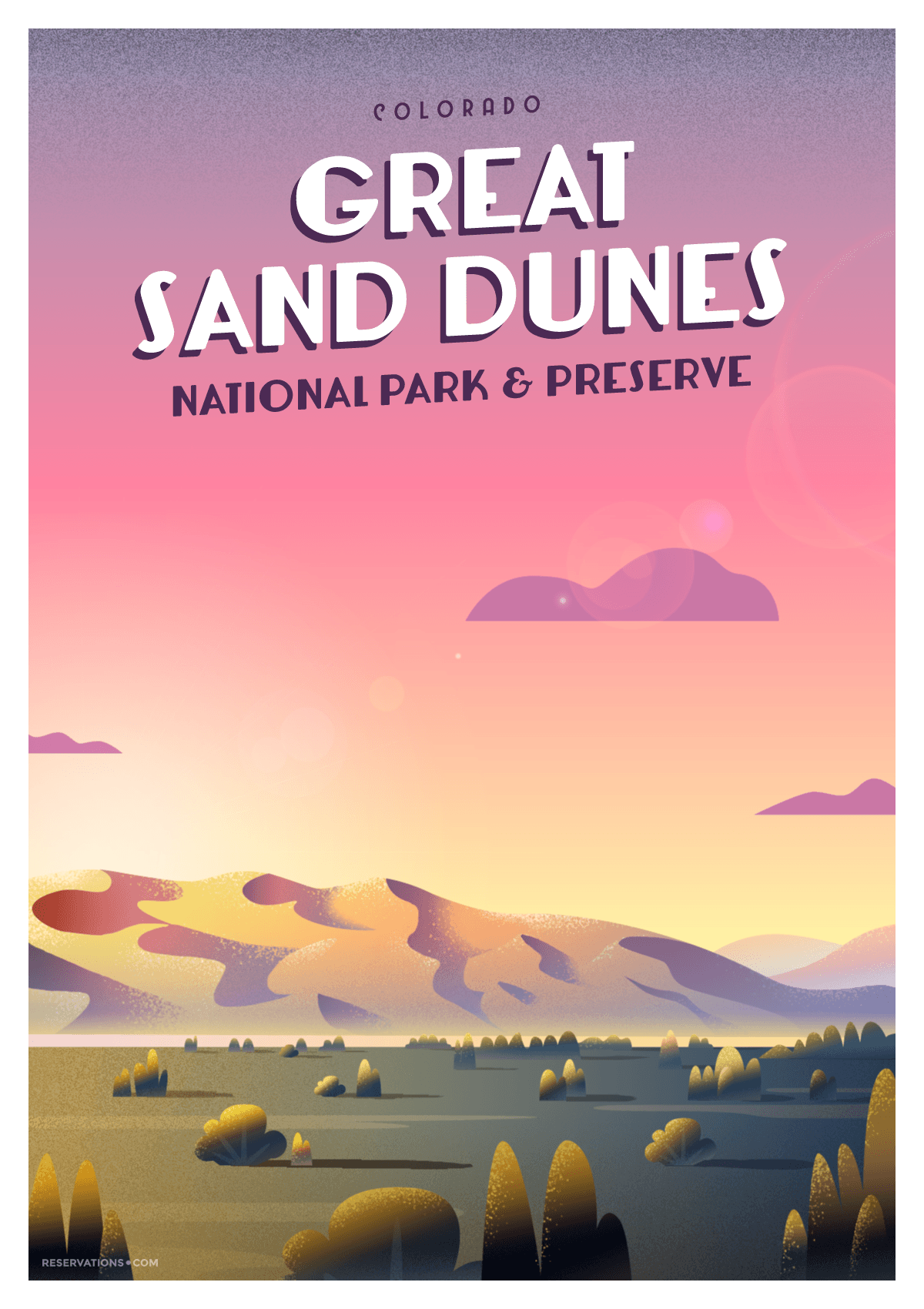 It's shocking the Great Sand Dunes National Park isn't as famous as Yellowstone. Dramatic, otherworldly dunes tower at up to 750 feet high, and spread over 30 square miles. In the background, snowcapped peaks of the Sangre de Cristo Mountains glisten in the sun.
Best of all, sandboarding the dunes is encouraged.
With an elevation at 8,200 feet, stargazers love venturing out into the cloudless nights, and the park even offers guided ranger programs in the summer months.
19. Big Bend National Park, Texas
Visits in 2018: 440,091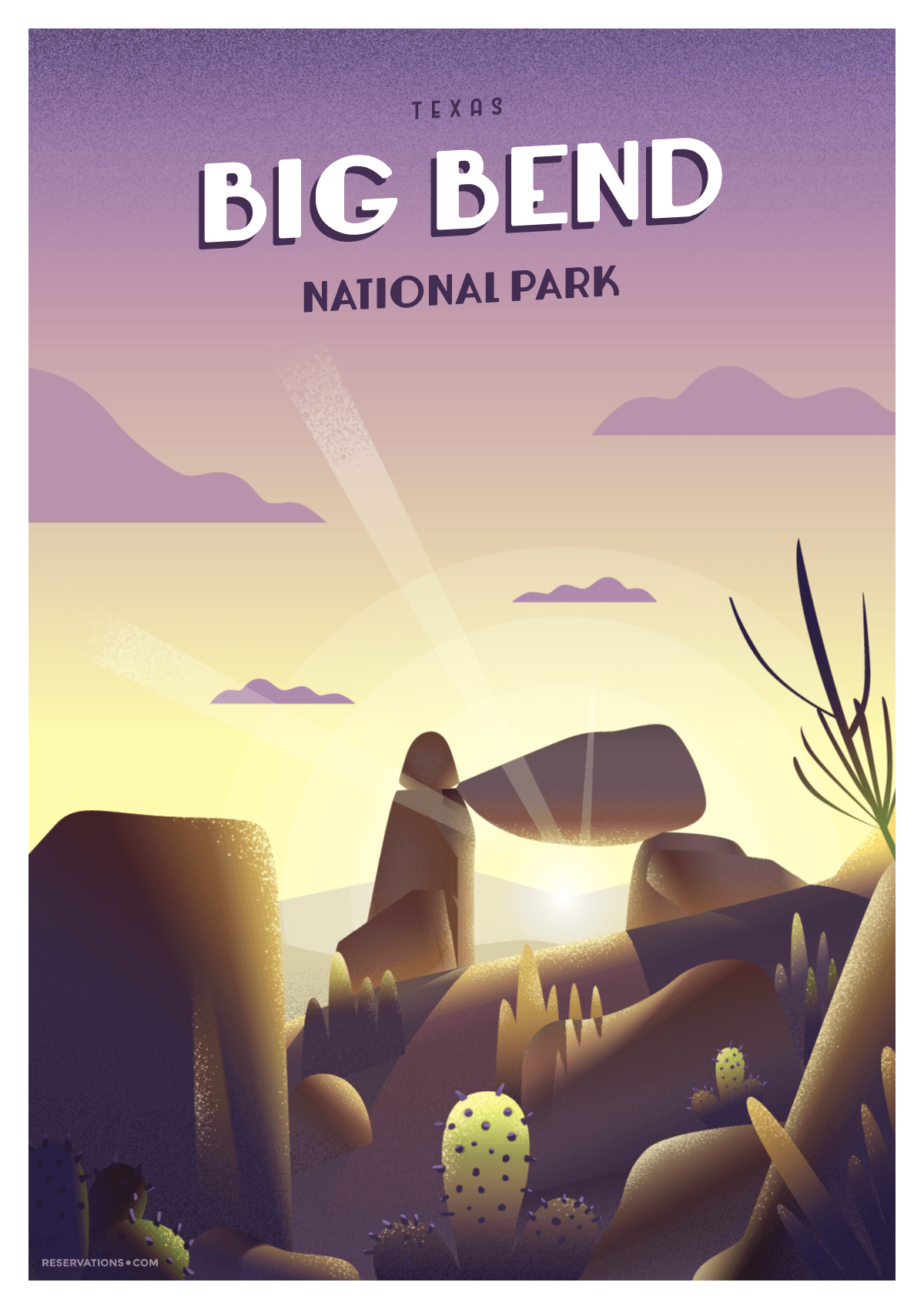 Texans can't seem to stop talking about their planned camping trip to Big Bend, but apparently the rest of the world hasn't caught onto this secret. The park is so remote in Far West Texas, it's an 8-hour drive even from Austin!
The vast wilderness straddling the U.S.-Mexico border is perfect for those seeking solitude and adventure. The Rio Grande runs right through the park, perfect for water exploration in the scorching summer heat.
"The Balanced Rock" is the Instagram-worthy focal point of our travel post – just a short quarter-mile hike makes it totally worth it.
18. Channel Islands National Park, California
Visits in 2018: 366,250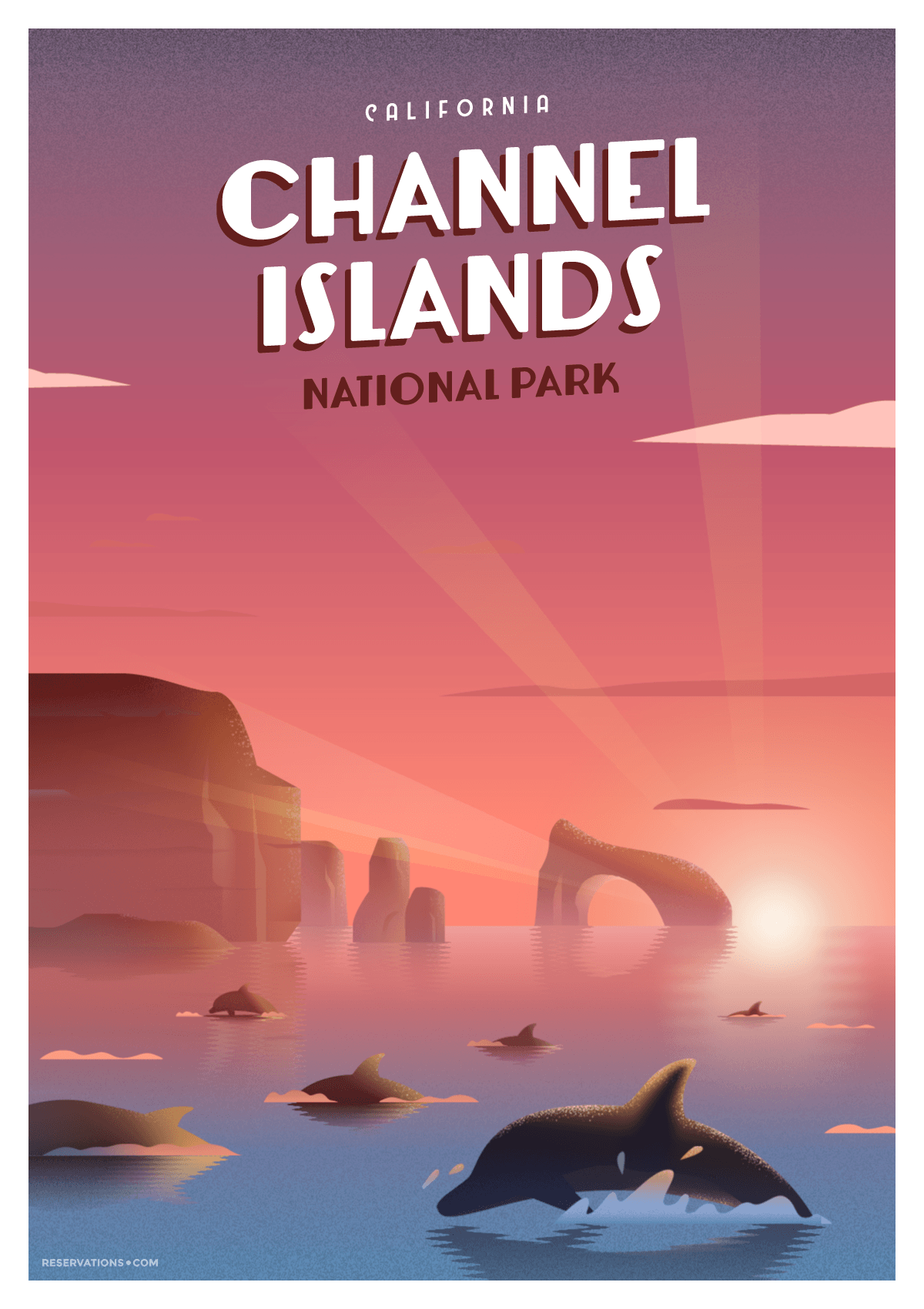 While the Channel Islands National Park is close to California geographically, it sees only a sliver of California's 39 million population. The isolated islands preserve unique natural resources and native species. For those who read Island of the Blue Dolphins, visiting the islands will instantly take you back to grade school.
From camping and hiking to boating and scuba diving, the Channel Islands National Park is an adventurer's paradise. Marine life in the protected waters are abundant, with dolphins, seals, whales and the ever-entertaining elephant seals lounging. With virtually no facilities, campers and visitors should plan carefully before arriving.
17. Kenai Fjords National Park, Alaska
Visits in 2018: 321,596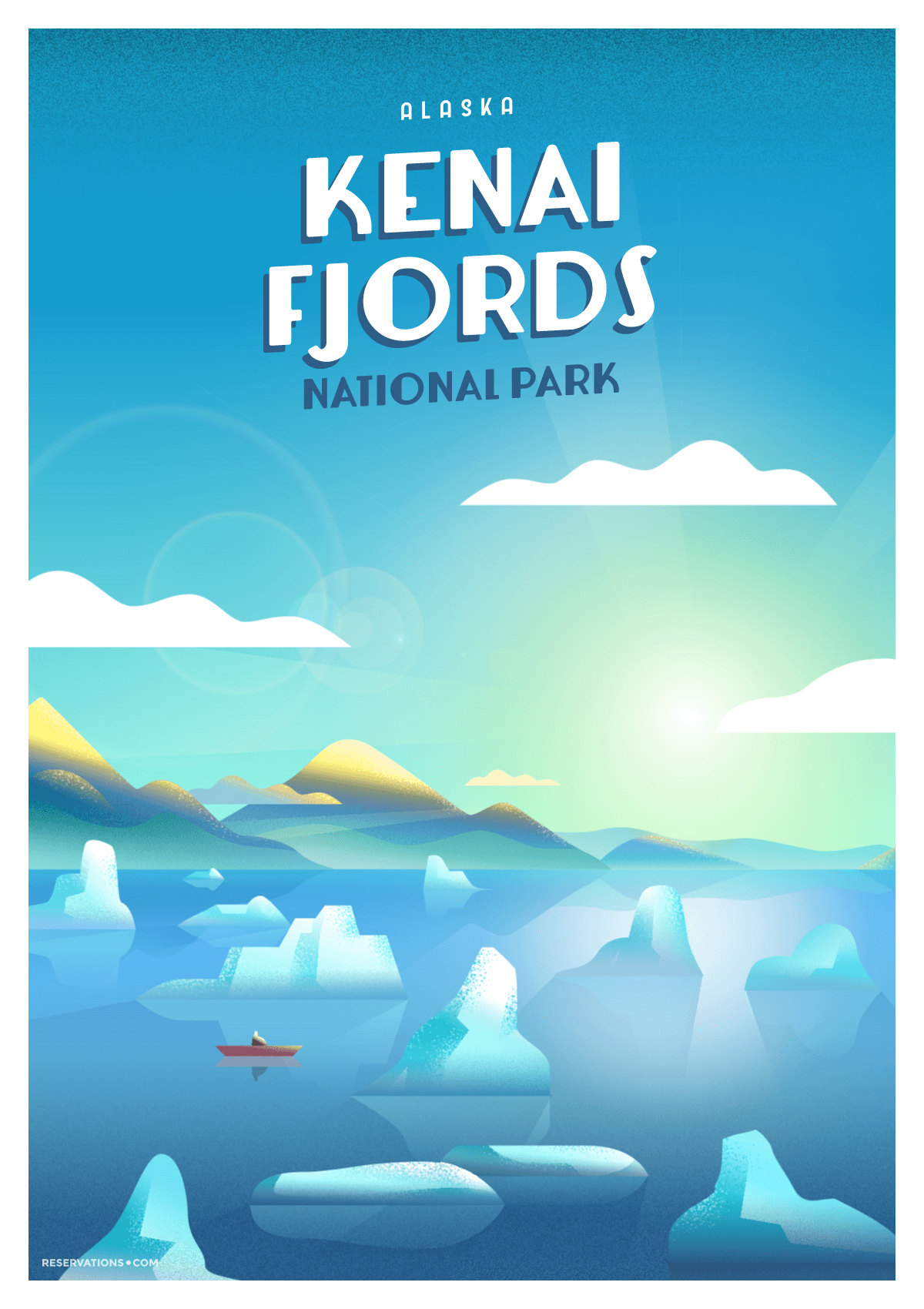 While the smallest of Alaska's national parks, Kenai Fjords punches above its weight. Most people visit for the Harding Icefield, an enormous icefield west of Seward, which wasn't officially crossed until the spring of 1968. From the icefield flow nearly 40 glaciers, an amazing scene where the ice meets the sea.
The park teems with wildlife packed into a small space, and you can expect to find an abundance of black bears munching on thickets of salmonberries.
16. Black Canyon of the Gunnison National Park, Colorado
Visits in 2018: 308,962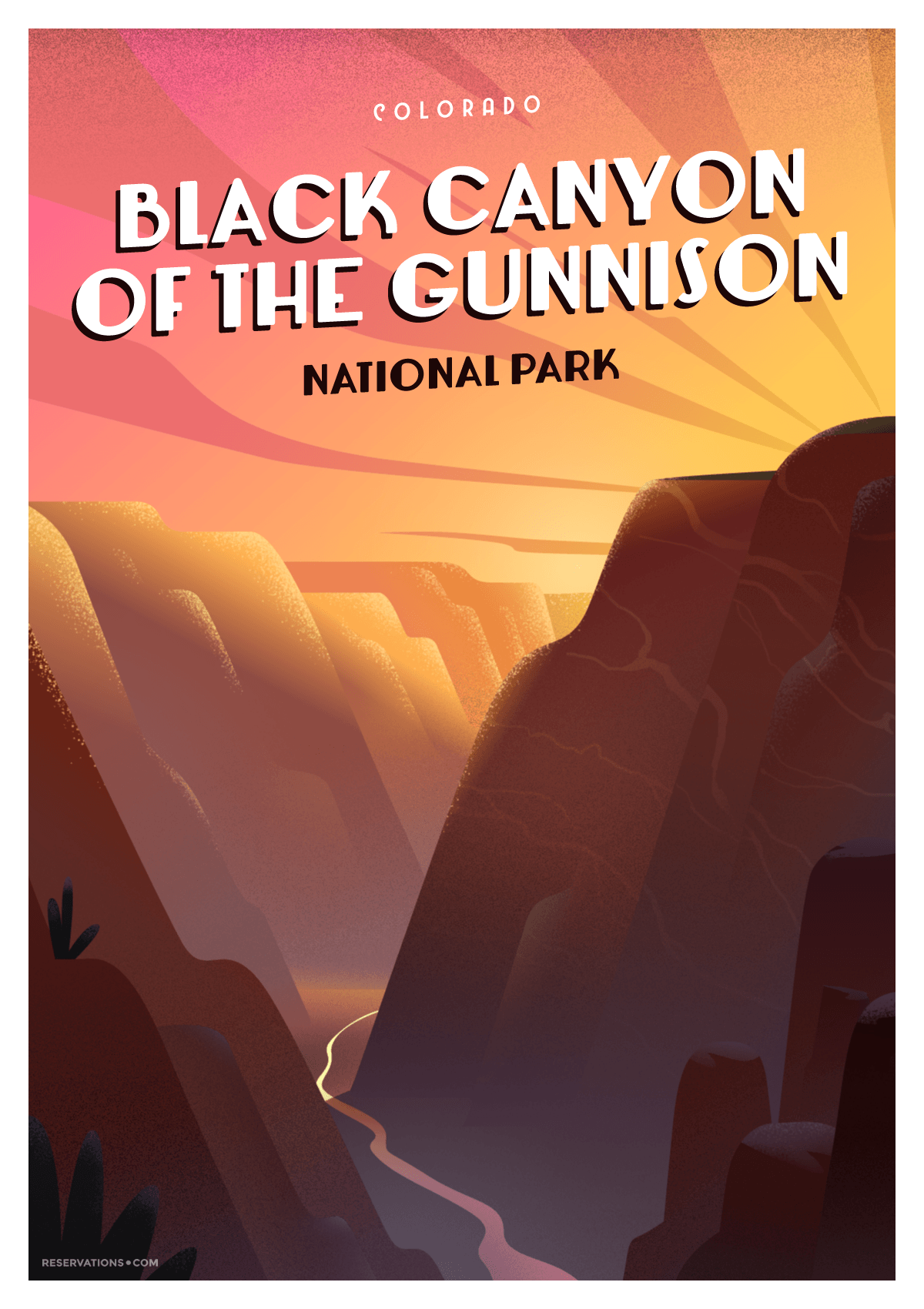 While a relatively young national park, only established in 1999, Black Canyon of the Gunnison National Park is truly remarkable. The combination of deep canyons, dramatic features, and pure darkness make it a must-see national park that many citizens don't know about. That will likely change, as Colorado natives continue to seek out wide open spaces away from the well-trodden trails across the state.
The 47-square-mile park is fairly small by national park standards, but the 14 miles of canyons are awe-inspiring enough to keep you deeply satisfied in this wilderness.
15. Voyageurs National Park, Minnesota
Visits in 2018: 239,656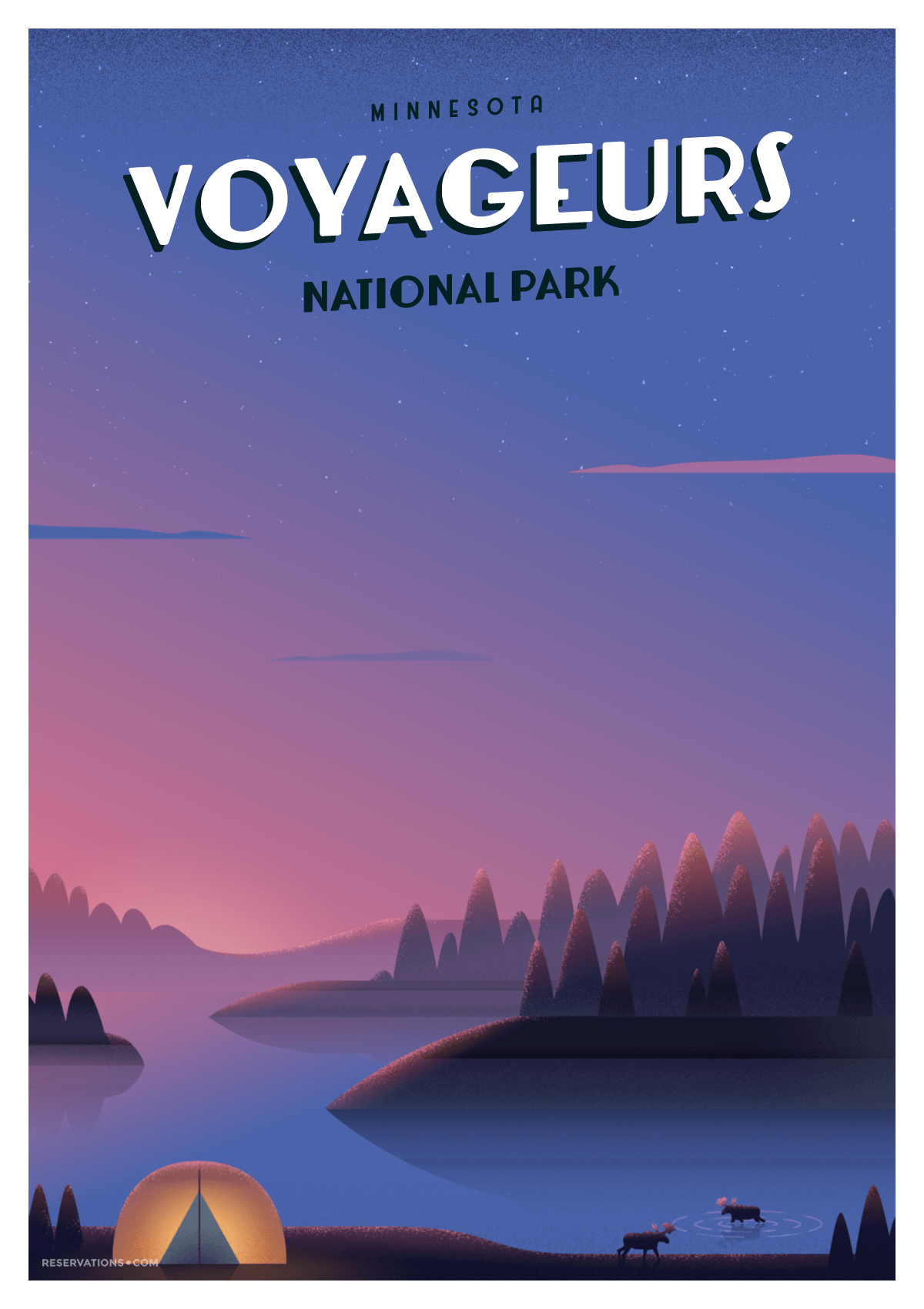 If you're like me, you're always looking for that magical forest that transforms from a winter wonderland to a warm water-filled summer, and everything in between. Like something out of Moonrise Kingdom. Voyageurs National Park is made up of 40% water as a network of pristine lakes with deep forests throughout. Some call it "Minnesota's gift to America."
Dark nights in the park allow for the perfect combination of stargazing, with the rare aurora borealis, as well as wolves howling at the moon. Sounds like the perfect place to write a novel.
14. Pinnacles National Park, California
Visits in 2018: 222,152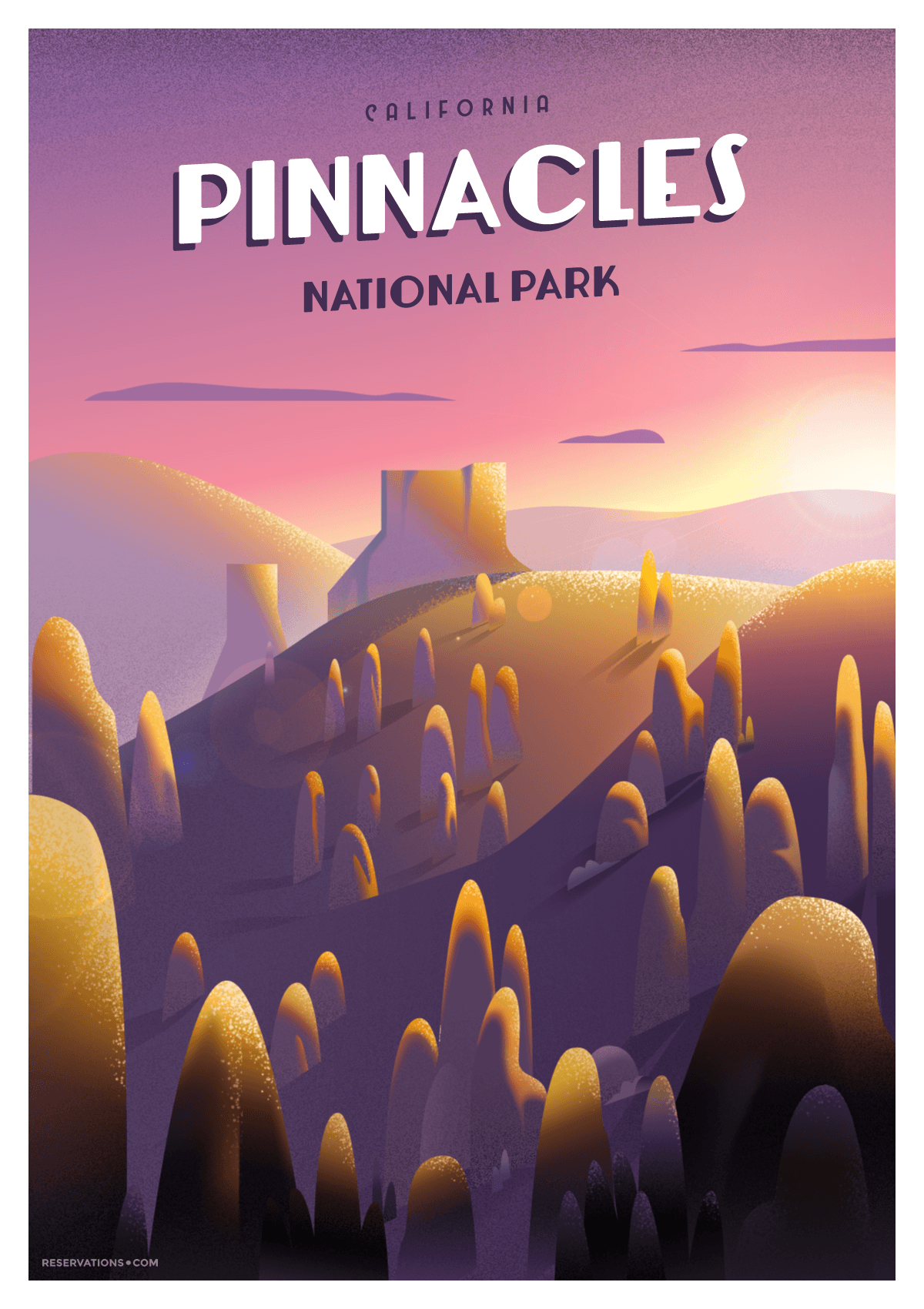 About halfway between coastal Big Sur and the interstate 5 freeway, on the eastern edge of Salinas Valley lies Pinnacles National Park, one of the most-forgotten parks in a state with so many. As a newer park in the system, it's likely to become more popular after citizens are done with the crowds at nearby national parks.
Most unique in the Pinnacles are the series of "caves" which aren't caves at all, but huge chunks of rock that were eroded by water and eventually broke off. These rocks formed rocky tunnels as they fell into chasms, which are known as talus caves – check out the Balconies Caves on the west side – they're open year-round.
Rock climbers of all levels love the challenge of scaling the volcanic breccia, softer than the familiar granite. Wildlife includes peregrine falcons, golden eagles, and the mythical California condors.
13. Guadalupe Mountains National Park, Texas
Visits in 2018: 172,347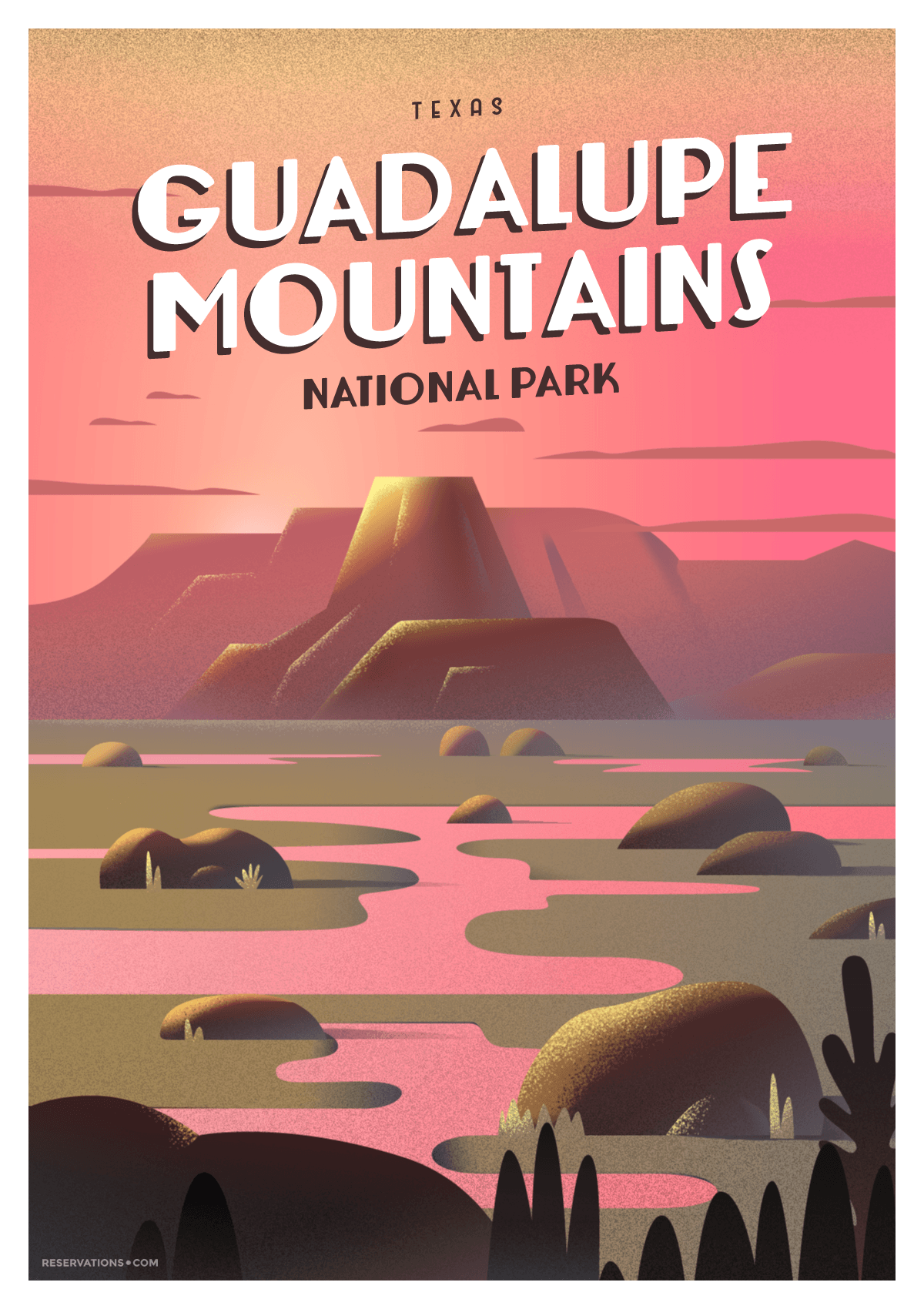 Featuring the four highest peaks in Texas as well as protecting the world's most extensive Permian fossil reef, the Guadalupe Mountains are not to be missed in your next cross-country adventure. The national park is famous for its dramatic combination of stunning canyons, Salt Basin Dunes, and the Guadalupe Mountain range, a picture we aimed to get postcard-perfect in our travel poster.
With more than 80 miles of hiking, these mountains are the perfect wilderness to explore in the spring and fall months and avoid the scorching Texas summer heat.
12. Great Basin National Park, Nevada
Visits in 2018: 153,094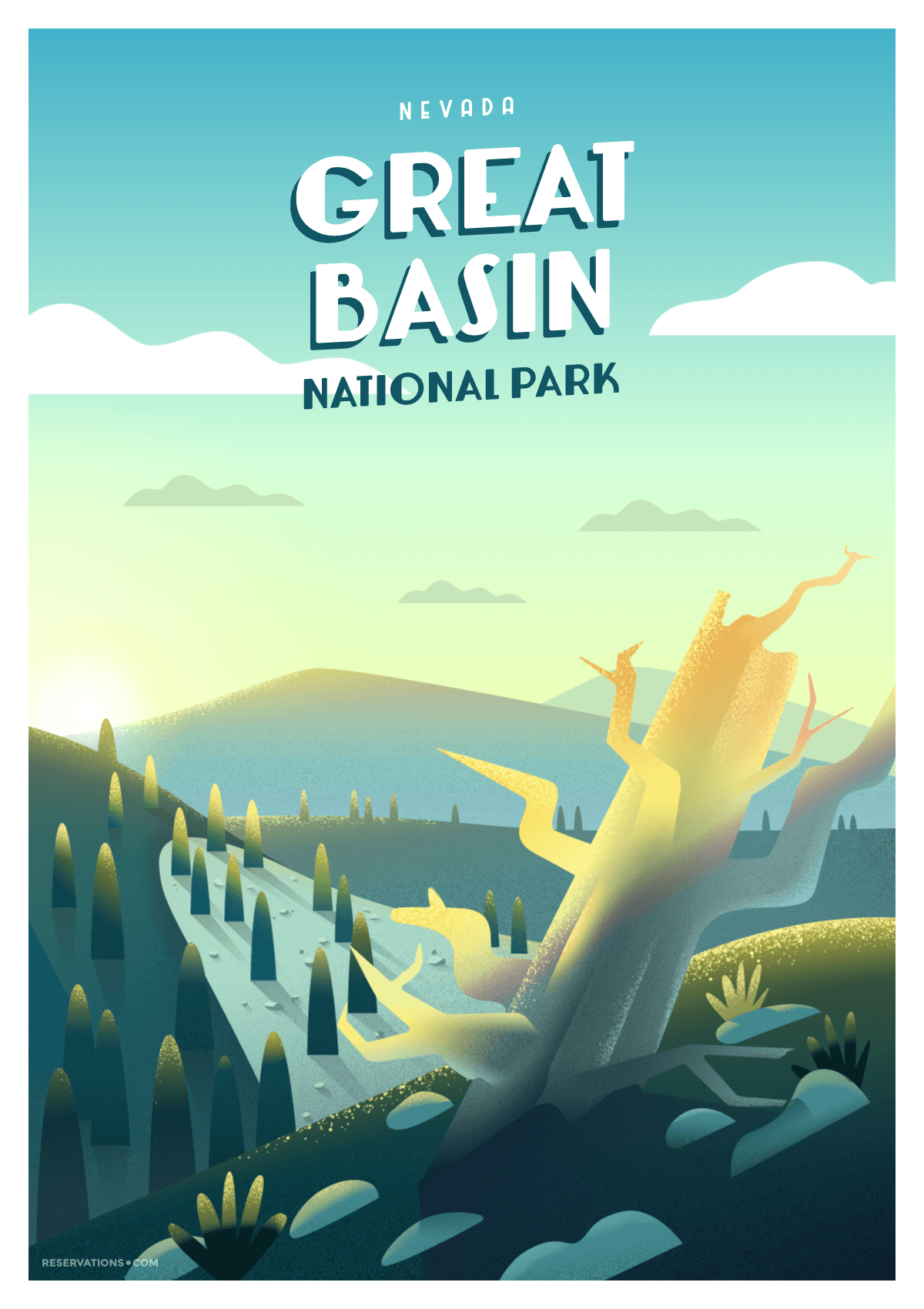 4,000-year-old trees. I repeat 4,000-year-old trees, the oldest trees in the world, are abundant here in Great Basin National Park, Nevada. The Bristlecone Pines grow ever so slowly, below the tree line, with scarce water – which gives them their distinct gnarled shape. The world-famous Prometheus Bristlecone Pine, found in 1964 by a geographer named Donald Currey, was the oldest tree in the world for a long period – at a startling 4,900 years old. For no other reason should you visit this majestic harbor of ancient life but there's much more to the park as well.
Come to the Great Basin for some of the darkest skies in this designated International Dark Sky Park – light pollution has no place here. The lively astronomy programs include ranger-guided night sky viewing with trillions of stars within telescope range.
Visits in 2018: 145,929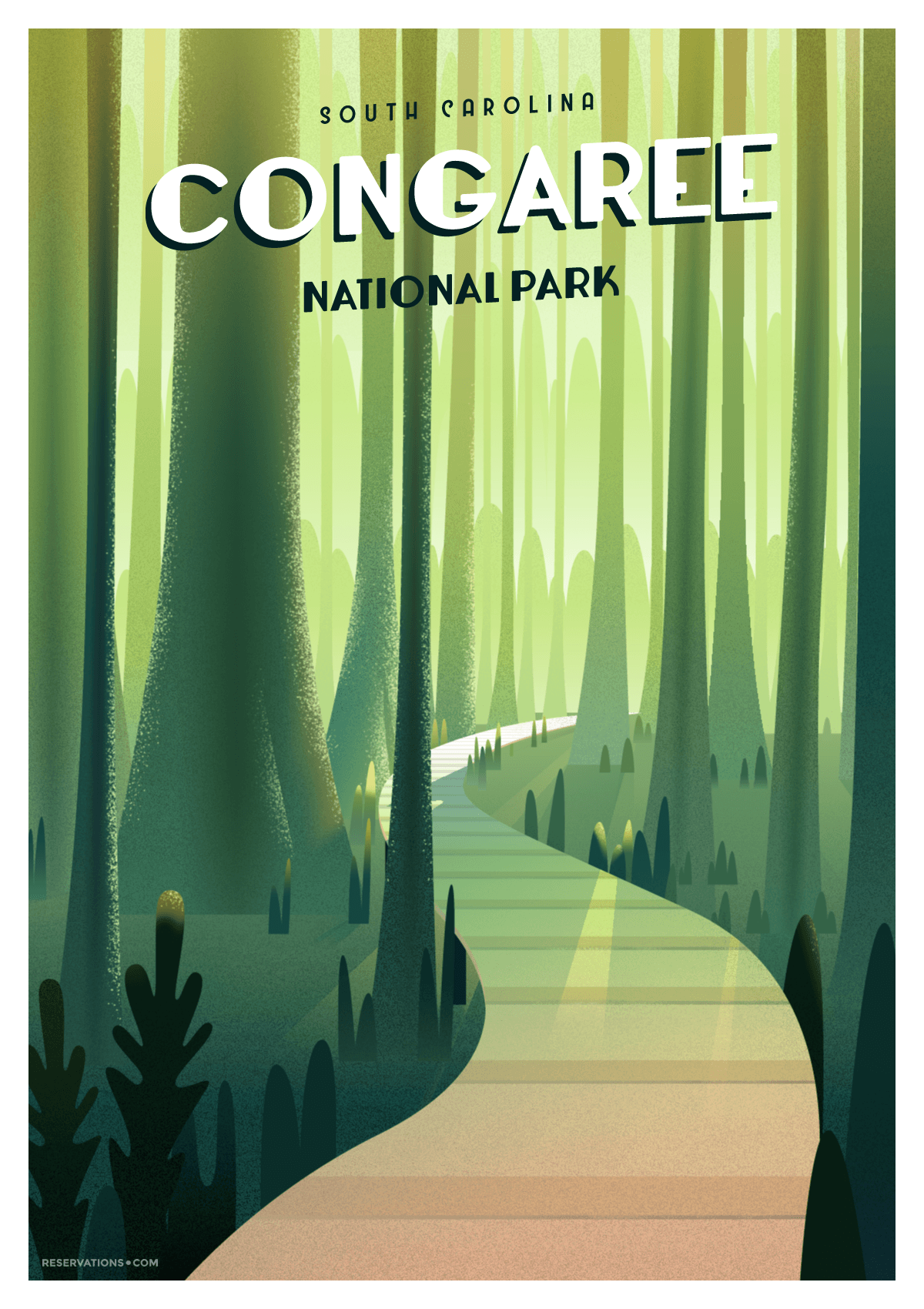 When you picture a mystical deep south landscape, with a dark wet forest, you're probably thinking of Congaree National Park. The park is 90% submerged underwater, with old-growth forest springing out of the swamps at up to 170 feet high.
Take the elevated walkways throughout the park, as it's prone to natural flooding seasonally. It just adds to the magic of the experience.
When you're in South Carolina, it's actually the only choice of national parks – so check it out and help increase their visitor counts.
10. Virgin Islands National Park, Virgin Islands
Visits in 2018: 112,287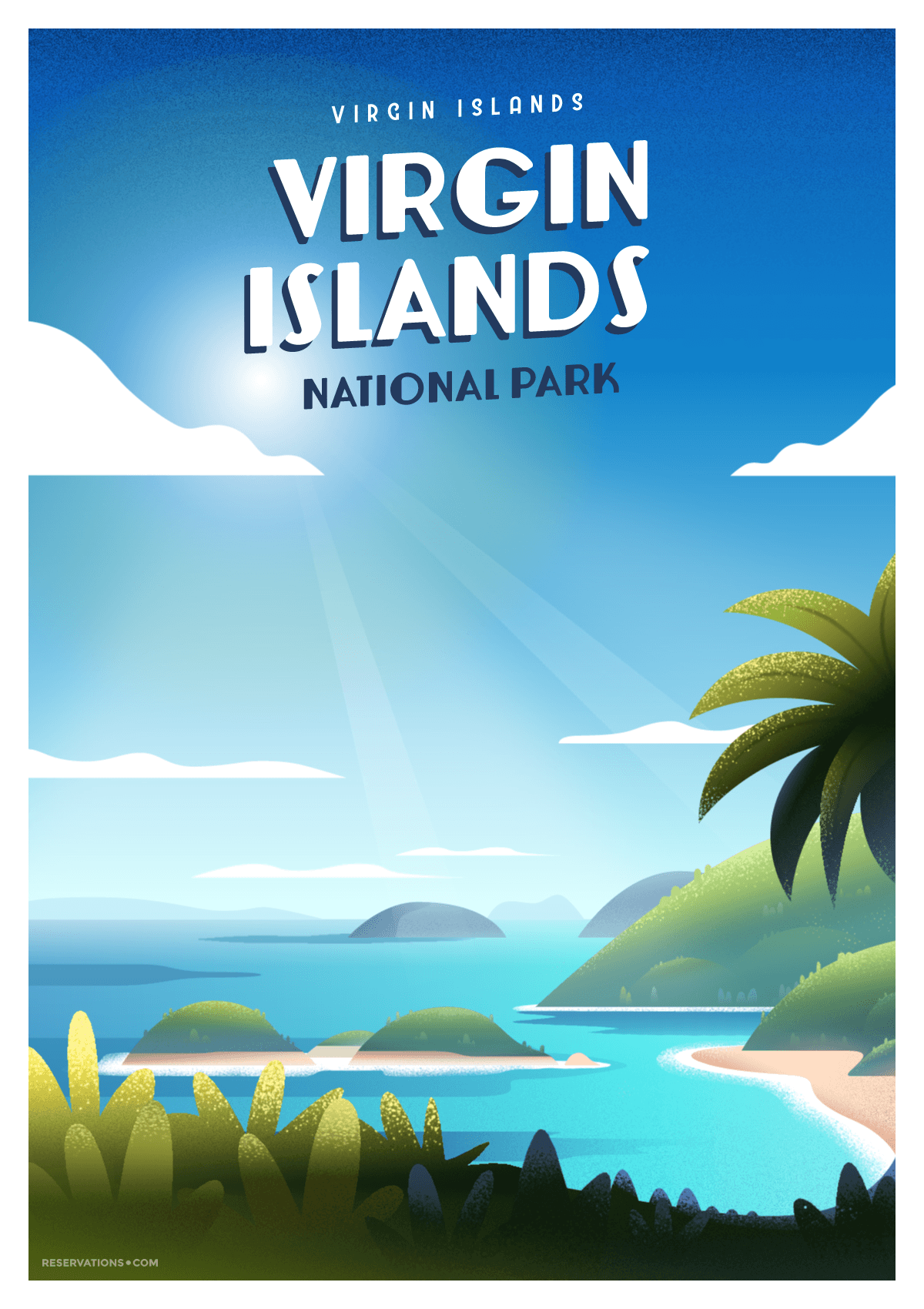 Want Caribbean paradise within U.S. borders? The Virgin Islands National Park is calling your name. This water-soaked sanctuary is filled with magnificent beaches and scenic hikes. The park occupies two-thirds of the island of St. John, and much more under the water's surface.
Bring your snorkel and hiking gear, this lush park is just the break you need while on your luxe vacation in the U.S. Virgin Islands.
9. Wrangell-St. Elias National Park and Preserve, Alaska
Visits in 2018: 79,450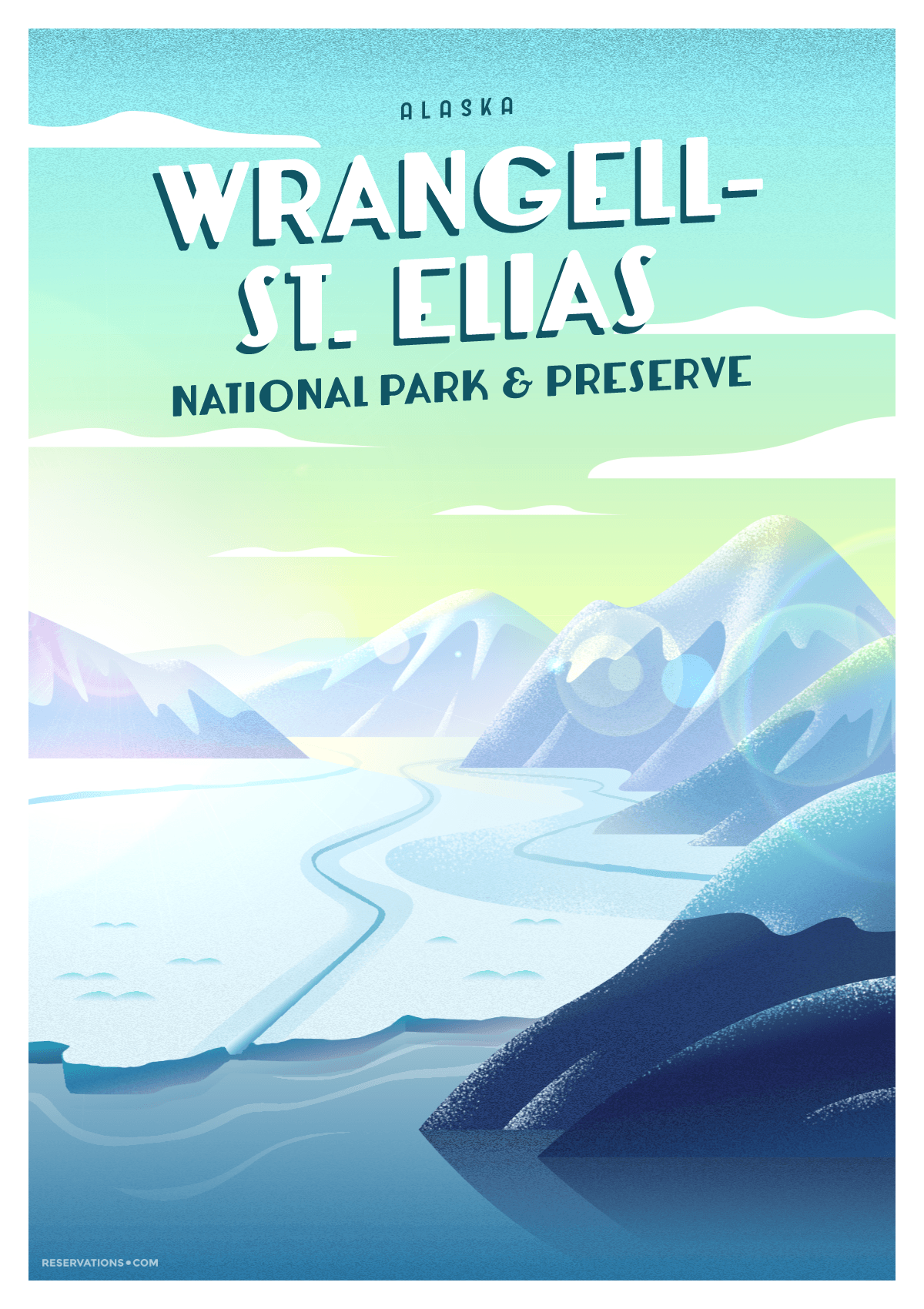 What would you guess is the largest national park in the U.S.? Yellowstone? No. Yosemite? No. Big Bend? No.
It's Wrangell-St. Elias National Park and Preserve, larger than the three of those combined. We've never heard of it either, and only around 80,000 people made the venture to step foot in the park boundaries last year.
Even more spectacular, the park is home to 16 of the tallest mountains in the U.S. For avid backpackers, might as well plan on moving to the park for a few years to dominate those peaks. It wouldn't be Alaska without a glacier reference, and 35% of the park is covered in them, of course.
8. Dry Tortugas National Park, Florida
Visits in 2018: 56,810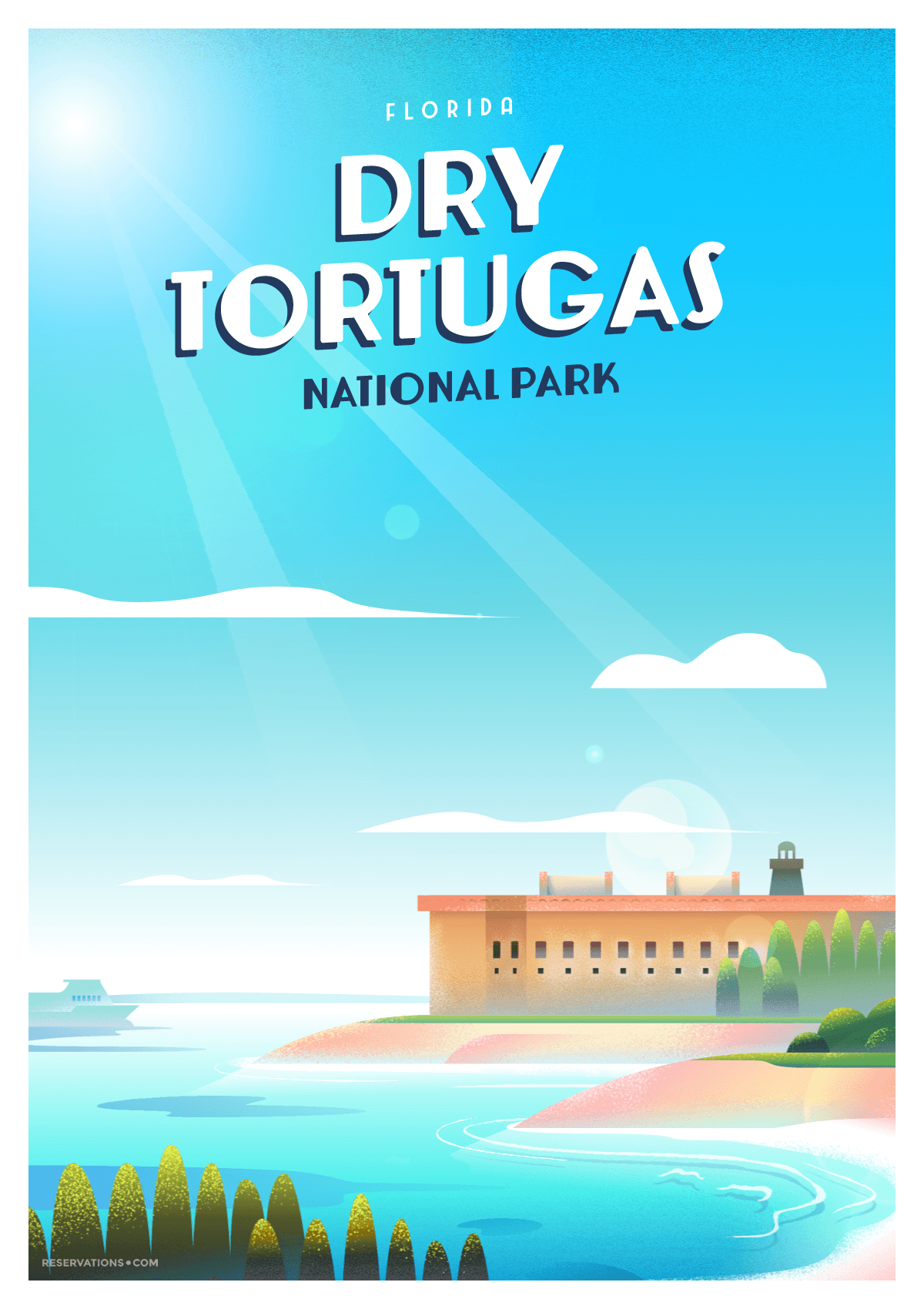 The first thing you need to know about this park is the epic Fort Jefferson, a 19th-century hexagonal fort that looks as if a 12-year old boy designed it, complete with a saltwater moat and defensible against pirates.
Beyond the fort, the crystal-clear waters 70 miles west of Key West are teeming with animal life. You'll find nurse sharks, birds, crocodiles, schools of fish, and, true to its name, five species of turtles in the waters around Dry Tortugas National Park.
7. Katmai National Park and Preserve, Alaska
Visits in 2018: 37,818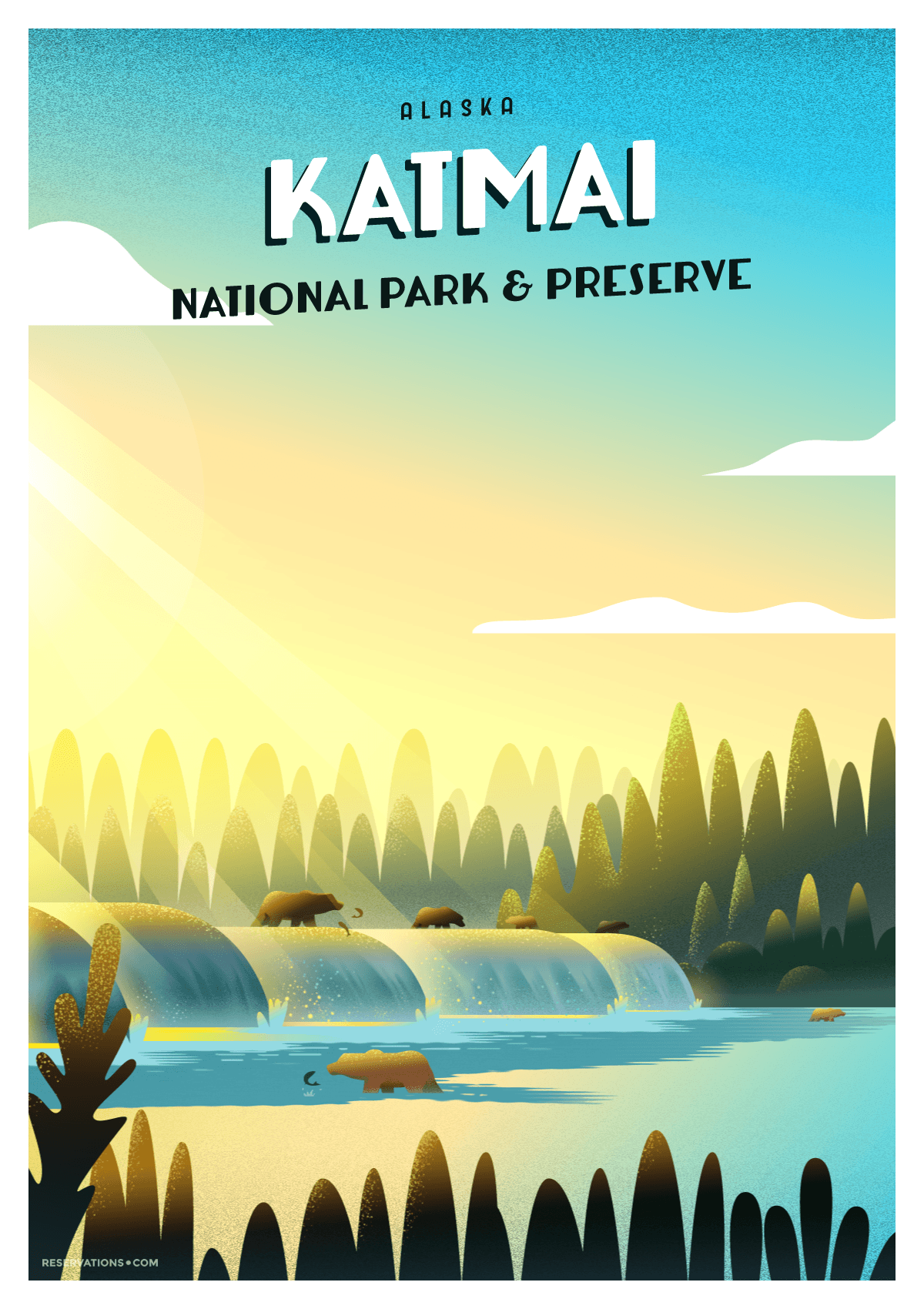 We've found bear paradise on earth, and it's at Katmai National Park and Preserve, Alaska. Every year, during Fat Bear Week, participants watch the park's Bear Cam to crown the fat champion. With winter on the horizon, fat bears are healthy bears, and the park has over 2,000 brown bears chowing down on salmon.
When you're not watching the Bear Cam, take a Flightseeing Tour over the majestic wilderness. You'll see the vastness of the park and the many habitats throughout the park – from tundra to lakes to the Pacific coast. Sounds like a great way to see a national park without going camping.
6. North Cascades National Park, Washington
Visits in 2018: 30,085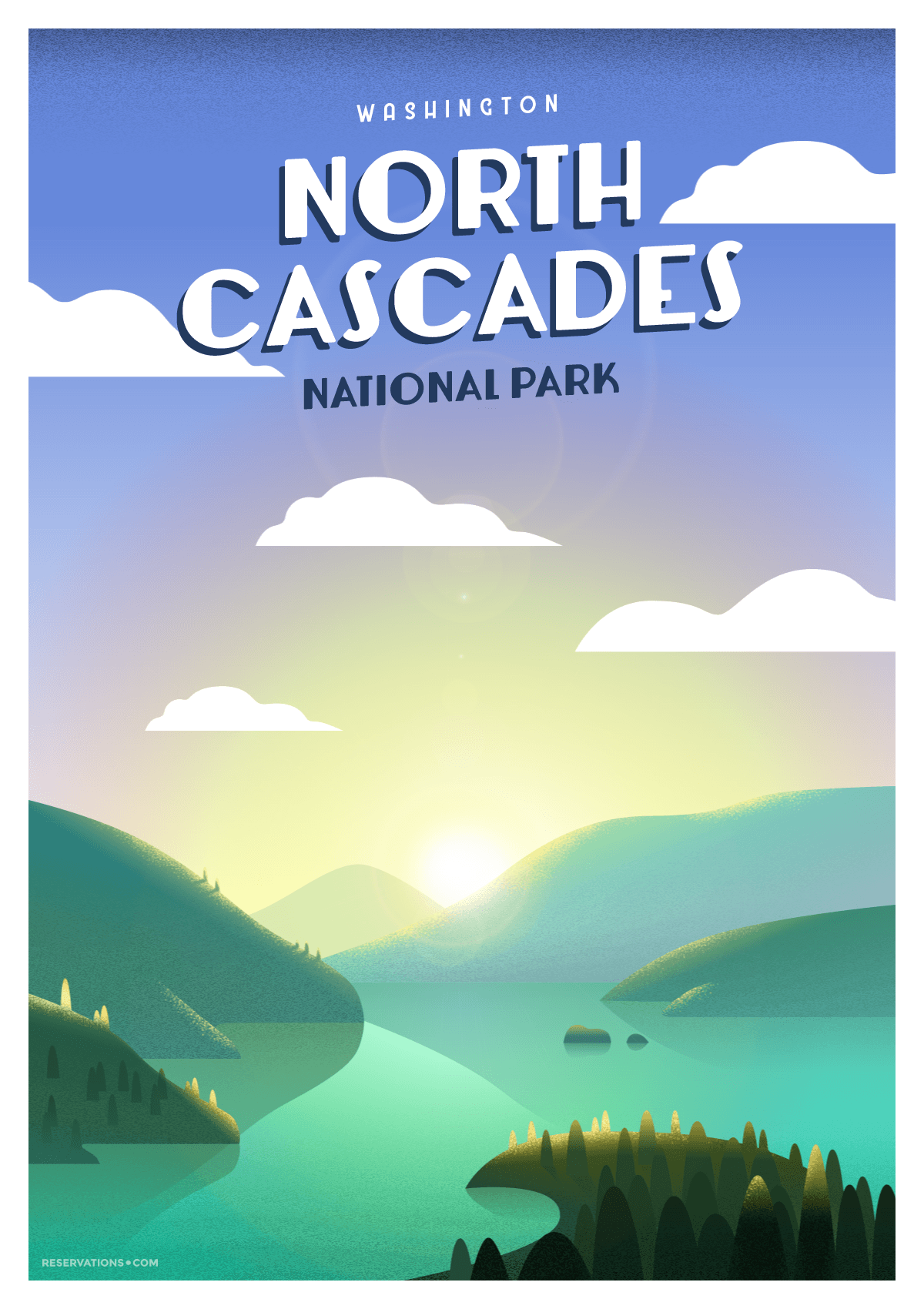 Just three hours from the modern tech hub that is Seattle, you'll find yourself dropped into a land before time. The North Cascades National Park has the most glaciers outside of Alaska (over 300 in all) and is called the American Alps by those in the know.
400 miles of trails will guide you through virgin forests with abundant wildlife and animals – think black bears, mountain lions, wolves, and other dangerous beasts.
5. National Park of American Samoa, American Samoa
Visits in 2018: 28,626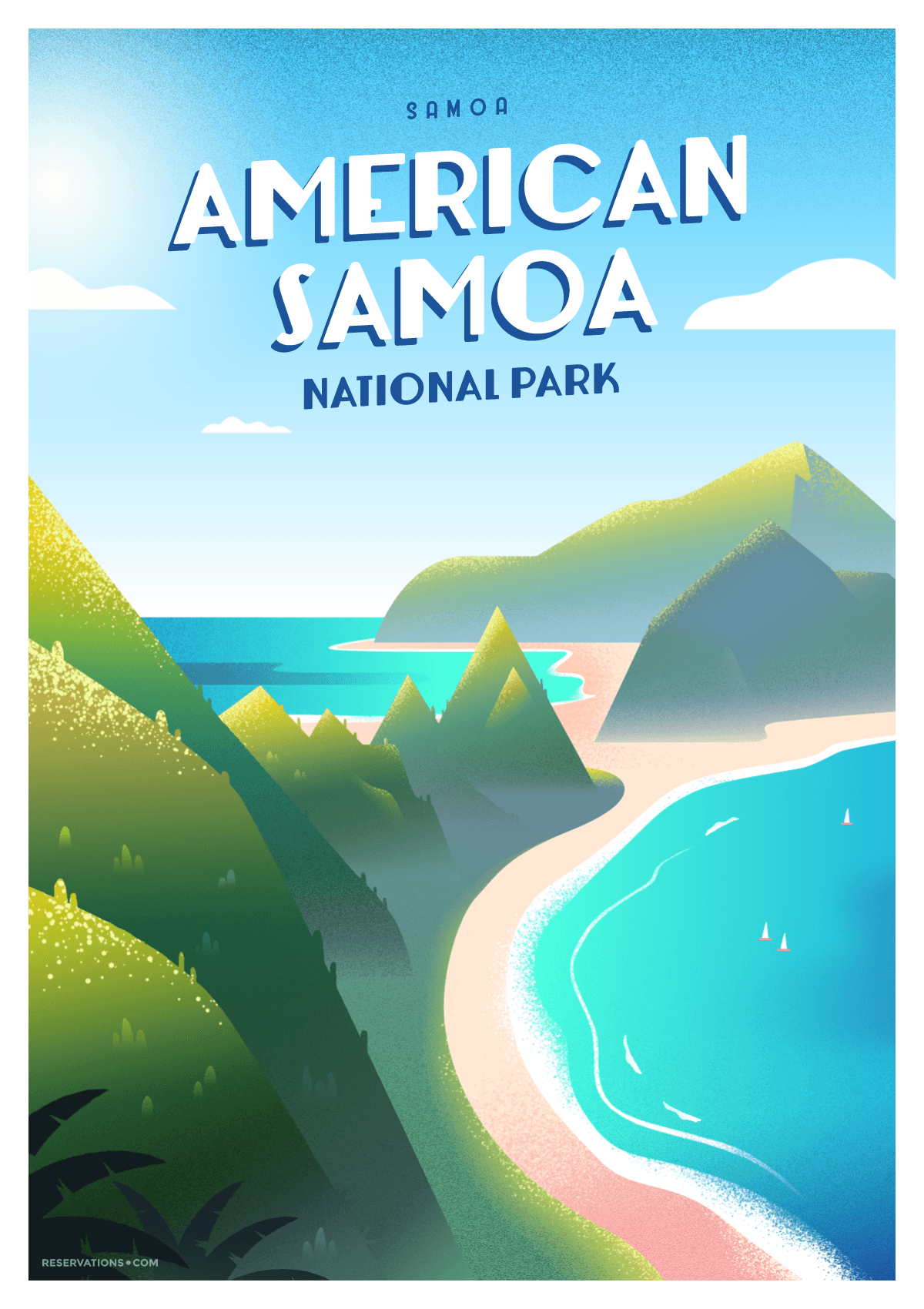 Despite being a United States territory, the National Park of American Samoa will never be seen by most Americans. The territory consists of five islands, with the national park on the island of Tutuila. It's situated in the heart of the Pacific Ocean, 2,600 miles from Hawaii.
The most fascinating aspect of the park has to be the ancient Samoan culture – Polynesia's oldest. Distinct culture makes Samoans stand on their own, and is called Fa'asamoa – The Samoan Way. The Homestay Program allows visitors to experience the culture with a Samoan host family – an amazing opportunity.
We were mesmerized by the turquoise blue waters and dramatic isthmus of this tropical paradise and had to feature it in this poster.
4. Isle Royal National Park, Michigan
Visits in 2018: 25,798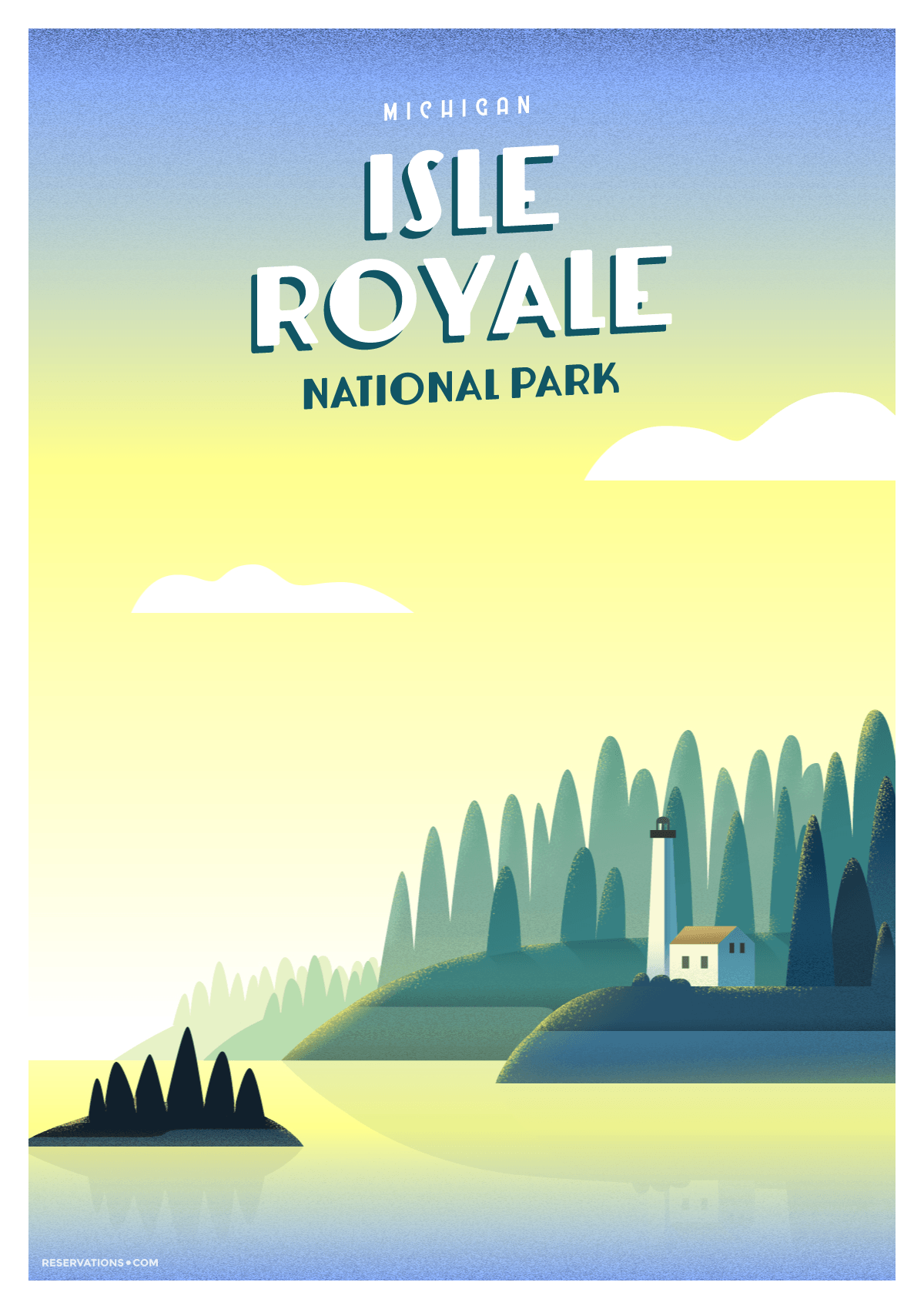 How does exploring shipwrecks on a remote island in the middle of Lake Superior sound? With 10 major shipwrecks dating to the 1800s, Isle Royal National Park is a scuba diver's dream retreat.
Just over 25,000 visitors made it to this tranquil location in 2018, largely owing to it only being accessible by boat or seaplane. With over 400 islands as part of this archipelago, you'll definitely be better off getting the fishing gear ready for a multi-island adventure vacation.
3. Kobuk Valley National Park, Alaska
Visits in 2018: 14,937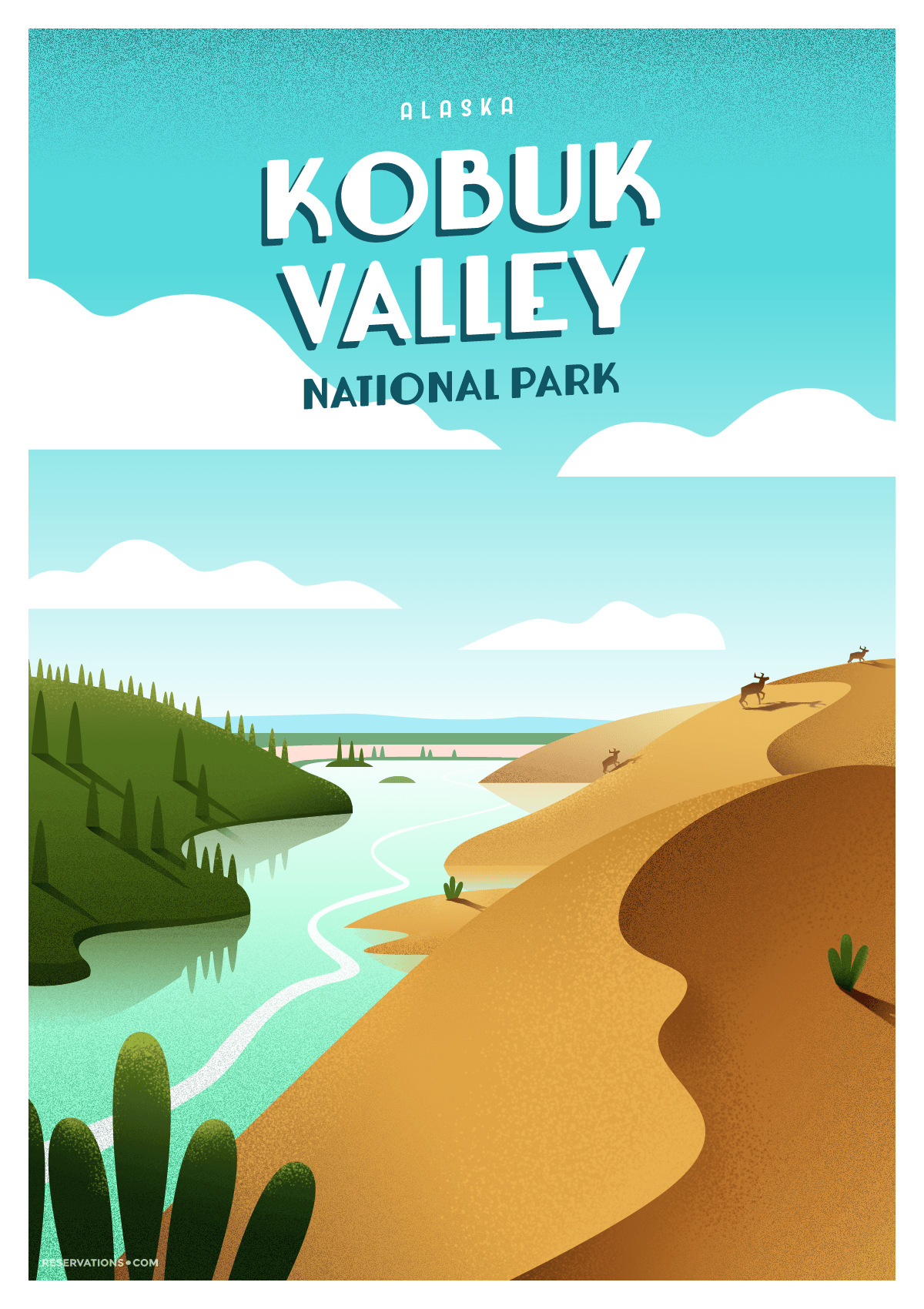 Sand dunes above the Arctic Circle? Sounds impossible, but you can witness the 30 square miles of sand yourself at Kobuk Valley National Park in Alaska. These dunes were formed starting 14,00 years ago as the glaciers retreated, and mother nature has been reclaiming the sand with vegetation growth, so you'll need to see them while you can. Even more surprising for Alaska, in the summer, temperatures can be a scorching 100 degrees.
Like many on the list, to get to Kobuk Valley, you'll need to take a plane, as there are no roads to access. The best time to visit is hands down in the spring or fall, when half a million caribou migrate to and from their calving grounds.
2. Lake Clark National Park and Preserve, Alaska
Visits in 2018: 14,479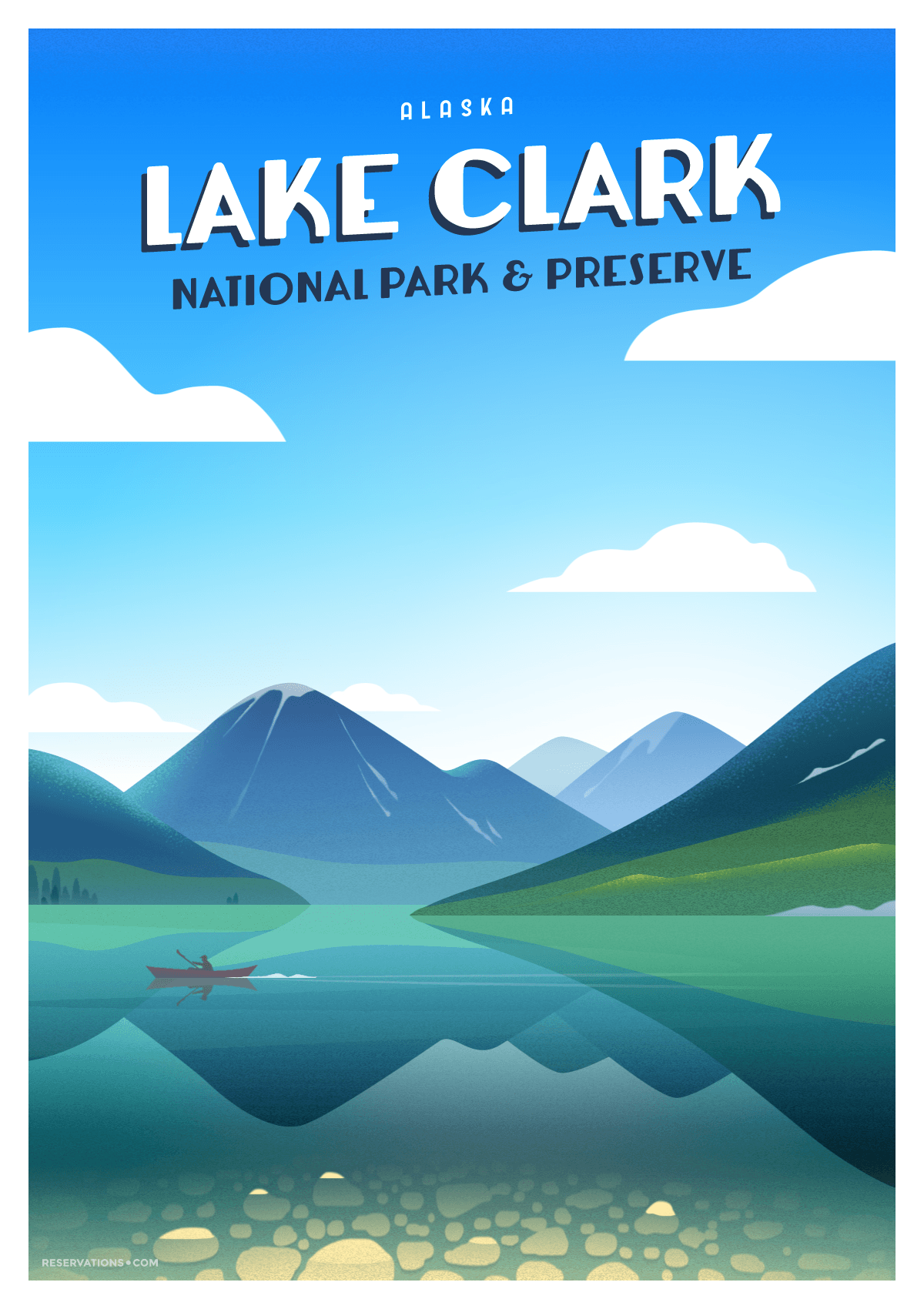 Situated in remote and rugged southwest Alaska, and home to the ancestral homelands of the Dena'ina people, Lake Clark National Park and Preserve is perhaps the best national park you've never heard of With 4 million acres of land, it's larger than the states of Connecticut and Rhode Island combined.
In this poster, we chose to focus on the mystical, mirror-qualities of the turquoise lake with the majestic peaks in the background.
There are no roads to Lake Clark National Park and Preserve, the only way to get to the park is via plane or boat. Truly a magical place for those who venture to it.
1. Gates of the Arctic National Park and Preserve, Alaska
Visits in 2018: 9,591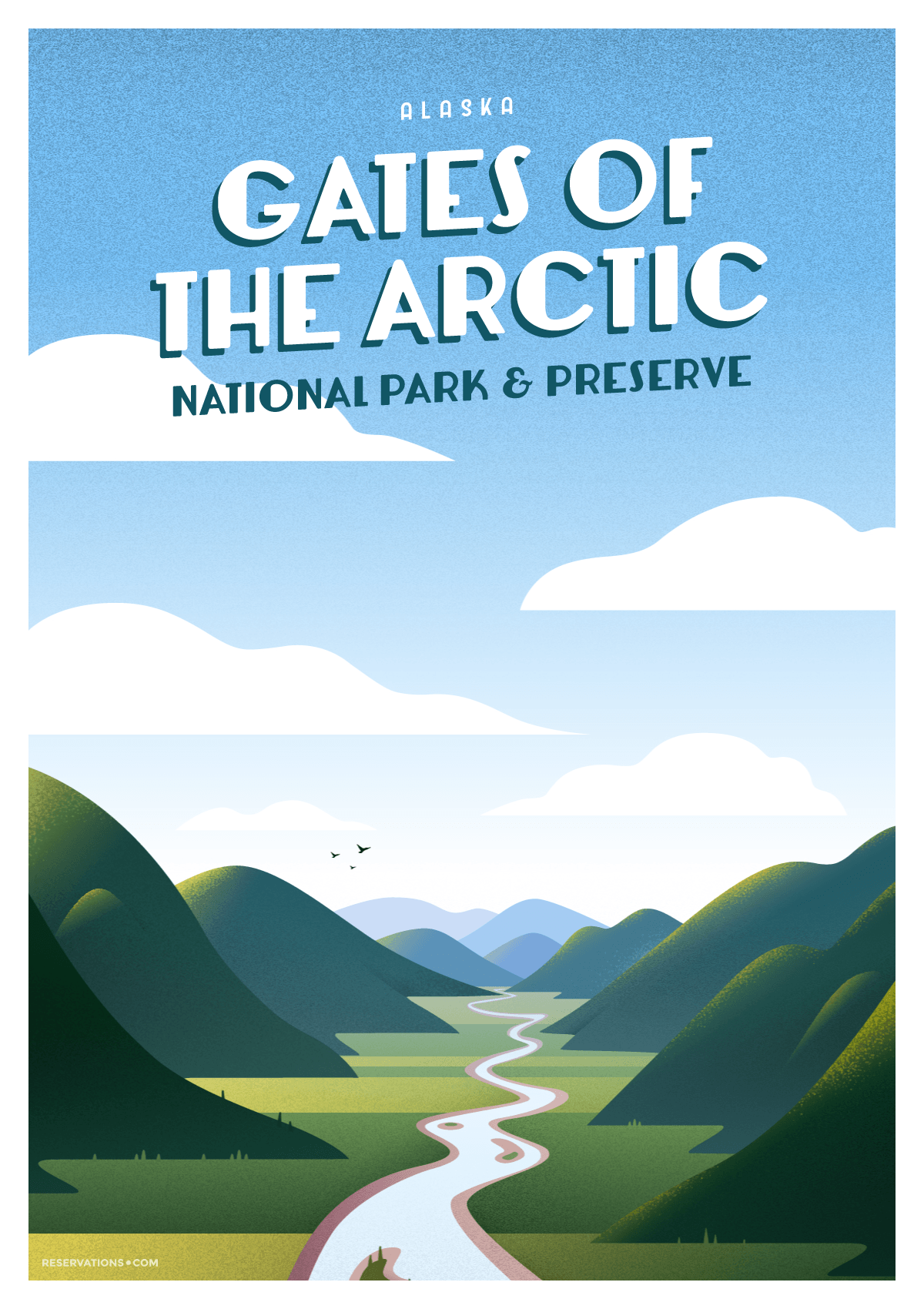 When we first saw the dramatically snaking river in the ancient, glacier-carved valley it took our breath away. With an astonishingly low number of visits, it's no surprise locals call it "one of the last truly wild places on Earth."
But if your idea of a wilderness vacation includes more caribou and muskoxen than people, Gates of the Arctic is calling your name. The area was first named after explorer Robert Marshall was venturing towards the Arctic Coast. The park was established officially as a national park in 1980 and has seen the least amount of visitors of any national park since. This is no surprise, however, as the entire park is north of the Arctic Circle, and faces harsh climate most of the year.
It has no roads, campsites, or facilities, so this park is best left to expert explorers or those venturing with a guide company. Bring your outdoor survival skills, as expert hikers can only expect to make it 6 miles a day in this park. For those of you looking for rugged beauty, it's one of the best places in the world.
---
Take the Untraveled Road
We love some of the most popular national parks, like Yosemite and Yellowstone. But overpopulated tourist hotspots can cause unsustainable environmental problems, and impact the nature and wildlife we seek to protect.
By visiting one of the least visited national parks in the world, you're doing your part to rebalance the flow of humans into nature.