Known for their heart-warming cards, Hallmark has capitalized on finding those moments that inspire humility, gratitude and connection. Given that the holiday season is full of these kinds of moments, Hallmark Channel's Countdown to Christmas movies have truly been able to capture the essence of the season in their seasonal lineup.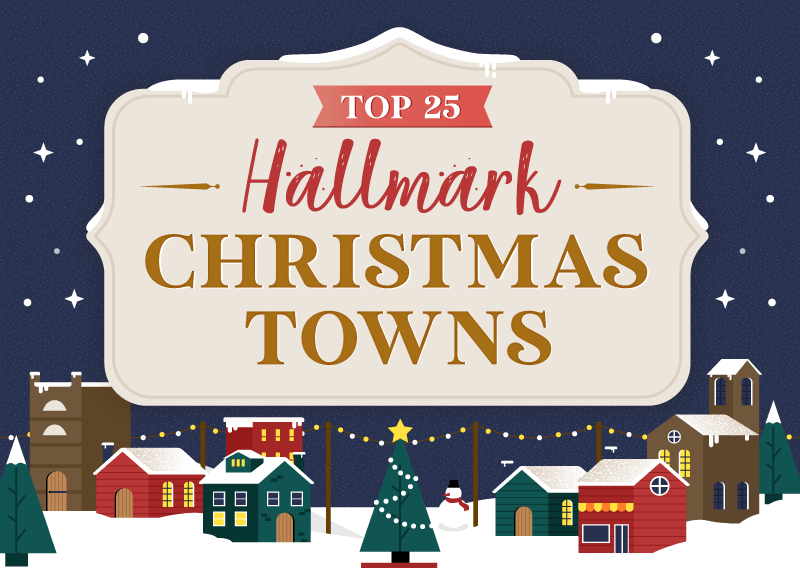 Featuring small towns with local cafes, friendly neighbors who call each other by first name, and a whole line up of Christmastime activities, these movies stir something in even the toughest Grinch. While you may not have the time to watch all of the 200+ films on their list, perhaps you would like to have your own Hallmark experience?
Guess what, it's actually possible.
We did the work for you and ranked some of the nicest, coziest small towns in America perfect for a Hallmark movie.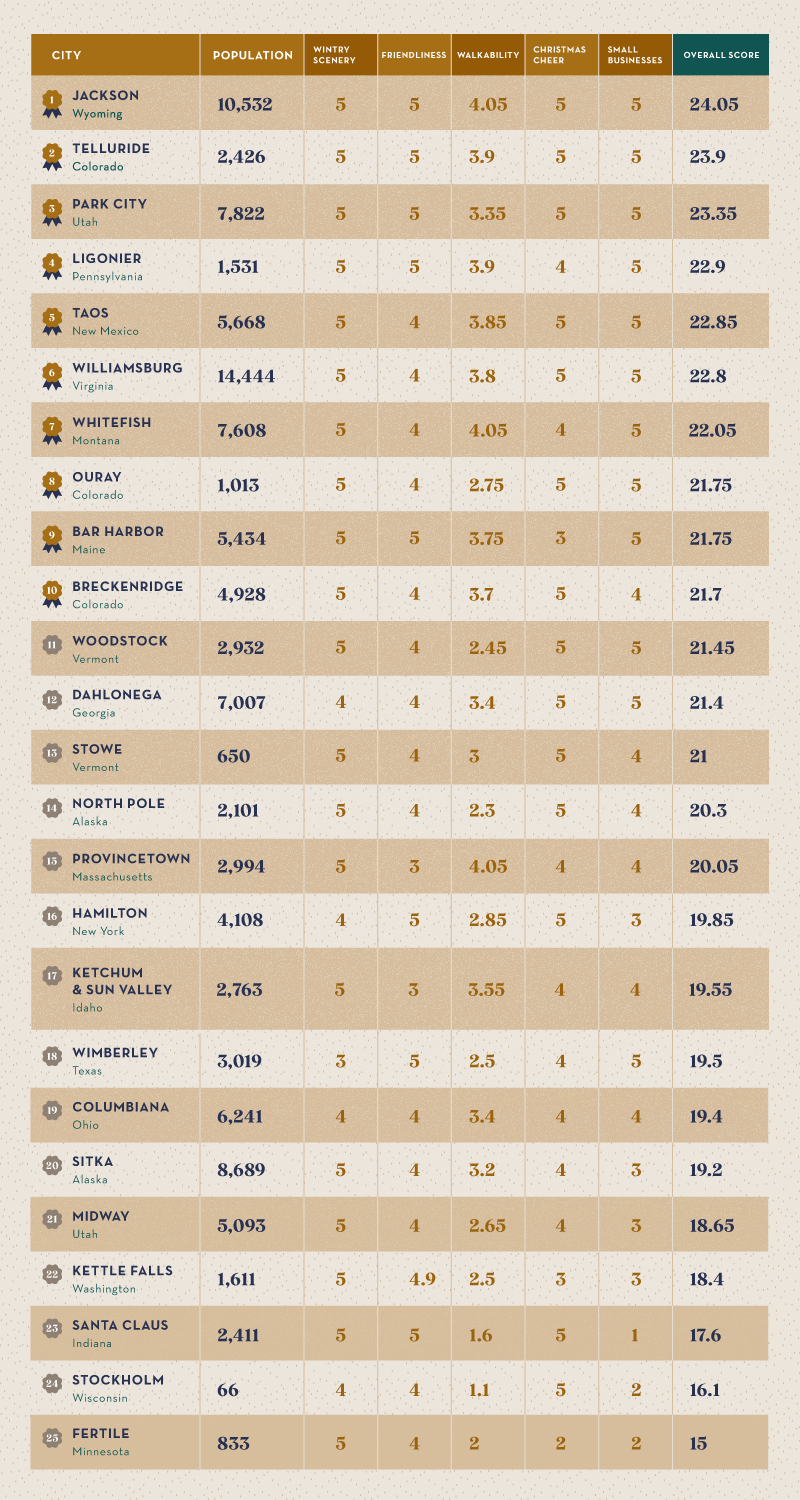 Our process factored in scenery, friendliness, walkability, Christmas cheer, and small-town business representation. Our list of small towns can be sorted according to your preferences so you can uncover the perfect real-life Hallmark town in America for you.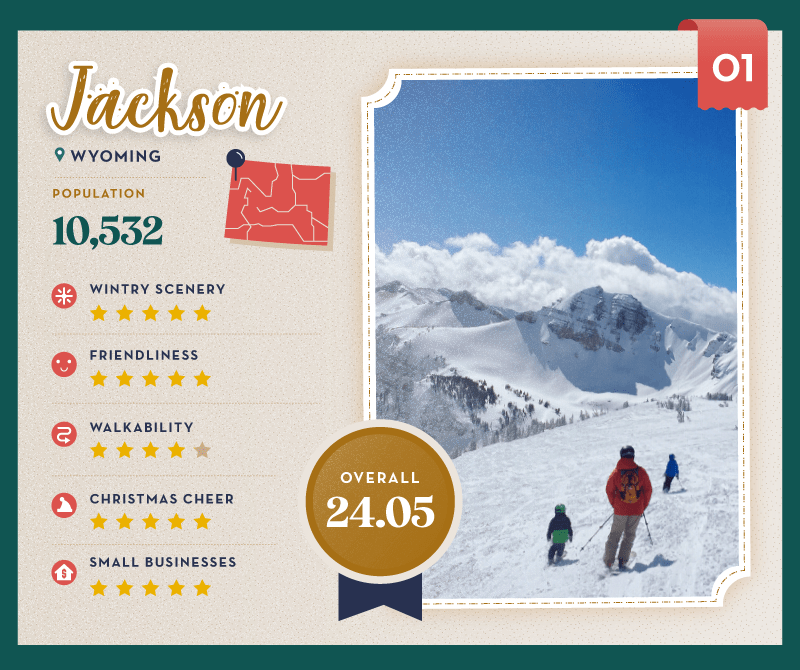 Don't confuse this small town with the rather similarly named valley in which it is located. To clarify, Jackson Hole is the name of the full 50 mile-long stretch along the Teton Mountain Range. However, we are zooming in on the small, darling town of Jackson.
Here winter wonderland and holiday magic reign. It's everything Hallmark and Christmas could dream. Just imagine walkable historic streets, western facades with twinkling lights and some of the friendliest smiling locals in all of America. That's exactly what you will find in Jackson, Wyoming.
It's no wonder it won the top spot on our list. Their annual 12 Days of Christmas is a sure-fire tradition that never fails to impress. The community celebrations include over 21 events including decorating Gingerbread houses, brunch with Santa and even an ugly sweater party.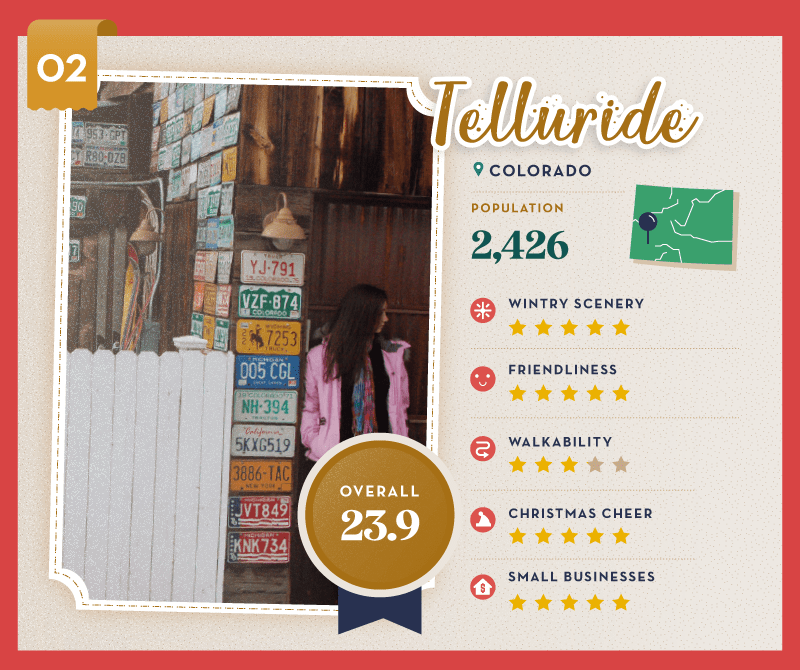 Surrounded by towering white Rocky Mountain peaks during the winter and hidden in a box canyon, this quaint, picturesque city seems to have more holiday festivities than people.
Regardless of the population, the list of activities is long and includes aptly named events such as their very own Polar Express, Noel Night, and Holiday Prelude.
The Holiday Prelude is worth noting as the city becomes its very own version of the North Pole. To illustrate, here you can find Santa, his workshop and even live reindeer all making an appearance. It's a perfect place to go for the entire family!
3. Park City, Utah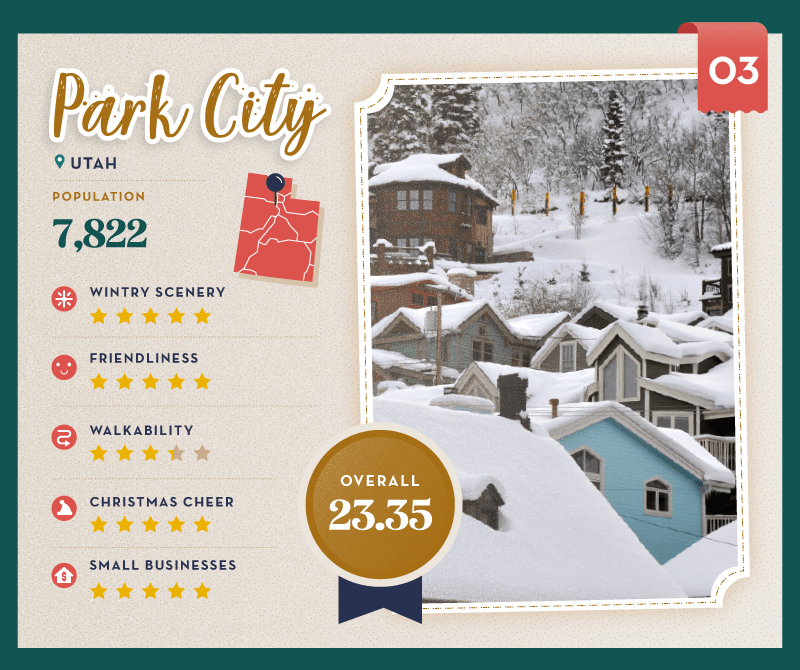 Located in the Wasatch Back of the Rockies, this mountain pass nearly faded into history after it's shining days during the Silver boom. We aren't sure how, because it's one of the most beautiful places on our list.
More importantly, during the Christmas season, this treasured town with over 100 independent boutiques and 50 original restaurants transforms into a city of holiday riches that even Hallmark can't replicate.
In fact, their Electric Parade is one of the most festive events we've heard of. Instead of everyone driving out to look at Christmas lights on houses, this city brings the lights to town. The incredible sparkling fire trucks, cars, trolleys, and floats parading down the street to Christmas is a sight to behold.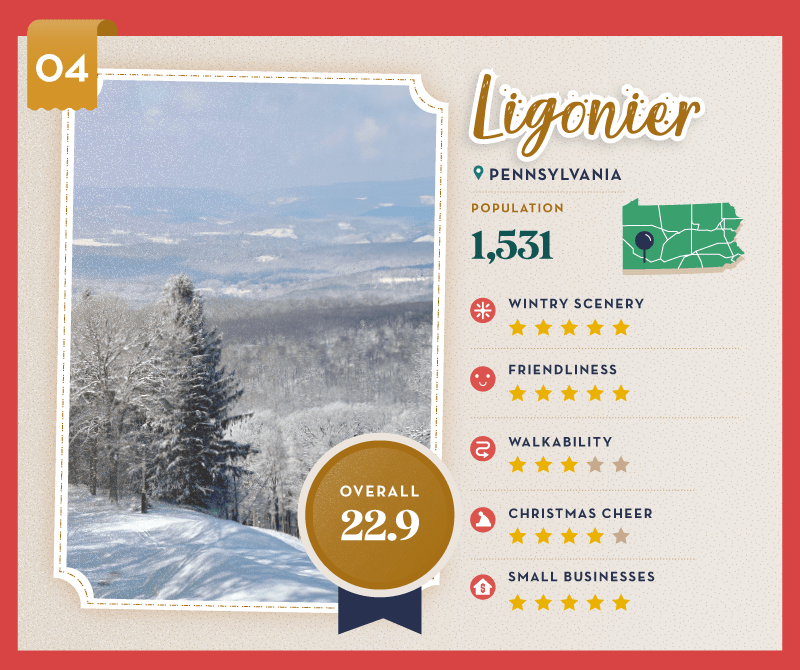 The classic bandstand sitting in the downtown square lets visitors know once they've made it to this quintessentially small town just an hour from Pittsburgh. Settled in the 1760s, it's still known for its family spirit and old-school style.
Their Light Up Ligonier day is just one of their holiday events meant to preserve the childhood wonder of Christmas for everyone. With Christmas carols playing throughout the city, a good chance of fluffy snowfall and a mailbox for sending your Christmas list to Santa, it's easy to let go of reality.
The best part of this particular day, the winner of a special raffle gives one lucky child the opportunity to push the button that transforms the entire town into a twinkling and glittering Christmas city.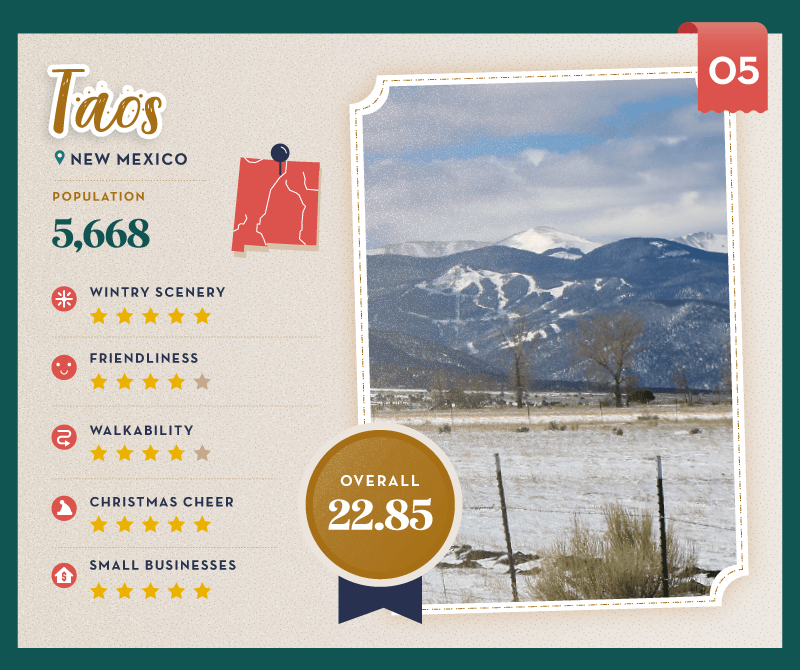 Soft, glowing light beckons visitors to this New Mexican village emanating a certain kind of inexplicable warmth. The glow comes from the edges of rooftops and sides of the streets. Where does it come from?
It is the local tradition of lighting "farolitos" or paper lanterns. Characteristic of the region, the practice involves tucking small candles in sand and wrapping them in paper bags to decorate the entire city.
This is just one example of how fire marks the season for this cozy adobe town. Home to diversity, friendship and openness, their wintertime season is named Yuletide in Taos to encompass every type of religious and ethnic wintery festivity.
6. Williamsburg, Virginia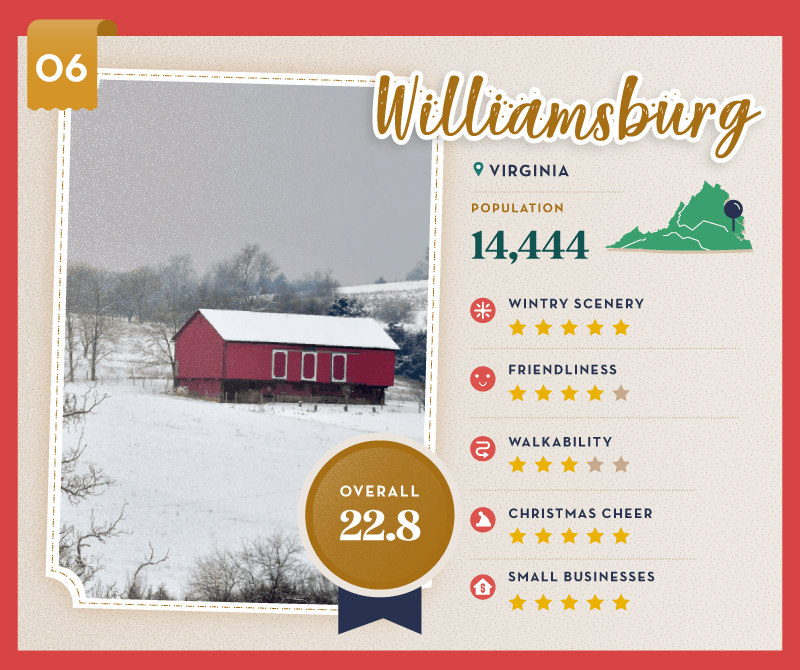 It's like slipping back into colonial days in this historic town. Don't be surprised if you run into a characteristic tricorne hat, especially during Christmastime.
A happy marriage of familial English traditions brought to the American colonies and new, original traditions, this town celebrates it all. Each year they continue to light cressets, an early form of street lighting which was made from a metal pole with a fire-safe bowl on top. Windows are decorated with a single candle in windows. Over 2,500 wreaths decorate the historic center and nearby Busch Gardens is home to the biggest Christmas light display in North America.
It's the perfect destination for families, offering activities for kids of every age. We advise taking a look at the WilliamsburgFamlies daily calendar to make sure you don't miss their lineup chock-full of festive events. From Christmas pudding to the old-English tradition of the Lord of Misrule, the cheery atmosphere and jovial townspeople will certainly transport you.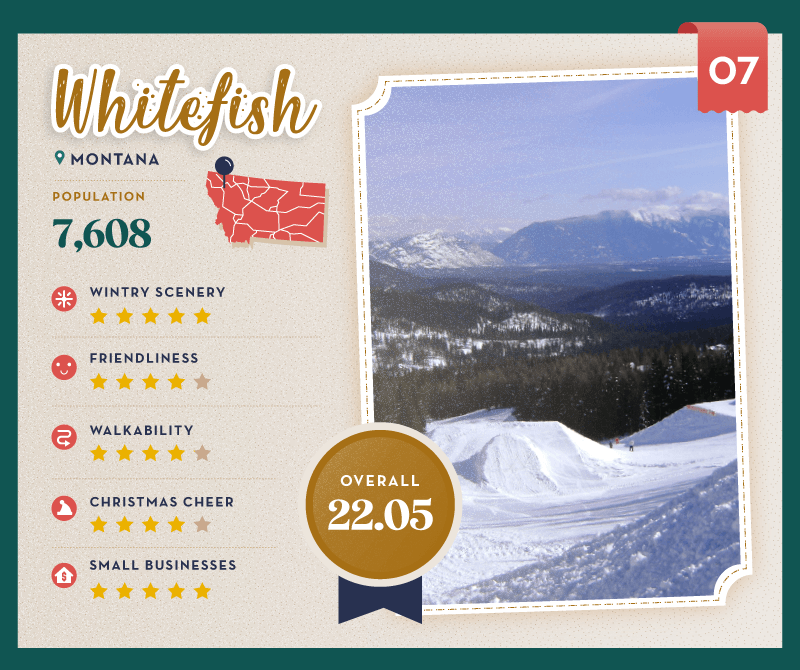 Much more than just a ski resort, this family-friendly escape is a winter wonderland decked out in Christmas jingles and small-town warmth.
That warmth makes the chilly, snowy air more bearable, especially during their annual Christmas Stroll along the main street where you can also find toasty hot chocolates, snacks, and caroling.
One of their grandest events of the season is the gliding, magical torchlight parade of skiers carrying lighted torches down the slopes to welcome Santa Claus.
8. Ouray, Colorado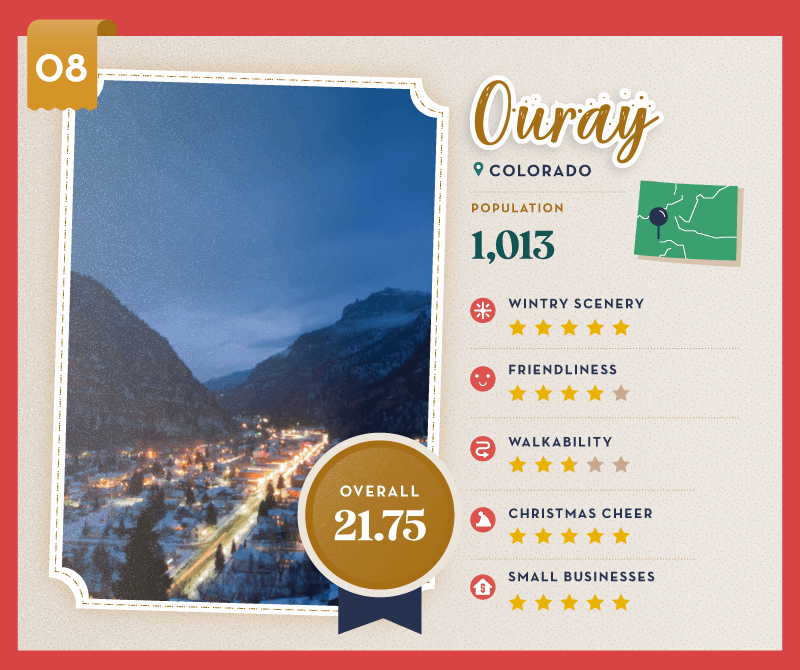 Known as the Switzerland of America, during the winter this "village" transforms into a vision of white, snowy paradise.
In addition to the lovely garland decorated Victorian buildings, each year a special guest visits just before Christmas. Who is it? Why, it's Bernard, Santa's Head Elf! Because, it must be remembered, that Santa is certainly very busy at this time of year getting ready to deliver all those Christmas gifts.
9. Bar Harbor, Maine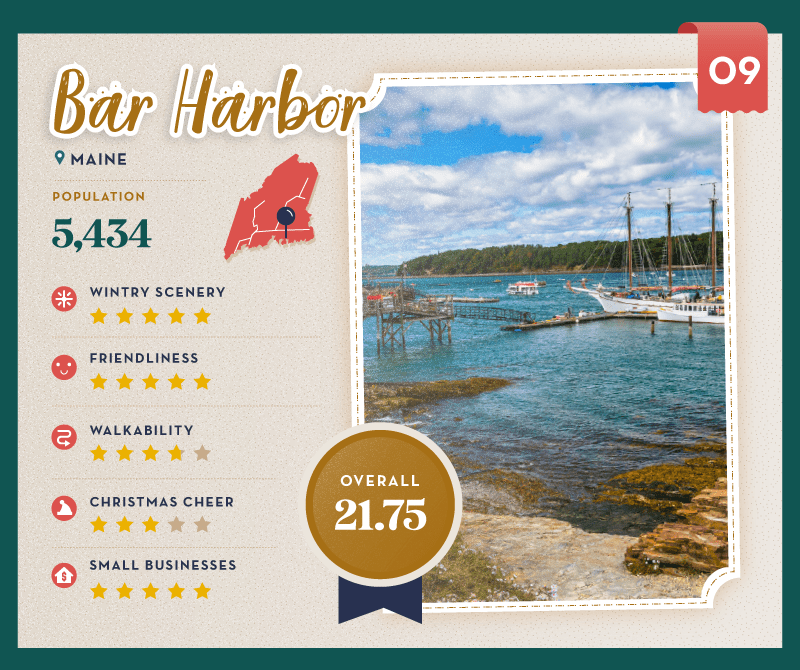 A seaside town may not be your first pick during the winter months. Even so, this New England town is one of the most unsuspectingly idyllic winter escapes on our list.
The fresh layers of snow on the quiet, peaceful streets are evidence that you won't find hoards of tourists at this time of year. Plus, this town is the kind where the locals know each other by name. Situated on Mount Desert island, during December you can find retreat in serene, oceanfront cottages, cabins and lodges just at the edge of the Acadia National Park.
10. Breckenridge, Colorado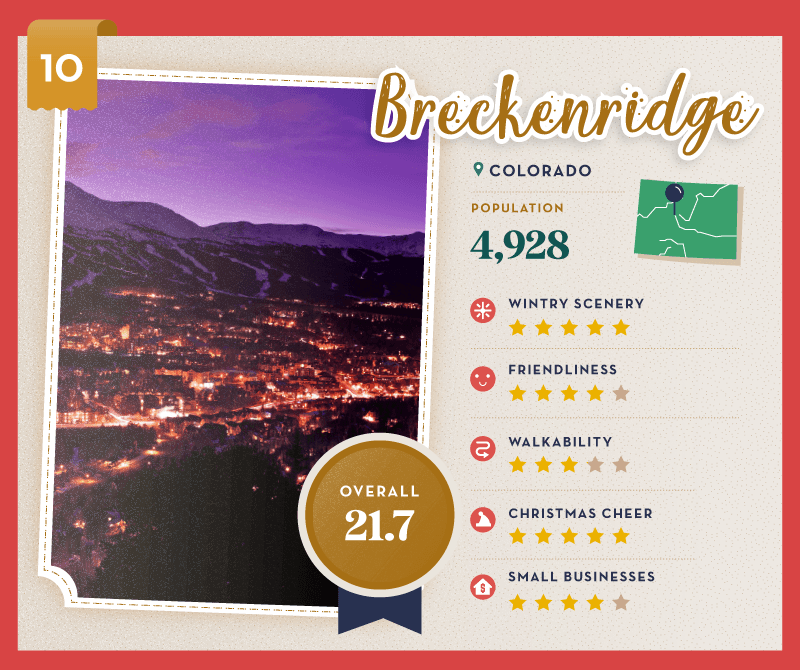 The festivities in this ski town during the holiday season are reason enough to visit. There's a Santa run with milk and cookie pit stops that also features a Holiday Dog Parade and Reindeer Run for the smaller folk.
The following weekend, don't be surprised if you spot Vikings skiing down the mountains. That's for the annual festival to honor the Norwegian snow god Ullr. According to legend, he was so fast on his skis that each winter he covered the earth with snow to protect it from harm.
11. Woodstock, Vermont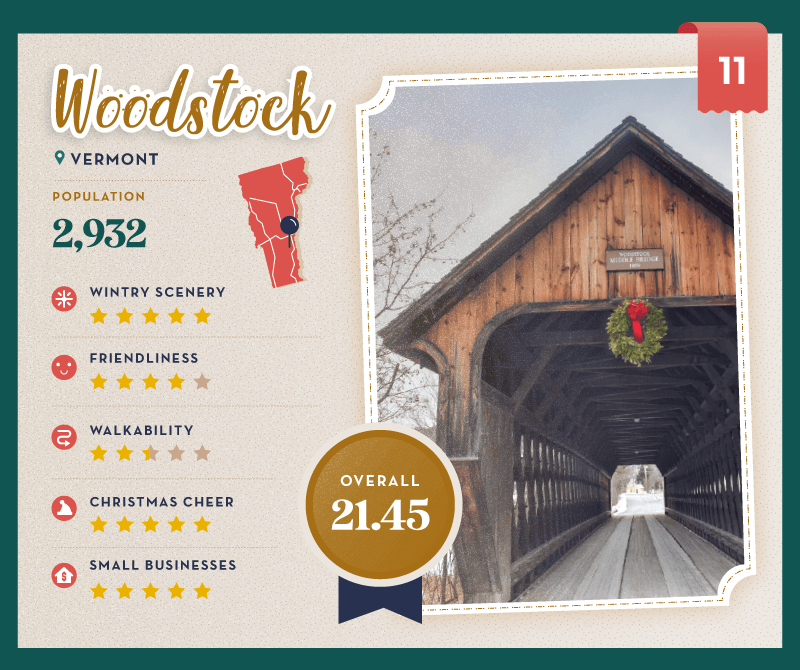 This rural Woodstock is a bit different from the iconic peace and love festival you may be thinking of. Keep the peace and love, but instead, put it into a little shire town in the Green Mountains of Vermont.
Established in 1761, this artisan-friendly town welcomes the holiday season with a meditation led by Monks. With a plethora of caroling, film screenings, pop-up holiday markets, and more wintery events there's something for everyone in this picturesque village.
12. Dahlonega, Georgia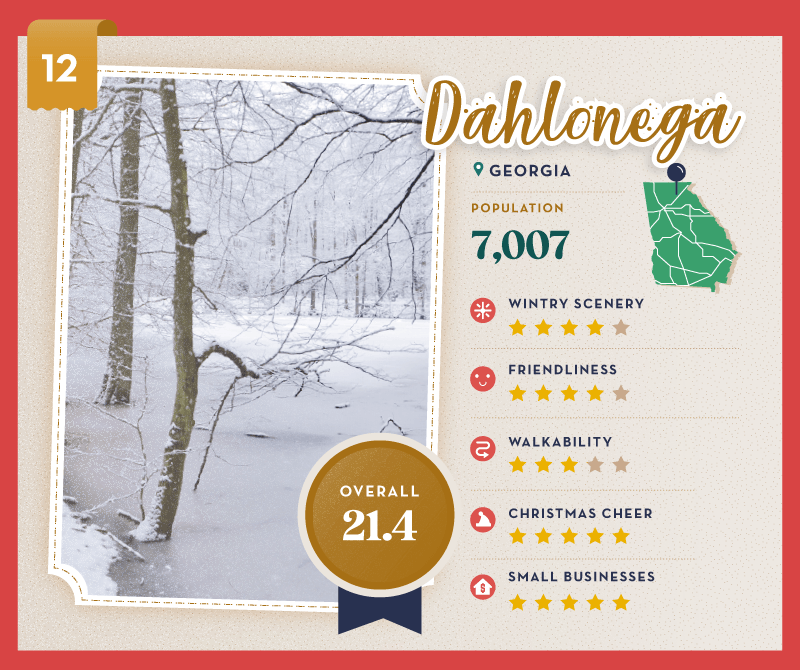 While this old-timey small town might not have snowy roof-tops, what it lacks in white it more than makes up for in the Christmas spirit.
Located in the Blue Ridge Mountains, the small town hosts a month-long Old-Fashioned Christmas featuring carriage rides, caroling and a holiday market.
And if that isn't proof enough, Hallmark's Christmas in Homestead was filmed here.
13. Stowe, Vermont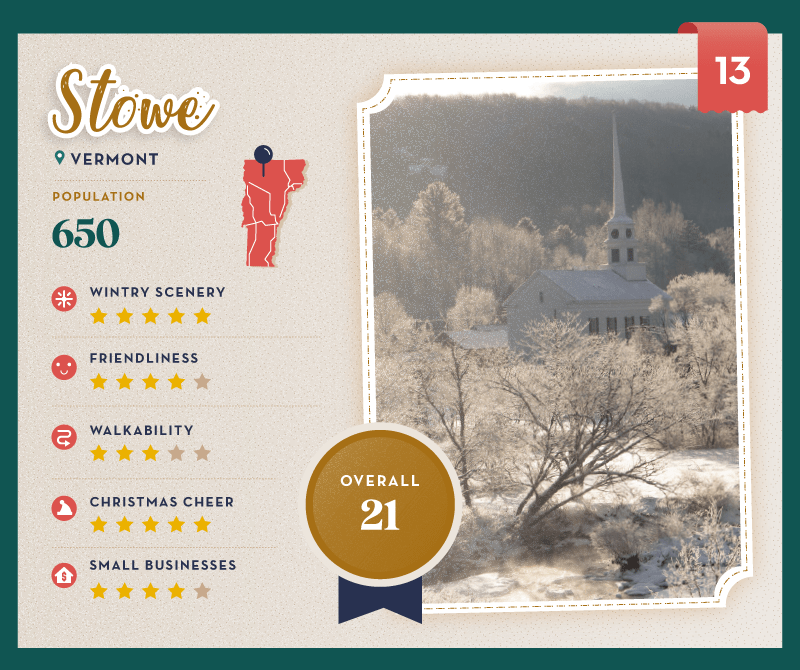 Marked by the towering peak of Mount Mansfield, this Northern Vermont ski town offers breathtaking views and a traditional Christmas experience.
Candy cane pulling, wreath making and an annual Christmas Bazaar are just a few of the events on the schedule of events. Don't forget to grab some cider and donuts, a regional favorite.
14. North Pole, Alaska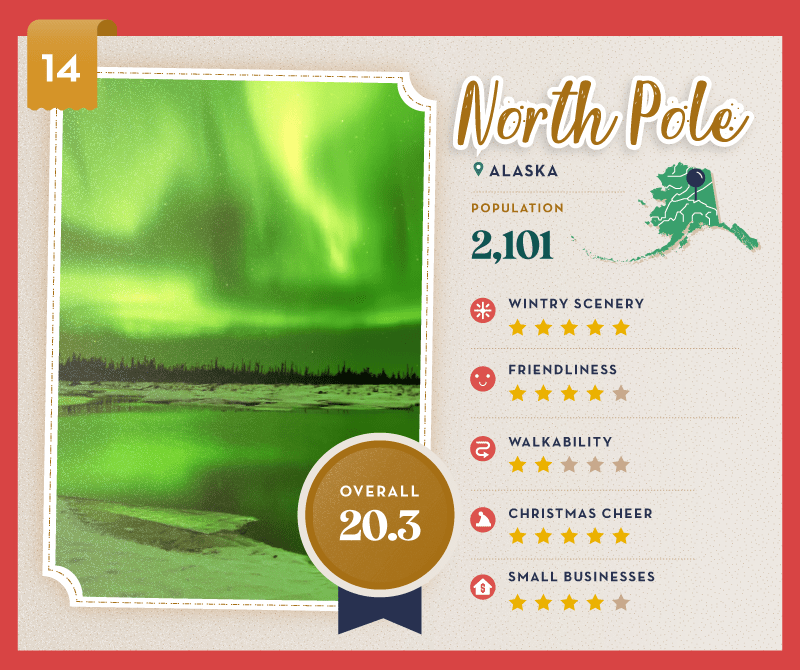 Located some 1,700 miles from the actual North Pole, this is a city in Alaska where you will get as close to the real North Pole as your imagination can.
Streets are named Snowman Lane, Holiday Road and St. Nicholas Drive. They are, of course, also lined with red and white striped lampposts.
Beyond their annual Christmas in Ice Festival, every year friendly local volunteers actually respond to letters received from kids all over the world. Most importantly, they make sure to sign with elf names like "Jingles" or "Tinsel" for true believers. If that's not true Christmas spirit, I don't know what is!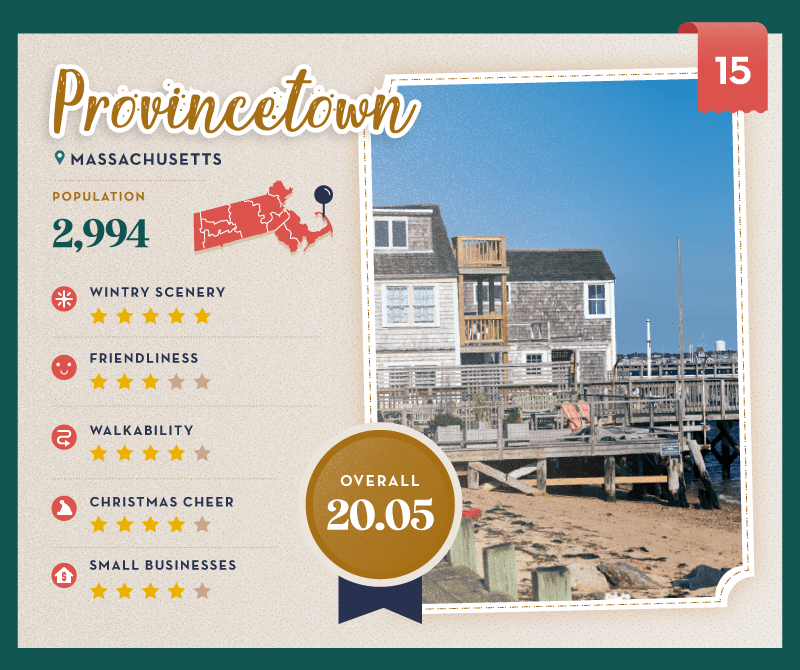 Right to the tippy-tip top of Cape Cod is where we go to find this friendly city where the Mayflower docked.
The season starts with the annual Holly Folly Weekend which includes a speedo run and Holly Folly Jolly Ugly Sweater and Wig Stroll (more like a pub crawl to be honest) among a long list of holiday revelry. Not to mention, the fa-la-la's in the city are heard far and wide each season from the Boston Gay Men's Chorus concert, an annual Holly Folly tradition.
This kid-friendly event is a brighter, more delightful seasonal celebration than you can find anywhere else. You'll find the usual red and green and ho-ho-ho's, but the level of joy is turned up and there's a more playful spirit dancing in the air.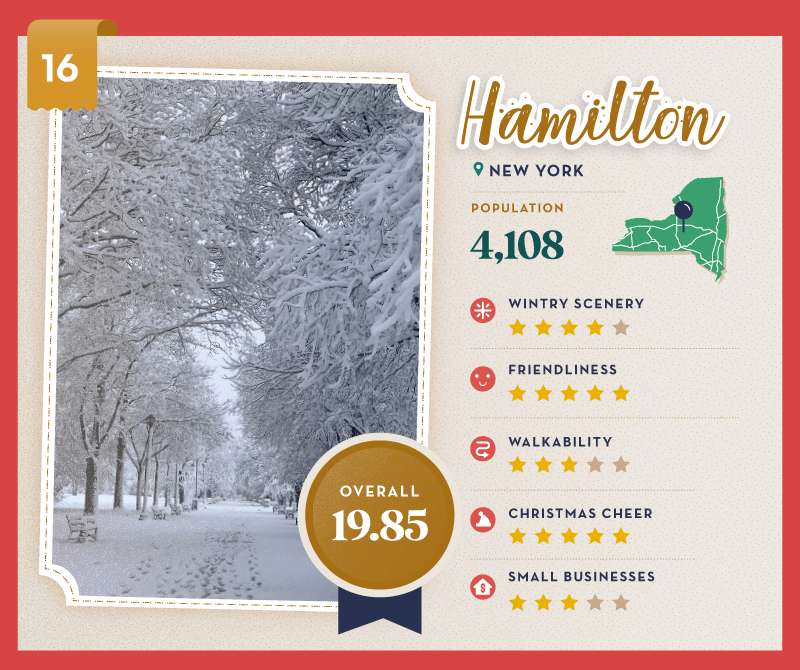 Hamilton for Holidays is the seasonal celebration of this tight-knit small-town community. Wagon rides will take you across the streets to local pubs, but really the entire city is the perfect size for taking a pleasant stroll.
Plus, each year they host a House Decorating Contest that transforms each participating home into beautifully twinkling, ornamental masterpieces.
17. Ketchum, Idaho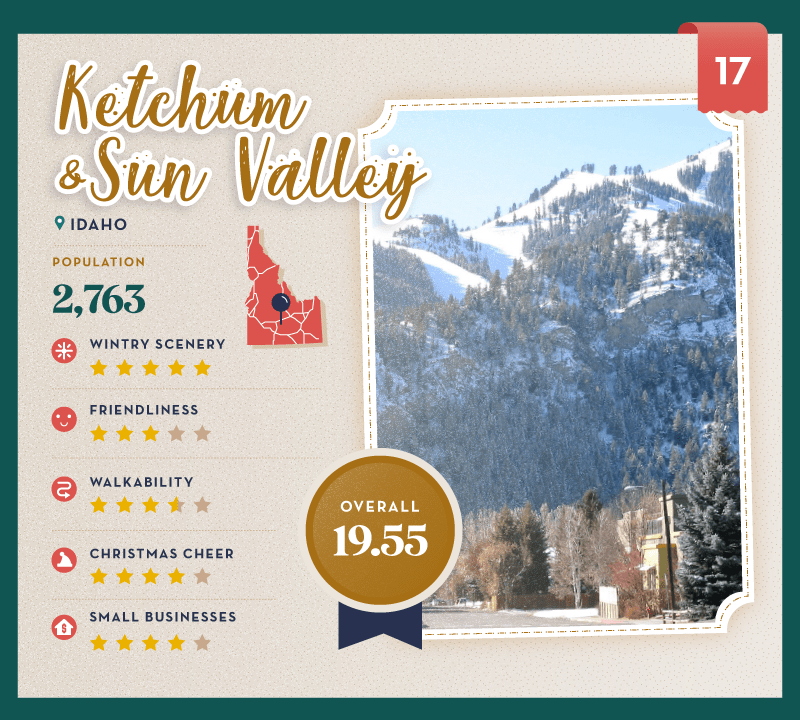 From Wood River Valley, nestled in the Rocky Mountains right smack dab in the center of Idaho is the small town of Ketchum. With absolute impeccable winter scenes in every direction, the city sidewalks here are perfectly dressed in holiday cheer.
The season is kicked off with a Christmas tree lighting ceremony that includes sharing hot chocolate, cookies and candy canes with all in attendance.
18. Wimberley, Texas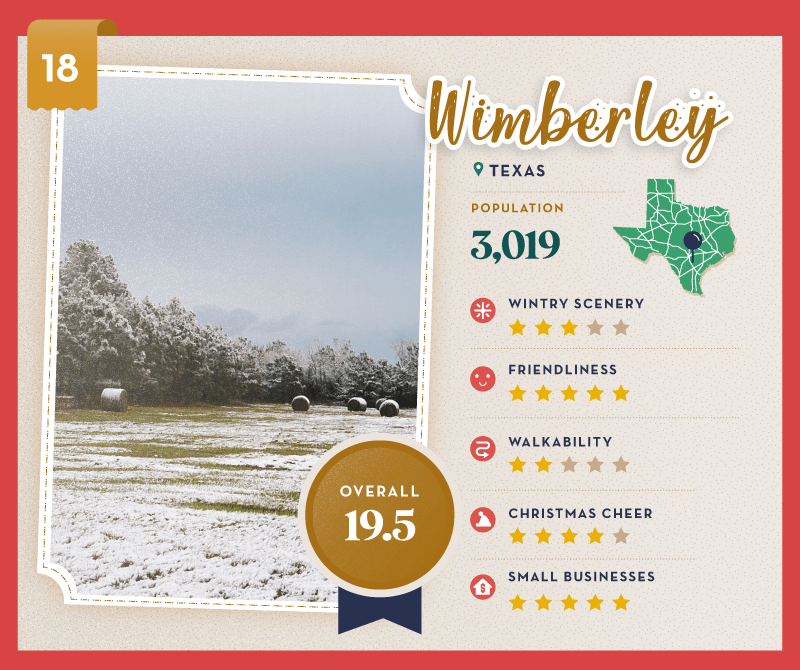 Eight acres of lights are host to the Wimberley Holiday Trail of Lights every year. It's an extraordinary interactive experience, to be sure, with a musical garden and life-size chessboard.
In spite of the general lack of snow or even ice in this rural Texas town, the Blue Christmas at Blue Hole is a unique event with sparkling, wintery details. Featuring horse-drawn carriages, an ugly sweater contest, and a toasty bonfire, the special touch is accumulated in the thousands of glimmery icy colored blue lights reflected in that pure blue water.
19. Columbiana, Ohio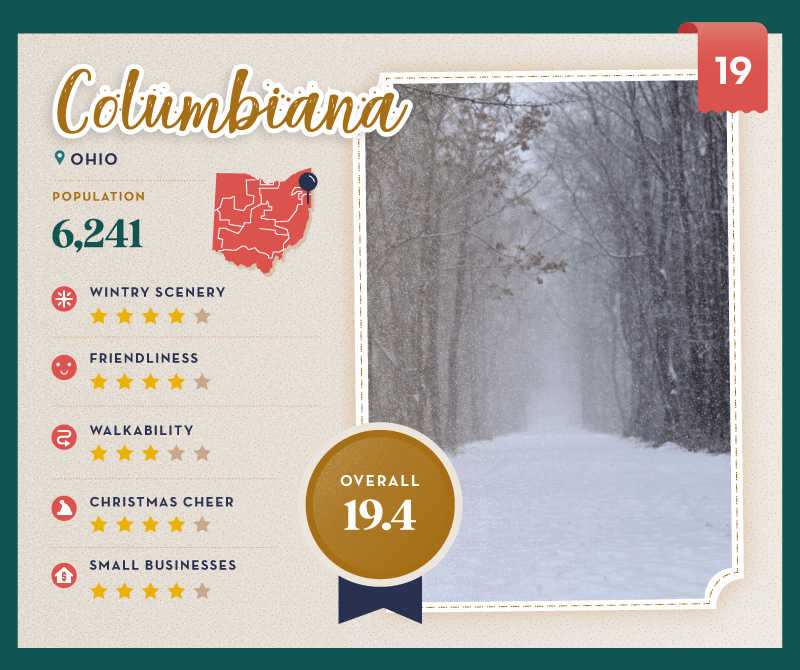 This small town starts Christmas early with an Old-Fashioned Christmas in the Woods in October. Their support of local artisans and craftspeople is sure proof of their small-town hardiness.
For the month of December, the impressive Joy of Christmas Light Show illuminates the holiday season. Featuring over 80 light displays, there is also a festive Gingerbread House and Santa's Ice Castle where visitors can find Mr. and Mrs. Claus.
20. Sitka, Alaska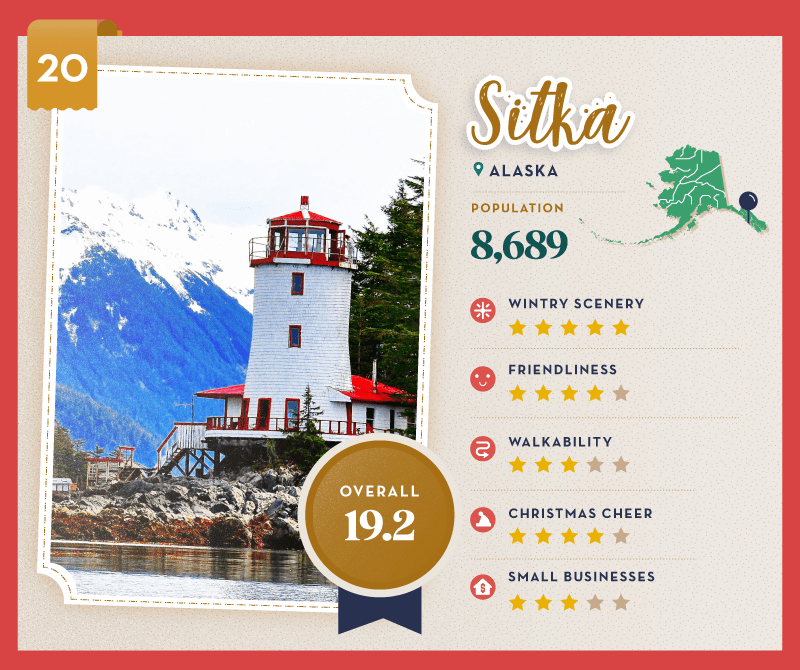 This charming town actually celebrates two Christmases, first the Western and after that the Eastern Christian holiday.
Falling 13 days after the usual holiday is the Feast of the Nativity, also known as the "Russian Christmas." It's in order to honor the Orthodox tradition. So, both December 25th and January 7th are important events here. And who wouldn't want two Christmases?
One unique activity here practiced by the Orthodox locals is caroling around town while toting a beautiful, spinning pinwheel representing the Star of Bethlehem.
21. Midway, Utah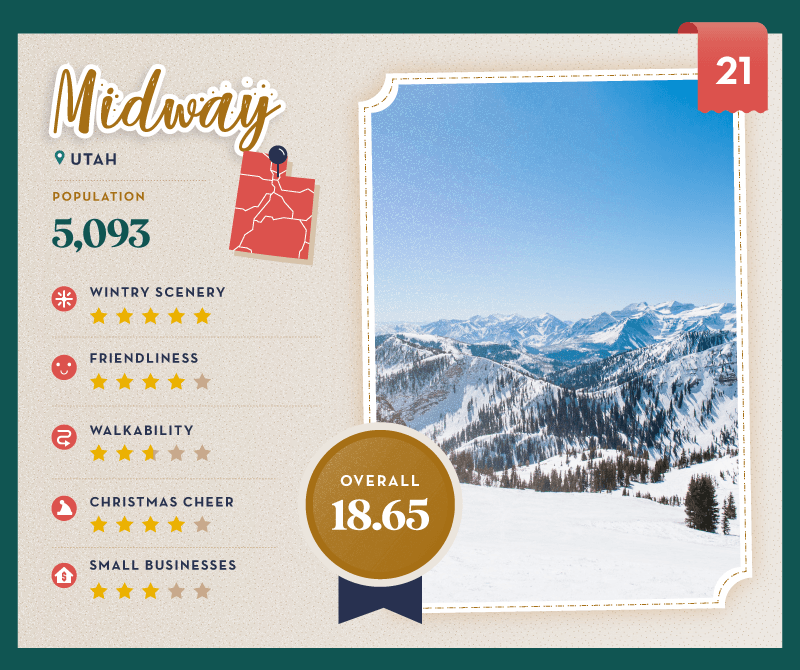 If you've never visited an old fashioned European Christmas market but always wanted to, here's a place for you. This town hosts the Zermatt Swiss Christmas, a family-friendly event with an authentic Swiss Räbeliechtli parade. The end-of-harvest celebration is marked by carving radishes into lanterns. Räbelichtli is a word combining the words for turnip, "rabe" with the word for light "licht".
In complete contrary to the toasty and warm festival is the frozen icicles of millions of gallons of water transformed into the Midway Ice Castles. Carefully shaped and glowing with lights, it's a maze of tunnels and slides. It's like walking through the frozen Milky Way.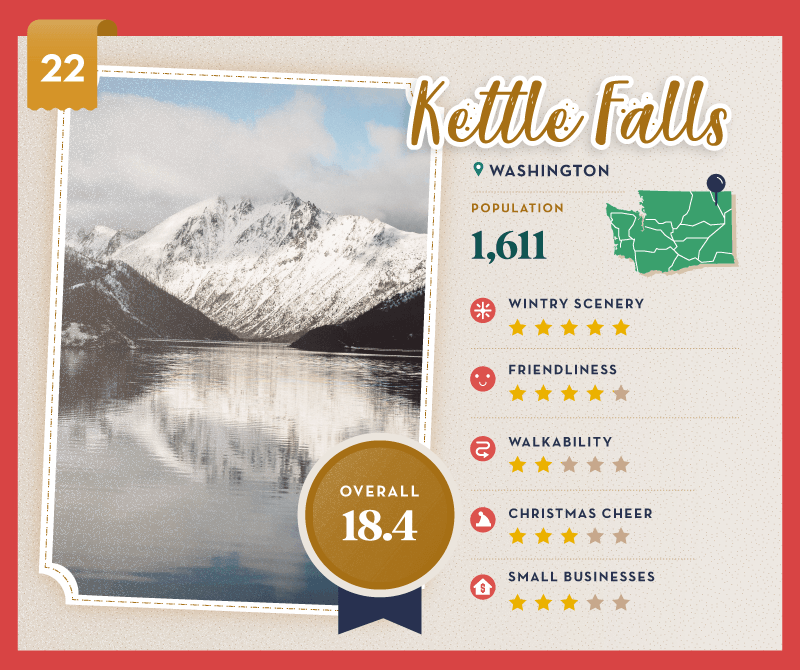 Located just 40 miles from the Canadian Border, it's not so surprising these guys are known for their friendliness.
A beautiful wintery paradise, the locals do their best to make everyone feel like a neighbor. They even do so much as to warn visitors of the "one grouch" living in the city on their big welcome sign.
Their Christmas Tree Lighting is the event of the season. With a local Craft Fair, handmade goods and the community all pitching in to make it a success, it's certainly fit for a Hallmark movie.
23. Santa Claus, Indiana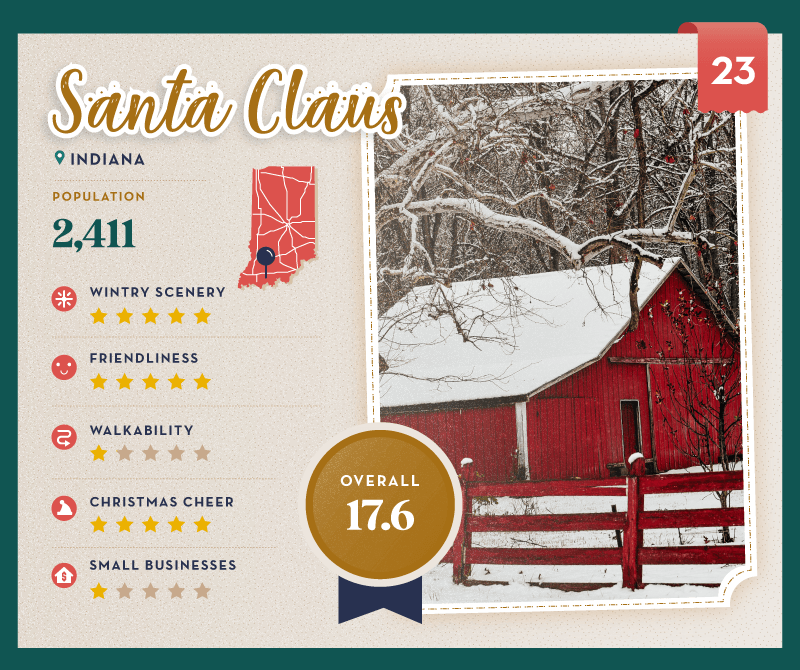 Getting top points for its name, this small town dedicates a solid three weeks to a jam-packed Christmas schedule.
With Santa's Candy Castle, Christmas Store, Post Office, Museum and Lodge, the opportunities to get in the spirit are practically endless.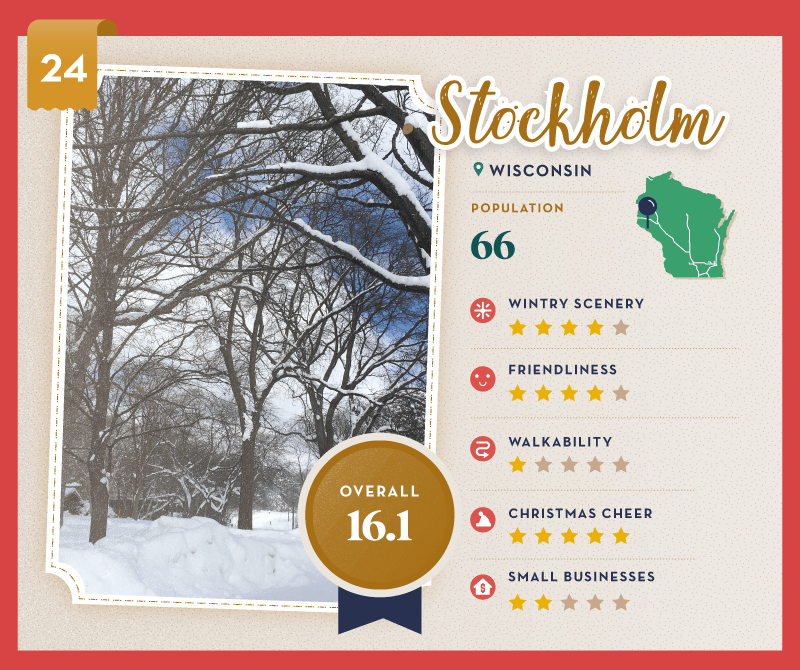 You might overhear a cheery wish of "God Jul" instead of Merry Christmas. This village of less than a hundred is named after the resident's homeland's capital: Stockholm, Sweden.
Subsequently, their yuletide events include a schedule featuring Nordic characters. For example, St. Lucia a symbol of new life on the darkest day of the year, the winter solstice, is celebrated December 13. Or, you might spot "Jultomte" the winter gnome bringing protection to your home in the new year.
Worth noting, you won't find one chain store or restaurant in this small town.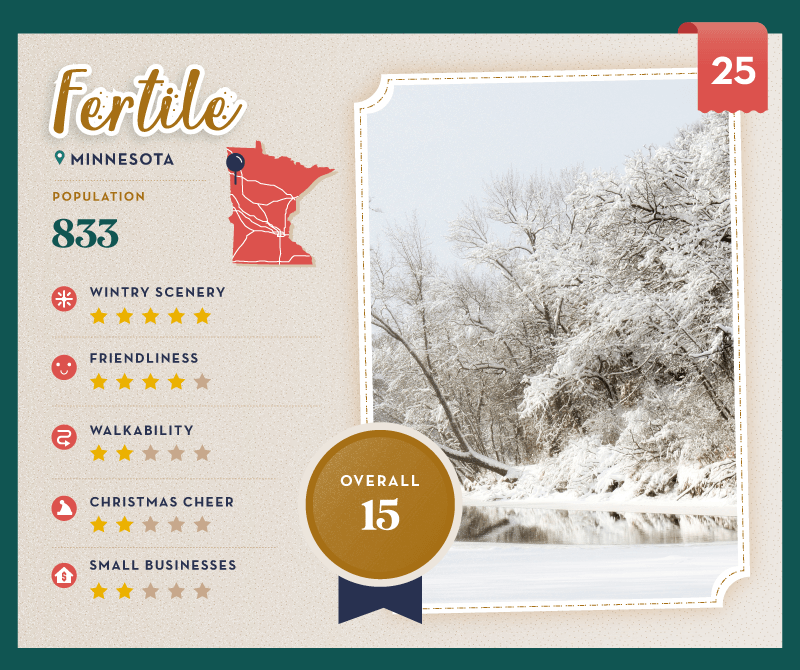 Consistently ranked one of the nicest places to live, this supportive town is full of winter magic and community spirit.
With a plethora of snow activities and locals who take the extra step to lend a hand, this town embodies the true small-town spirit.
Their Christmas season is a calm, quiet place to retreat during the buzz of the season.