We've all used movies to escape. But what if you could take that escape and make it real?
Often movie scenes are set in real places that you can do more than visit, you can even spend an entire night. Take a trip beyond the confines of your living room or local theater and spend a night in a place you thought you could only visit on-screen.
1. Ex Machina house – Valldal, Norway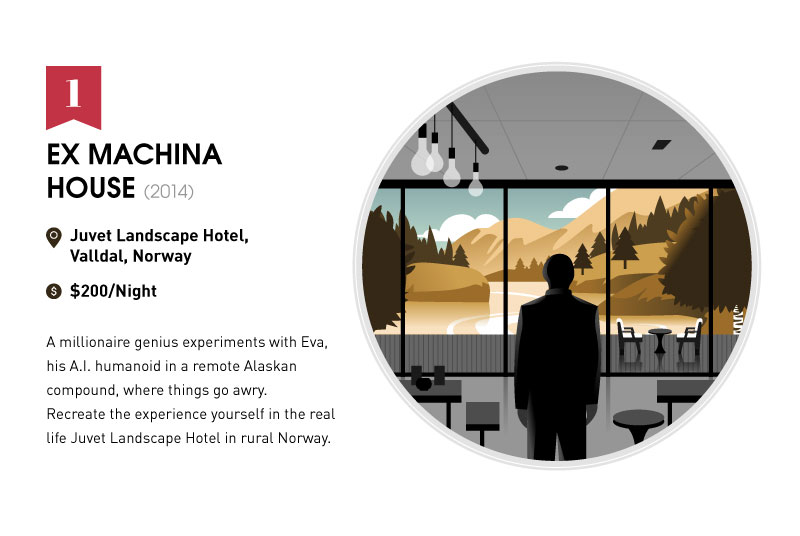 Hiding a beautiful, advanced humanoid robot in the ruggedly beautiful Norwegian wild, the secret mansion of this movie's millionaire antagonist is a modernist dream stuck right in the middle of pure wilderness. Careful cinematography reveals a single home with stunning floor to ceiling windows, however what looks like a home is actually one of 9 detached hotel rooms that can be booked by guests at any time.
Rest assured, you won't find a jaded, lonely robot cutting the power and toying with your mind. Ex Machina feature on hotel site.
Hotel: Juvet Landscape Hotel
More Norway Hotels.
2. Lost in Translation hotel – Tokyo, Japan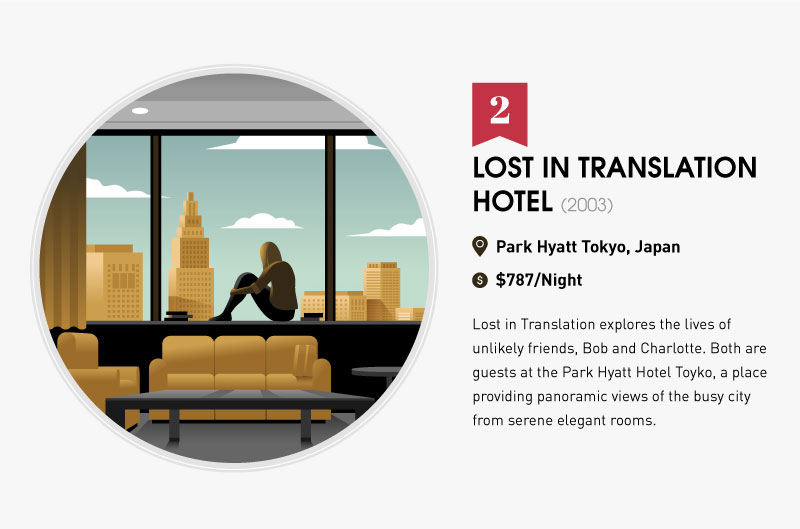 Stuck in Japan, lonely and a bit lost in the world, Bob and Charlotte are brought together at the bar of the Park Hyatt Hotel. This hotel exists both in the movie and in real life. You can stay at this exquisite hotel to catch a glimpse of the incredibly stunning city views and also experience quintessential Japanese omotenashi (hospitality). If you decide you might like to meet someone while you're there, we suggest visiting the bar.
Omotenashi is more than just hospitality. There's no direct translation, but a good summary includes both acting selflessly from the heart and, most importantly, anticipating the needs of others.
Hotel: Park Hyatt Tokyo
More Japan hotels
3. The Lord of the Rings and The Hobbit Trilogies homes – Matamata, New Zealand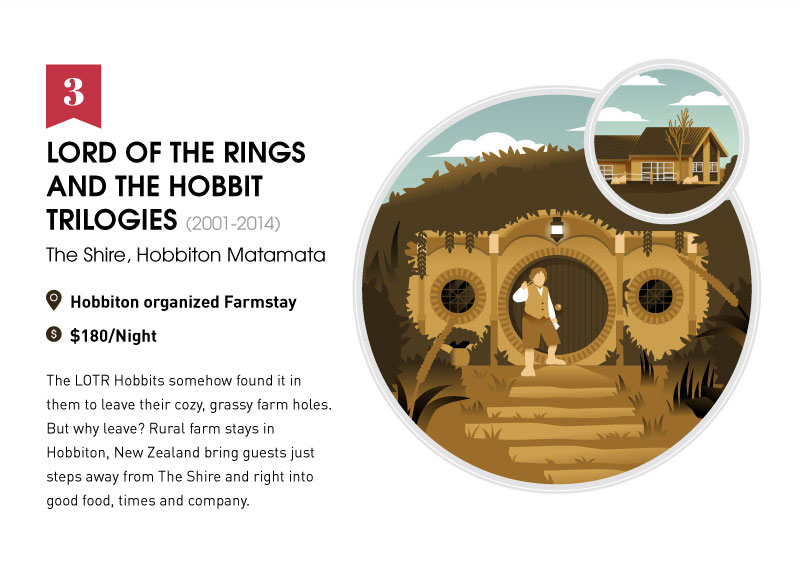 Fan's of the J.R.R. Tolkien film series can take a trip to New Zealand, where much of Middle Earth was filmed. Take a few nights visiting The Shire where you will receive a hobbit-like welcome at one of the local farm stays which include a taste of the local fare and where you will have easy access to Bag End and other hobbit holes used for filming.
If you're looking to stay in a more hobbit-y hole (in-ground) search "Hobbit Hole" on Google. It won't disappoint.
Hotel: Hobbiton Farmstay
More New Zealand hotels
4. Mission Impossible: Ghost Protocol hotel –  Dubai, UAE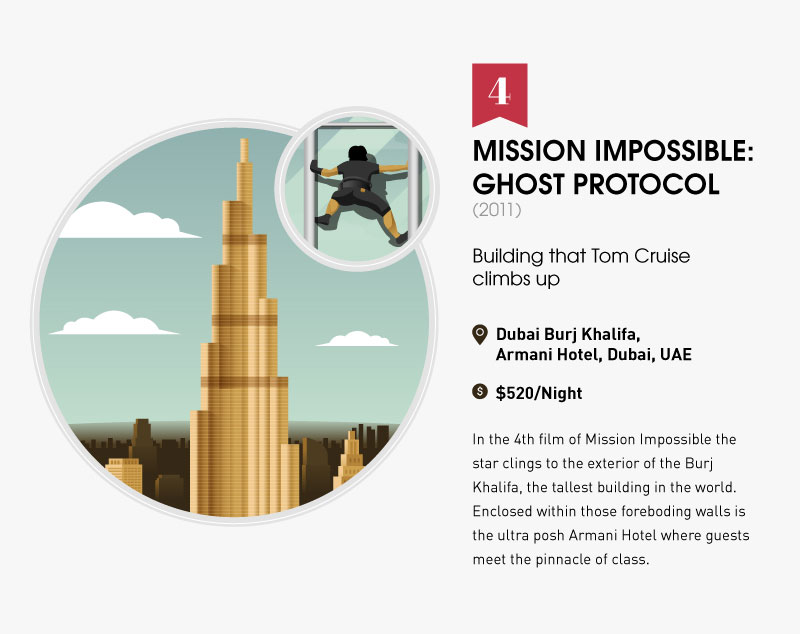 The defining scene from this movie includes aerial shots revealing how dangerously high up Tom Cruise was during his movie's most nail-biting stunt while demonstrating the towering height of the Burj Khalifa. Fans can visit this skyscraper and stay within its mirrored walls at the exclusive Armani Hotel. It's just what you'd expect, a seamless blend of luxe and class with an elevated standard of service so guests truly feel they are staying within the walls of the world's tallest building.
At 828 m or 2716.5 ft, the Burj could fit 2.7 Eiffel Tower's stacked inside.
Hotel: Burj Khalifa
More Dubai hotels
5. Home Alone 2: Lost in New York hotel – New York City, USA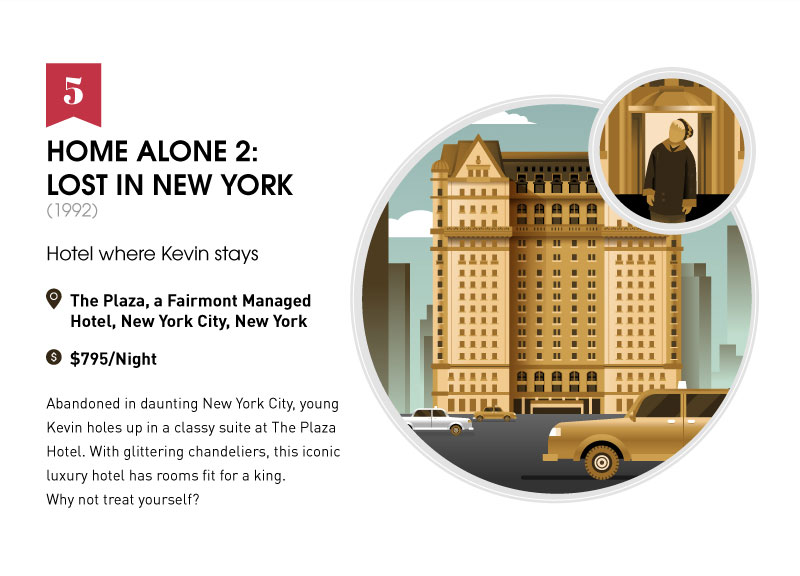 I wouldn't recommend handing out pieces of gum to tip the concierge, but definitely stay in this New York City hotel next time you are in town to relive the glory of one of our favorite Christmas classic's.
If you happen to have a stack of credit cards without limit, you can recreate Kevin's luxurious stay at The Plaza and feast on loads of ice cream.
Don't forget the iconic cameo of THE Mr. Trump with his remarkably helpful, "Down the hall and to the left."
Hotel: The Plaza
More New York hotels
6. James Bond: Octopussy Palace – Udaipur, India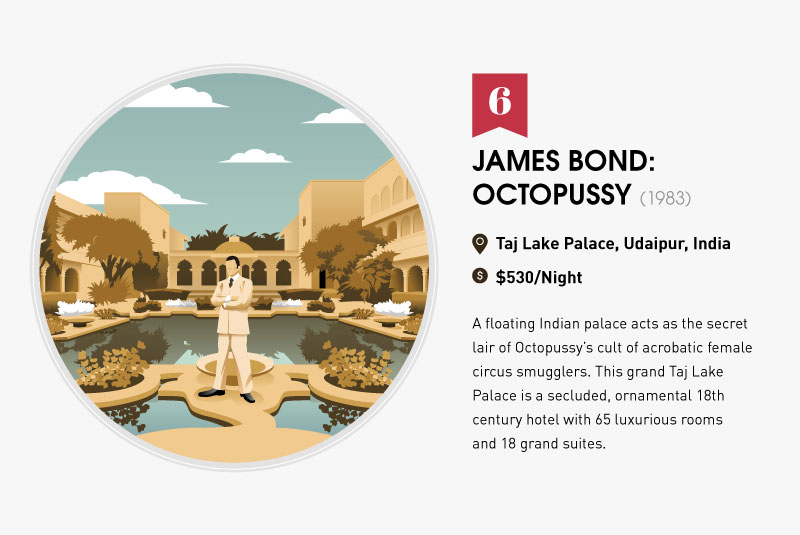 Avid Bond fans might recall the enchanting, floating palace from this lighter and more playful film capturing the antics of agent 007.
The exquisite haven actually sits on 4 acres of land in the middle of Lake Pichola. Don't worry, there aren't any snapping crocodiles in the surrounding waters, but there is only one way to the Palace: via their exclusive first class boat service.
The title character, Octopussy, was the first female villain in the entire Bond Film Franchise. Of course, it didn't take long for her to switch sides and succumb to the charm of Mr. James Bond.
Hotel: Taj Lake Palace
More India hotels
7. Star Wars Episode IV: A New Hope home – Matmatat-Al-Qadimal, Tunisia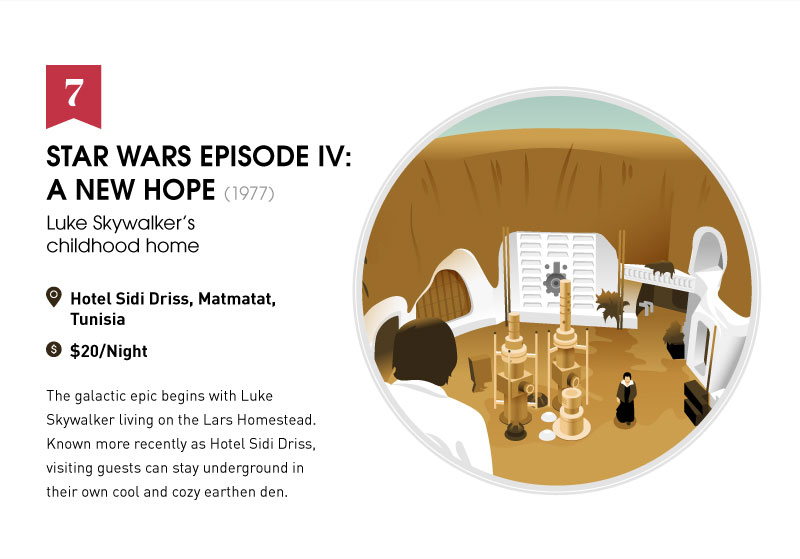 In a galaxy not so, so far, far away you can imagine life as a young jedi in Matmata, Tunisia. This location served as the setting for the Lars Homestead in the Star Wars film series and now the small cave-like rooms of these "troglodyte" (cave-dweller) structures offer cool, earthen walled spots for guests to rest.
Make sure to grab some cash well ahead of your arrival to this practically off the map destination. Last we checked, there are no credit cards accepted or ATMs nearby.
Hotel: Hotel Sidi Driss
More Tunisia hotels
8. Harry Potter – Great Hall, Infirmary – Christ Church, Oxford, England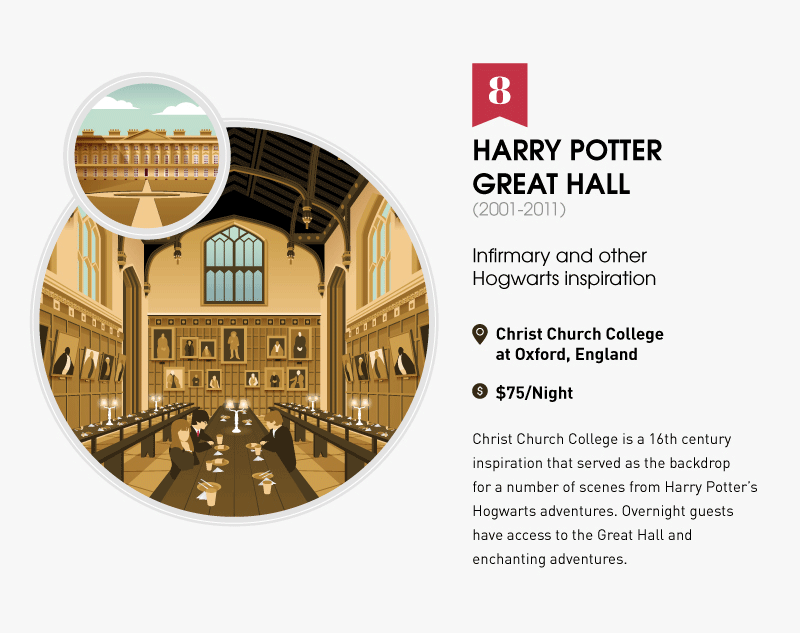 If you are into the quiet, rustic magic of age old stone and long to wander in dark, corridors of an actual school (free of guided tours and fanfare), visit this school that not only inspired Hogwarts but also served as a filming location for a number of scenes. Get a real feel for how Harry must have felt walking along Hogwarts' dimly lit corridors by exploring the campus in the middle of the night once the school is closed for the day.
The rooms at the school are only available when student dorms are vacant, so you generally can only stay here during off months such as summer or Easter break.
Hotel: Christ Church, Oxford
More England hotels
9. The Shining, Overlook Hotel – Estes Park, Colorado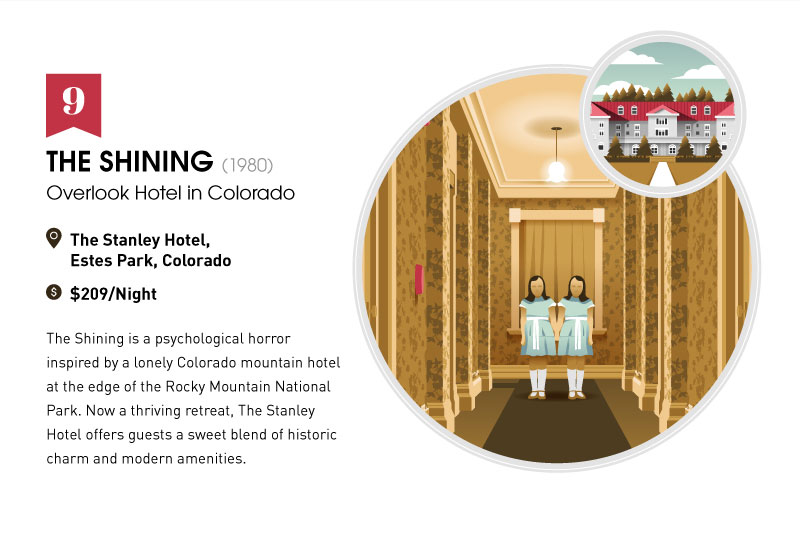 Stephen King and his wife stumbled upon the Stanley Hotel as it was about to go out of business. In a wild, desolate spot, the once beautiful hotel was in disrepair and disuse. The couple spent a single night in the deafeningly quiet hotel. That short stay included a terrible nightmare resulting in the inspiration for The Shining. Now the hotel is a huge success and guests can explore the possibly haunted, completely renovated and stately 142 room hotel.
IF you dare, you can stay in one of the "Spirited Rooms." These rooms are said to have a high level of paranormal activity and are in demand by many guests. Sweet dreams…
Hotel: The Stanley
More Colorado hotels
10. The Sound of Music, Von Trapp family home – Salzburg, Austria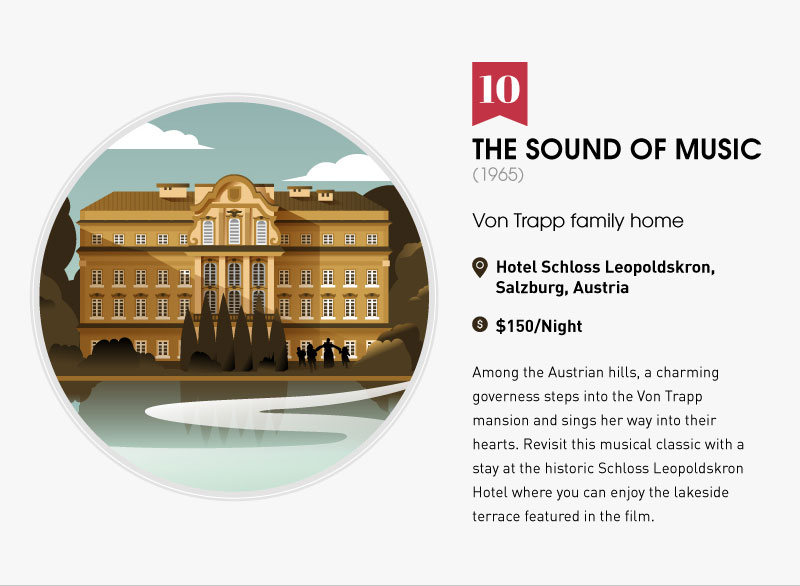 What better place to hum the tune of "These Are A Few of My Favorite Things" other than while staying in Austria at this historic hotel known largely for its exterior walls fronting as the Von Trapp Palace in this classic musical. With incredible, breathtaking mountain views and meticulously kept garden grounds, you can breathe in the fresh air from those musical hills and receive first rate service in one of the most simply stunning parts of the world.
The palace interior also includes the opulent "Venetian Room" transformed for the marionette theater scene and the ballroom scene, both featured in the film.
Hotel: Hotel Schloss Leopoldskron
More Austria hotels
Infographic: 10 Famous Places You Can Stay Overnight from the Movies

Additional sources:
https://twistedsifter.com/2017/09/ex-machina-house-juvet-hotel-norway/
https://japantoday.com/category/features/opinions/the-business-of-omotenashihttps://www.indiewire.com/2018/08/lost-in-translation-15th-anniversary-sofia-coppola-interview-ending-whisper-meaning-1201998010/
https://talkfilmsociety.com/articles/thats-not-impossible-the-burj-khalifa-in-ghost-protocol
https://www.dailymail.co.uk/travel/article-2629471/A-View-To-Kill-Inside-lavish-floating-Indian-Taj-Lake-Palace-Octopussy-filmed-guests-drink-bar-Roger-Moore.html
https://www.uniqhotels.com/hotel-sidi-driss-star-wars
https://www.atlasobscura.com/places/hotel-sidi-driss
https://www.messynessychic.com/2018/02/16/overnight-at-harry-potter-university/