Popularized in the 1970s, the broad term "New Age" applies to a continually growing number of spiritual and self-awareness practices. Yoga, meditation, holistic living, metaphysical practices, and crystals come to mind when talking about the concept in popular culture. Celebrities like Gwyneth Paltrow and her Goop brand have brought these ideas to the mainstream.
Whether you believe in the exceptional spirituality of some locations around the world or not, there's something magical that draws like-minded devotees to certain cities around the world.
Fortunately for you, New Age havens can be found all over America in the smallest of towns and in the most beautiful mountaintop oasis. These places of refuge sometimes claim to be energy magnets dictated by ley lines and others are simply places that have curated communities centered on individual wellness, alternative practices, and natural living.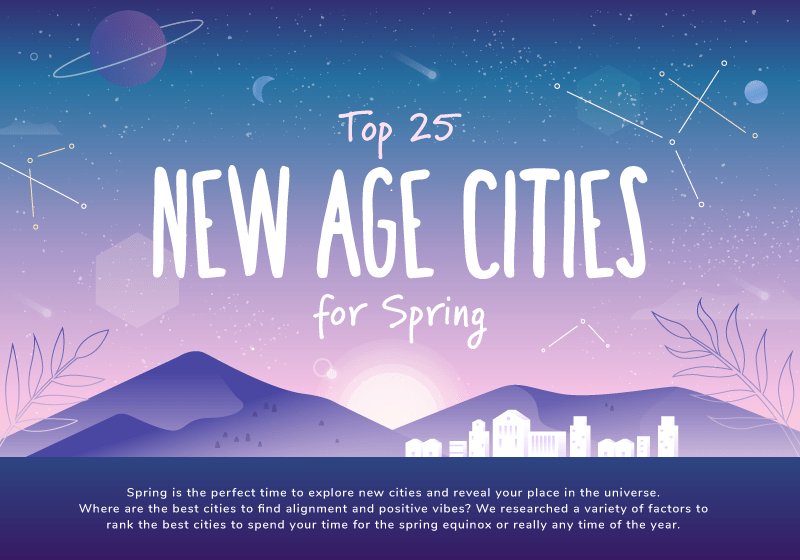 To find the places in America where the New Age presence really thrives as we approach the mystical March equinox, our team researched the qualities that define modern-day hippie hubs. Our work found the following criteria could reveal to us the ideal New Age cities to visit for the springtime Equinox:
Spirituality & Wellness

Outdoor Activities
Spring Weather
Creativity & Arts
Festivals
Community Vibes
We quantified these factors by researching how many retreats, workshops, markets, art galleries, festivals, sustainability projects and more exist in some of the top New Age Cities. We've ranked the cities accordingly so you can find the one that vibes with you, where you yourself can grow.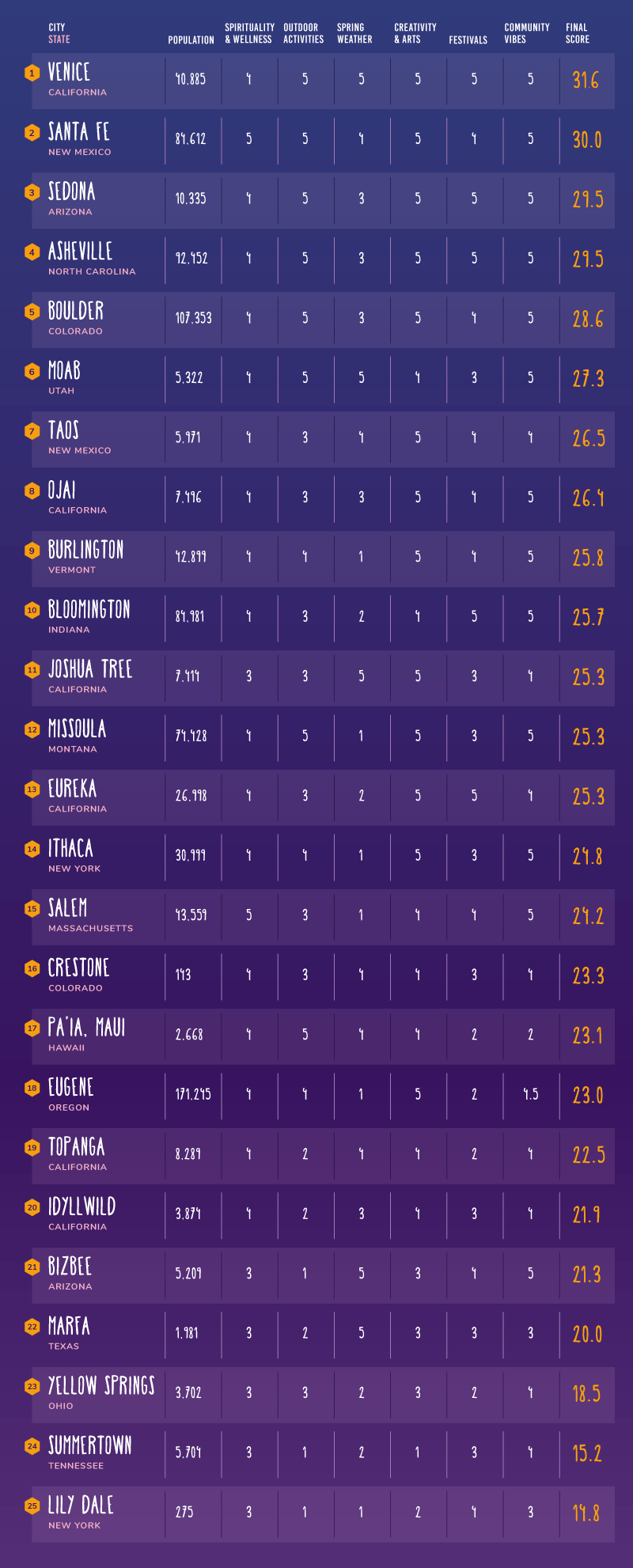 Just as the rest of the Northern Hemisphere starts to bud and bloom, you can tune into your own personal growth by visiting one of these places for the spring equinox. Here are the details of our favorite places:
1. Venice, CA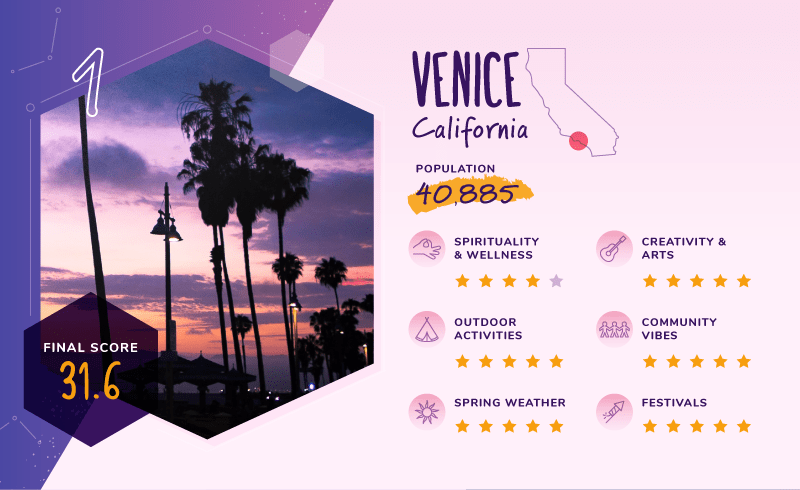 This Los Angeles stomping ground, or should we say skipping-meditating-and-floating-around ground, wants you to be (Los) Ageless (but not like this song suggests) in body, mind, and spirit. 
L.A. is already notorious for its green and health-centric food scene. You won't believe it, but the Venice neighborhood brings that up to a completely new level. Adaptogen culinary techniques are trending with items like holy basil and Ashwagandha potions and powders featuring on menus. Restaurant servers sincerely offer and shower you with positive affirmations. Even the eateries here genuinely want you to live a happy, healthy life. The New Age aspect, it's important to note, it's not just about physical health, but also for mental wellness. 
In Venice, you can easily find a market, festival, or mind-body event to stumble upon. Take a stroll along the boardwalk where psychics set up shop, ready to interpret the lines in your hands. Wander into perfectly serene mystical metaphysical bookstores such as Mystic Journey. Here you can lose, or find, yourself among walls of books with maps of stars and spells. Don't be surprised if you are drawn into the aura of sparkling crystal healing shops. They also have community Sunday drum circles for you to dance around and around until the sun goes down.
2. Santa Fe, NM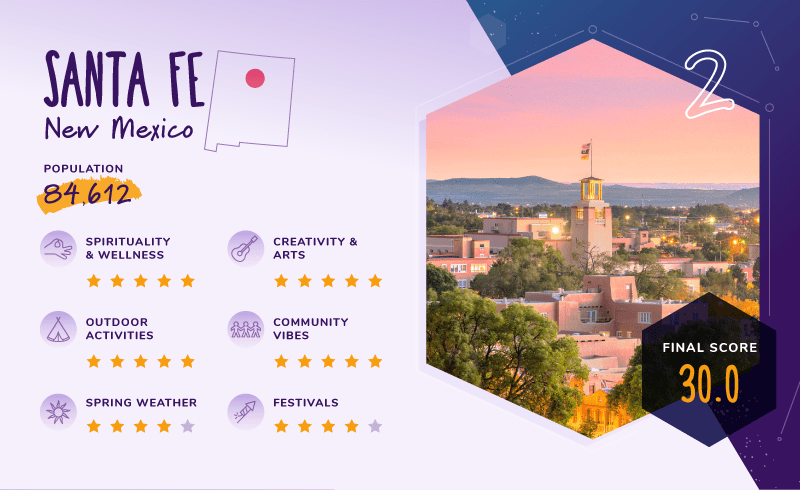 This state has attracted artists and visionaries for years. Perhaps that part of how it got the moniker: The Land of Enchantment. It's glowing desert rocks, peaceful snowy mountains and reinvigorating hot springs have made this mecca irresistible for those looking for both trippy, wayward experiences and spiritual, healing retreats. 
Ancient pueblos, zen Buddhist centers, and spiritual sanctuaries all provide places to find your own energy for an entirely personal journey. 
Santa Fe is also often referred to endearingly as Fanta Se by locals. Perhaps it's for the "Fanta"-stical and mystical energy or maybe it's just fun to say. Either way, it's catchy and reminds us that Santa Fe really has a special, otherworldly counterculture. 
3. Sedona, AZ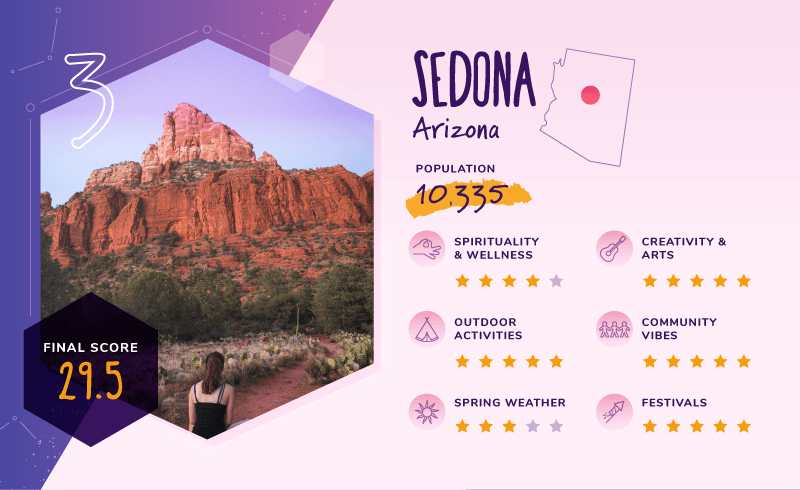 Whether religious or not, there is something powerful about walking into a historical cathedral that was built centuries ago. 
Sedona has that same effect. But here the walls are millions and millions of years old. Those red cliffs stretching up to the ceiling of stars or blue sky create a spectacular effect. 
This holy city isn't known for any religious or sacred sites, but the sacred factor persists. Some say it's the inexplicable beauty of the age-old rock formations. Others say it's the power of the vortexes that have attracted those seeking rebirth and renewal in this earthen sanctuary. 
We say, go and find out for yourself.
4. Asheville, NC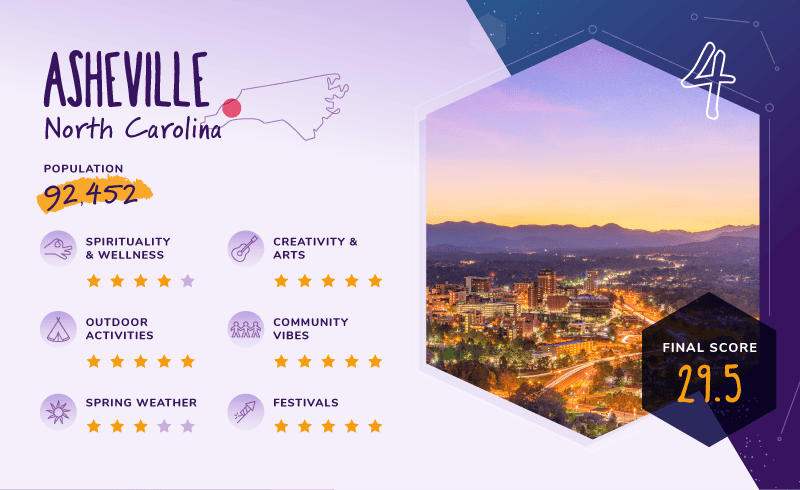 The Great Smoky and Blue Ridge Mountains lift this city up into the clouds. With that crisp mountain air breathing new life into visitors, Asheville's reputation for healing makes complete sense.
Plus, Asheville is literally built on top of a foundation of crystals. You see, at some point in the geological formation of this mountainous mecca when the Appalachians were first birthed 400 million years ago, molten rock sunk into cracks within the existing rock base. Cooling slowly, it formed the base of minerals (or crystals) such as quartz, mica and other precious stones. 
So, the number of meditation centers, reiki healing, and old age metaphysical shops is no wonder. Here you can exist in absolute equilibrium, balancing communion between mind and matter.
5. Boulder, CO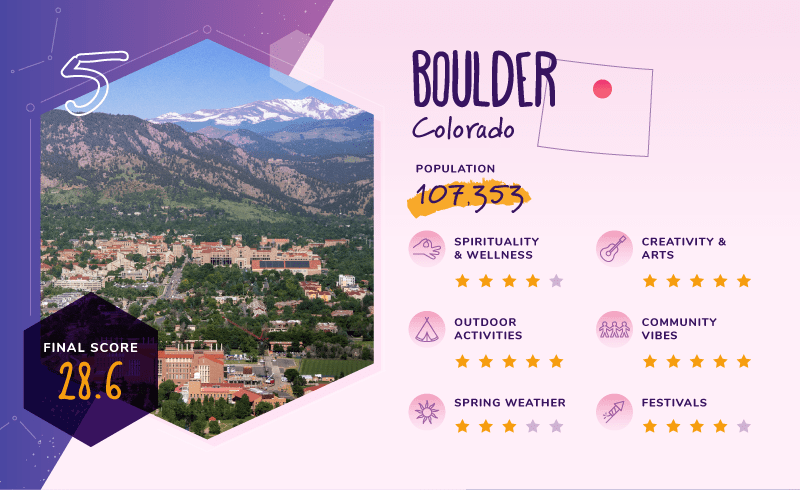 Known for being happy, healthy and bike-friendly, could this city be the conscious capital of the world? 
Community consciousness here is a big deal. Boulder is home to groups like the Conscious Alliance working to help families in need. Environmental consciousness is celebrated and revered. There is a long list of community movements such as E Movement working to educate youth about the environment or the Annual Walk and Bike Week & Walk and Bike to Work Day. 
The Rocky Mountains offer practically endless amounts of outdoor activities, especially since there is an average of 300 days of sun each year. In addition to that, the Flatirons rocks jutting out from the earth create a simply breathtaking skyline. 
6. Moab, UT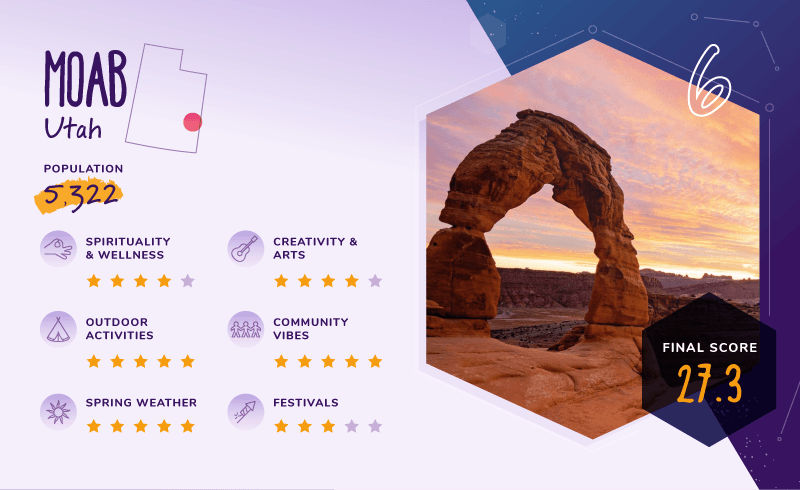 Moab is perhaps a biblical name. Others imagine it comes from Paiute origins from the word for mosquito: moapa. 
This town, either way, has an indigenous spirit with a landscape that suggests a supernatural hand formed the formations. The city is located near the Arches National Park where over 2,000 natural sandstone arches stand and the Canyonlands National Park with gashes of eroded canyons are carved into the stone. 
It is also one of the few communities that has employed a plastic bag ban and has an art gallery devoted to spirit inspired pieces. This aptly named wellness center truly defines the type of renewal that happens here: Phoenix Rising. 
7. Taos, NM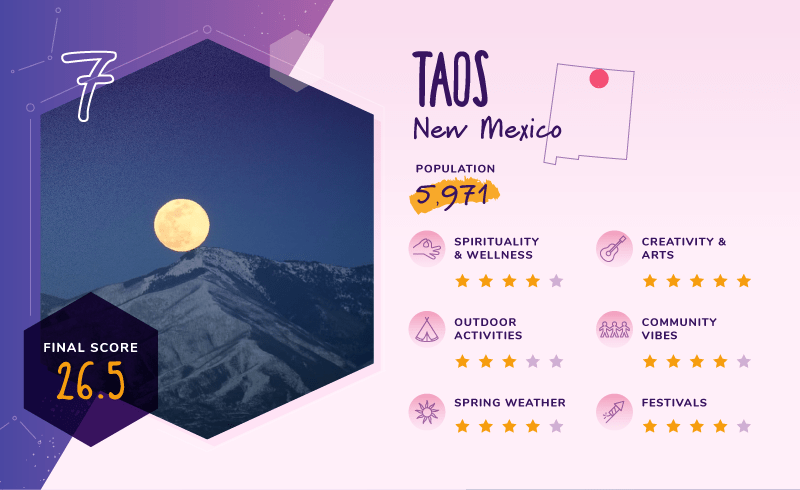 Beginning as early as 1899, artists were already flocking to this "place of red willows," as the local Taos indegenous named their home. Of course, willows alone are steeped in magical mythology, much like this New Mexico town and Grandmother Willow from Pocahontas. 
The only living Native American community is still settled here. Tucked into their 1000-year-old earth, water, and straw adobe, they still celebrate age-old powers existing between people and nature. Mythic figures like kachina spirits are honored in celebrations where corn pollen is sprinkled. This type of ceremony permits a healing exchange of blessings to cross the realms between the supernatural and human. 
Now, expanding beyond the ancient practices, you can also find wellness classes for Intimacy Immersion, Noetic Sciences, and Reiki Sharing. Additionally, you can put your hands to work in artisan activities like earthen pottery creation and women's welding workshops. 
8. Ojai, CA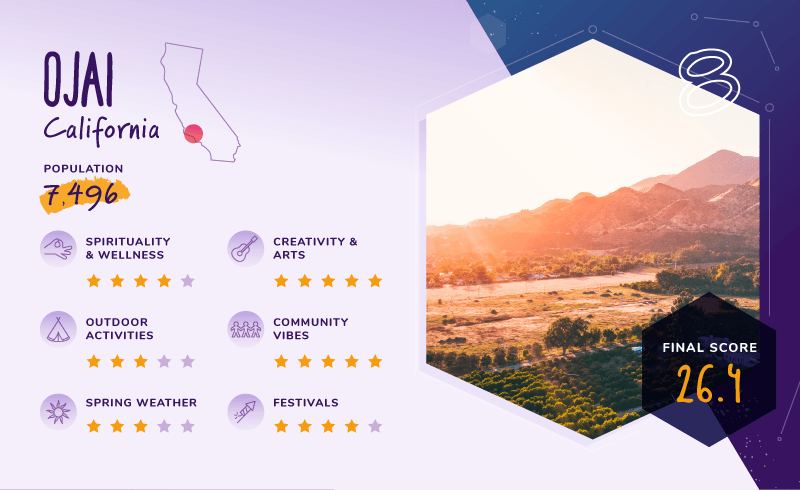 The name Ojai is derived from the Chumash word "awhai" meaning "moon." The small spiritual town is literally named after that shining beacon in the sky, a symbol for time, cycles, regeneration, mystery, and change. 
Nested in a small, picturesque valley, this city is home to one of the most important esoteric centers: The Krotona Institute. Celebrating Theosophy, their practice emphasizes mystical experience, divine wisdom, and inner essence. 
These three things are ever-present not only in the practice of Theosophy, but in the Ojai community. The locals are interested in nature and host herb walks and meditation hikes in the Topatopa Mountains. Don't miss Meditation Mount, where you can turn inward to connect with your inner essence. 
9. Burlington, VT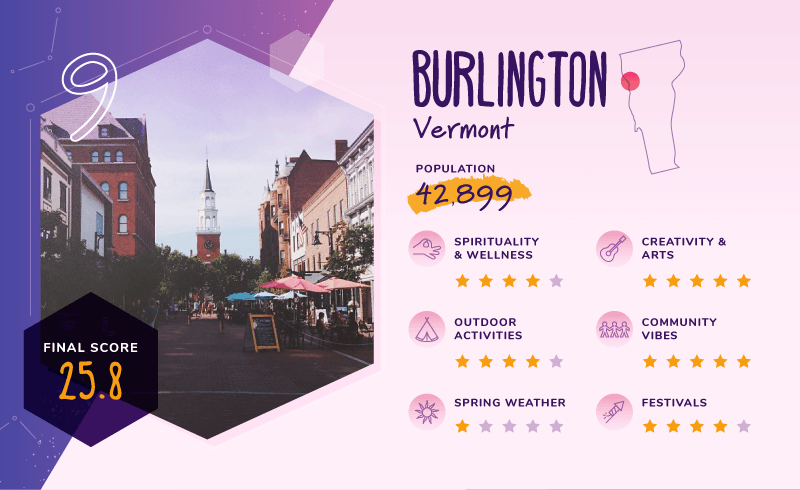 Mostly famous for that iconic ice cream duo, Burlington is also one of the first cities in America to be entirely powered by renewable energy. 
Sitting next to the natural Lake Champlain, not far from the Green Mountains, this compact city is full of energy and creative spirit. Caring about the environment and the self goes hand in hand here.
You can find spiritual healing at places like Rising Sun Healing which offers inner work solutions to help fellow seekers find their path by bringing light to their lives. 
10. Bloomington, IN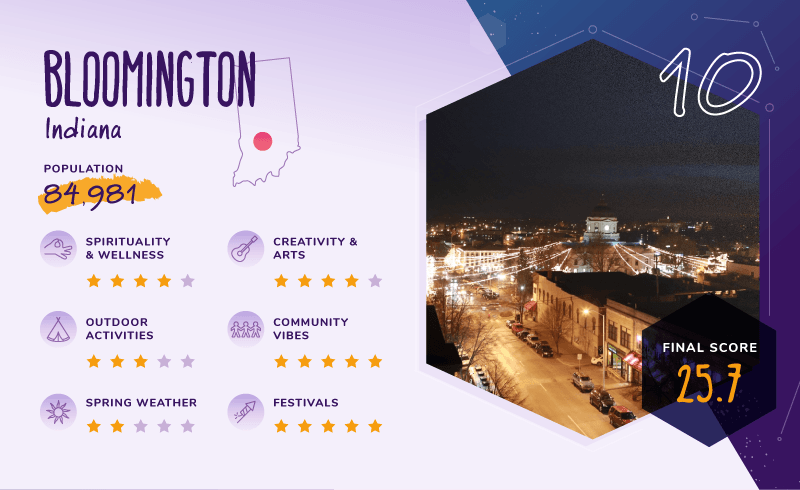 Bloomington, what better name for a spring getaway?  Plus, nearby Brown County State Park's rolling, lush hills are often blooming in color this time of year. 
Bikes for transit are encouraged and finding a safe place to ride is easy with the numerous trails and paths. The focus on health and environment here is evident in the support for local farmer markets and community gardens.
If music helps you attain your zen, this is the place to visit. The city is home to one of the best music schools and host to the Lotus World Music and Arts Festival. Zen energies and harmonic melodies? That's a recipe for new-age magic. 
1
1. 
Joshua Tree, CA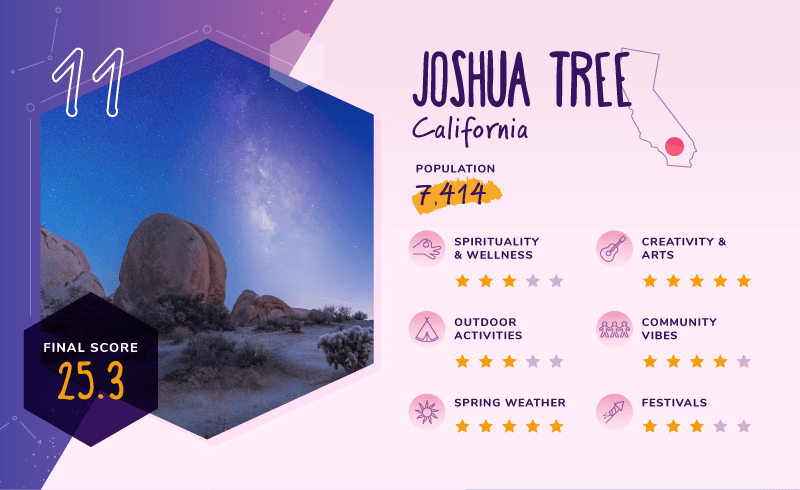 We're not talking about Joshua Tree National Park (though it's just a few steps away), but the small Joshua Tree community just on the edge. Still protected from tourists, this artistic, desert-free-spirited cultural oasis is an absolute refuge. 
To keep your mind and body in alignment, don't miss their certified farmers market, take a break at Instant Karma Yoga, and visit the Grateful Desert Herb Shoppe & EcoMarket.
12.
Missoula, MT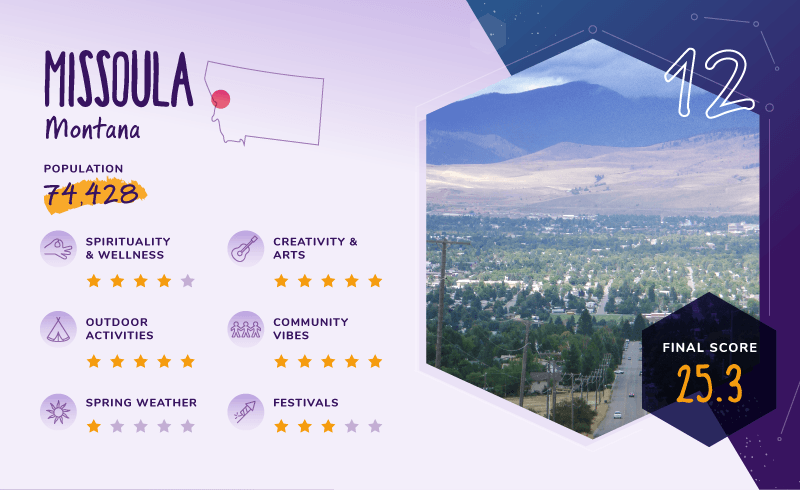 Now we meet in a place where 5 glorious mountain ranges all converge, in the "hub of five valleys." 
Missoula, Montana is literally surrounded by mountains. Sapphire Range, the Garnet Range, the Rattlesnake Mountains, the Reservation Divide, and the Bitterroot Mountains all offer endless amounts of places to root yourself and find spiritual connection within the inexplicable natural beauty. 
Detox in the local hot springs, surf through the city on the river running through the town or enjoy the thriving music scene to help you bridge the connections between movement, energy, and meaning. 
13. 
Eureka, CA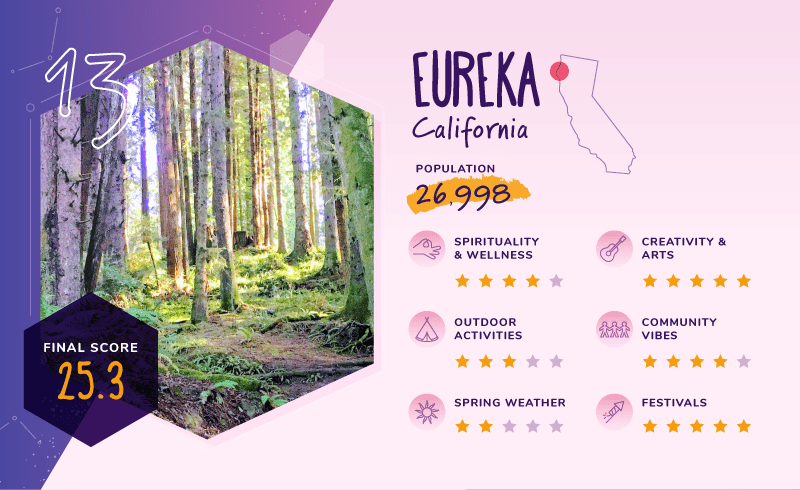 Somewhat remotely located amid California's Redwood Empire and, naturally, bordered by towering redwoods, Eureka looks out across the shining Pacific of Humboldt Bay. 
In EcoEureka, there is a driving force to care for the environment. Plus, your spiritual self can stay healthy by passing through spiritual centers or browsing metaphysical shops like The 7th Ray or Philosopher's Stone Gallery. 
14. 
Ithaca, NY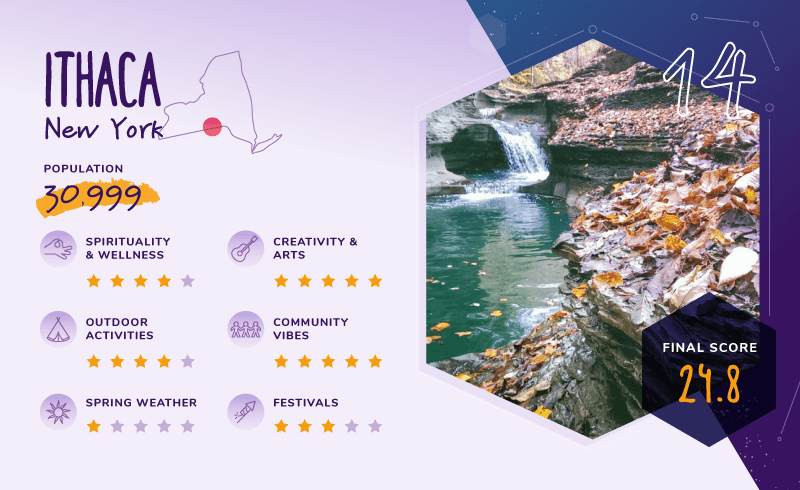 Home to Cornell University, it's no wonder places like the wizened Sage Chapel is one of this city's holy attractions. This temple dedicated to learning depicts mythological figures like Philosophia to honor the value of knowledge and education. 
Ithaca also has roots that ground the community and environment. Ecovillage Ithaca is one example of how the locals not just celebrate but actually live intentionally in a sustainable way.
15.
Salem, MA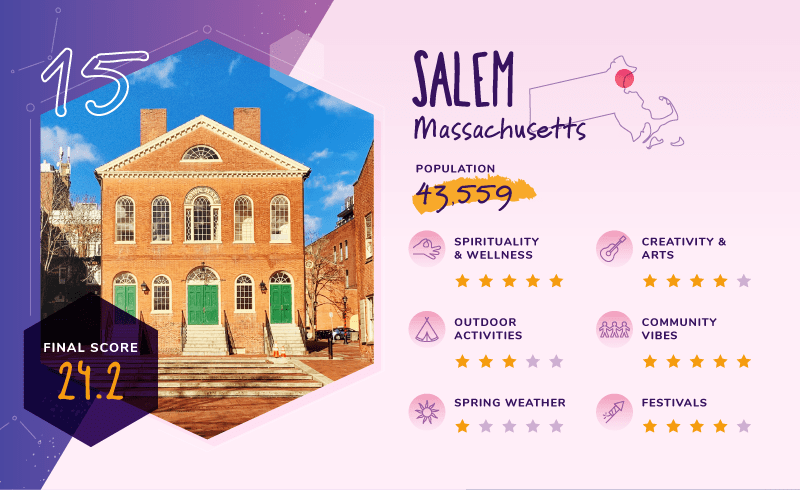 Most known for its infamous history of witchcraft, this coastal village fully embraces the metaphysical and enchanted. 
In Salem, it's easy to find a practically endless amount of workshops and centers for discovering folk magic, rituals, psychic practices and more. It's also perhaps one of the best cities to stock up on your supplies of crystals, peytons (altar tiles), chalices, offering bowls, and herbs and oils. 
16. 
Crestone, CO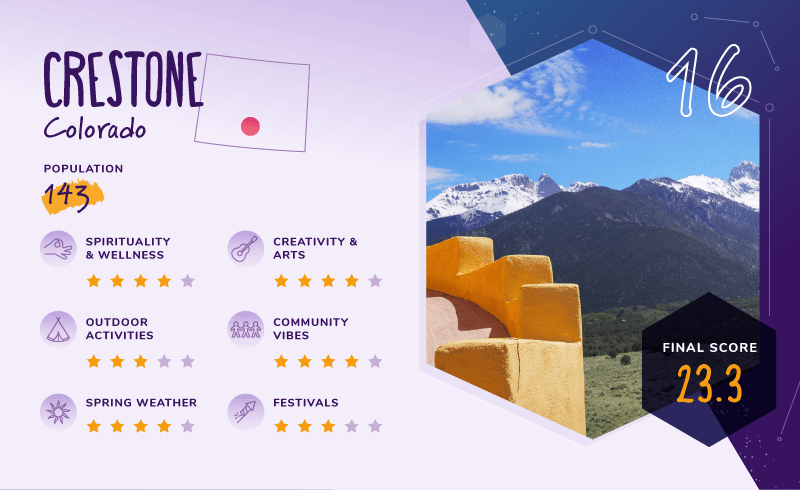 With less than 200 people, this off the radar mountain retreat is exactly the place to find a peaceful spiritual escape. Located at the base of the Sangre de Cristo Range, meaning Blood of Christ, the name doesn't quite represent the diversity of spirituality existing in this secret Colorado mountain town. 
Creston is home to ashrams, monasteries, temples, and numerous retreat centers. Hindu, Buddhist, Christian, and more all flock to celebrate and pray and meditate. Those floating intentions create a treasured ambiance full of spiritual, positive energy. 
17. 
Pa'ia, Maui, HI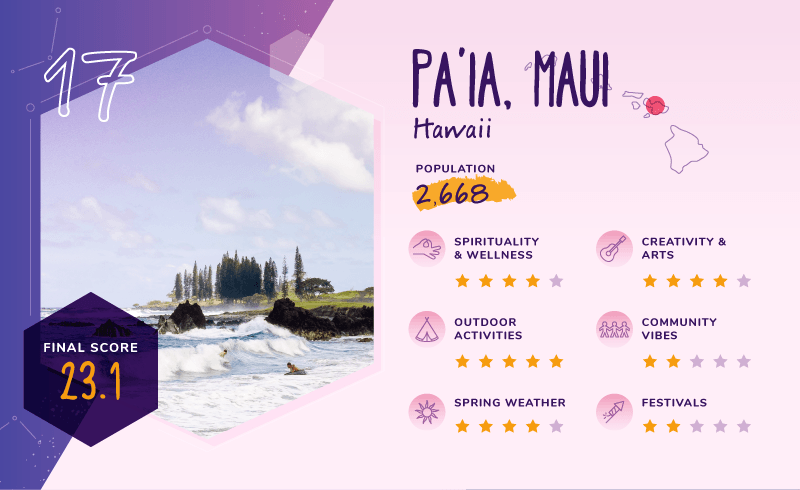 Leaning to vegetarianism and Buddhism is the norm in this slow and easy, beachy town. Pa'ia, pronounced Pah-ee-ahh, is close to peaceful waves and even sacred gardens. 
Living and working in harmony is what keeps this free-spirited town thriving. Local artisans have united to keep hand-crafted traditions like woodworking, print-making, basket weaving and more alive. 
18. 
Eugene, OR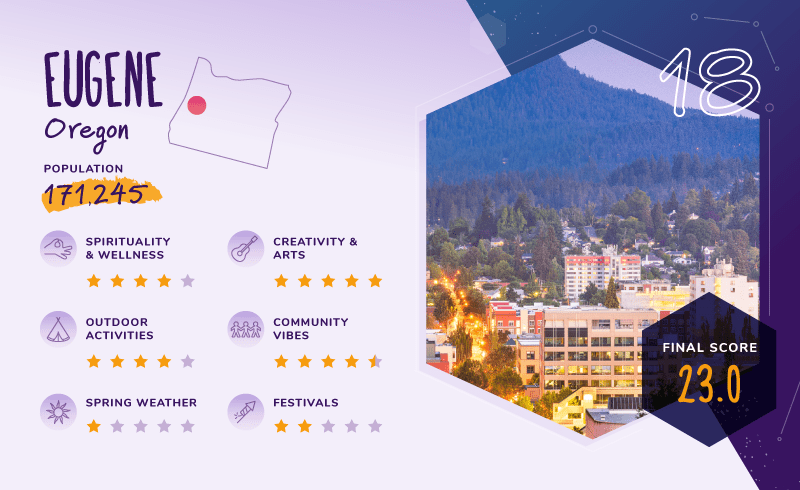 Here, history is rooted in the counterculture. Can you imagine an event titled  Slugfest?
Well, you'll find that here. It features a giant, Chinese dragon-style green slug and is hosted by the Society for the Legitimization of the Ubiquitous Gastropod, better known as the SLUG Queens. 
Then, of course, there are colorful farmers markets with handcrafted goods as eclectic as tie-dye pants, patchwork ponchos or even fish-hook earrings. This is barely a sample of the incredible blend of diversity and creativity this city embodies. 
19. 
Topanga, CA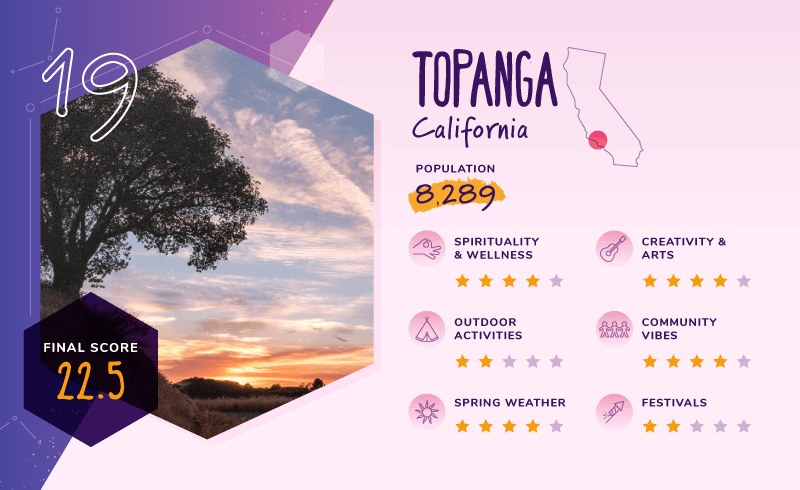 Back in the sunshine state, in the Santa Monica mountains, this city is a community that values peace, equality, and individualism.
The name Topanga is derived from the local language of the Tongva tribe meaning one of two things: "where the mountain meets the sea" or "a place above." 
Perhaps that's why people are drawn to this sacred location. It brings you up to a new plane of existence. To nurture that experience, attend one of the numerous retreat centers or special spiritual activities like Yoga of Intimacy, Wild Woman Experiences, or Kundalini Activation Process. 
20.
Idyllwild, CA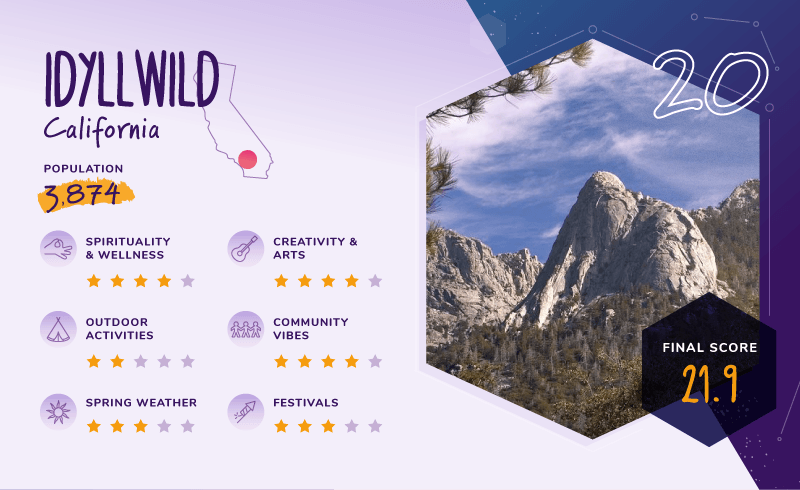 Known for its immersive, nurturing recharging abilities, Idyllwild is a place for healing and retreat. 
Marked by two distinctive rock formations such as Tahquitz Peak, Lily Rock, Mt Atlas, and Suicide Rock, there are incredible opportunities to bathe in the forest environment.
Art and New Age are hand and hand in this remote San Jacinto Mountain village. So whether you seek retreat or are looking to tune into your creativity, here there's easily room for both. 
21. 
Bisbee, AZ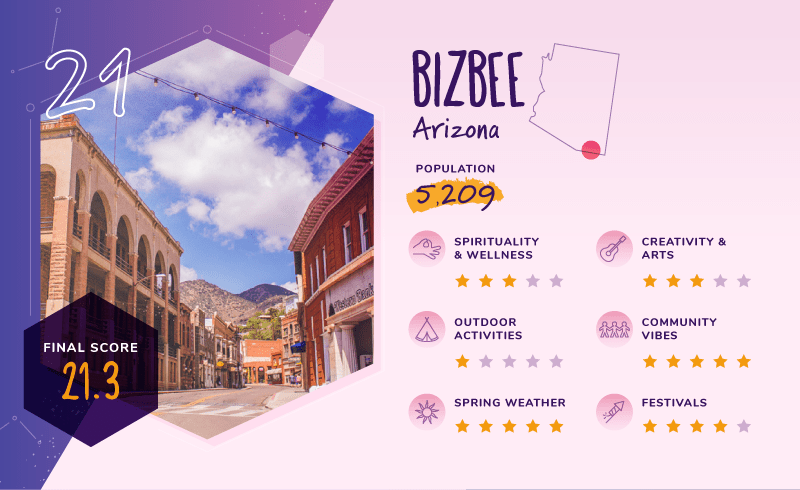 Once a town known for its precious metals, now it's treasured for its quirky, community spirit. Its motto is "Keep Bisbee Bizarre." 
Events for health such as the 1000 Stair Climb might be the hardest 5K you've ever heard of. At least, competitors are encouraged by local musicians set up along the route to serenade and inspire.
Then there's the annual rolling art parade hosted by the Bisbee Rolling Art Transport Society (BRATS) where soapbox derby cars transport incredible wacky art. It's free-spirited, fun and even home to the charmer of killer bees, aptly referred to as the Killer Bee Guy.
2
2.
Marfa, TX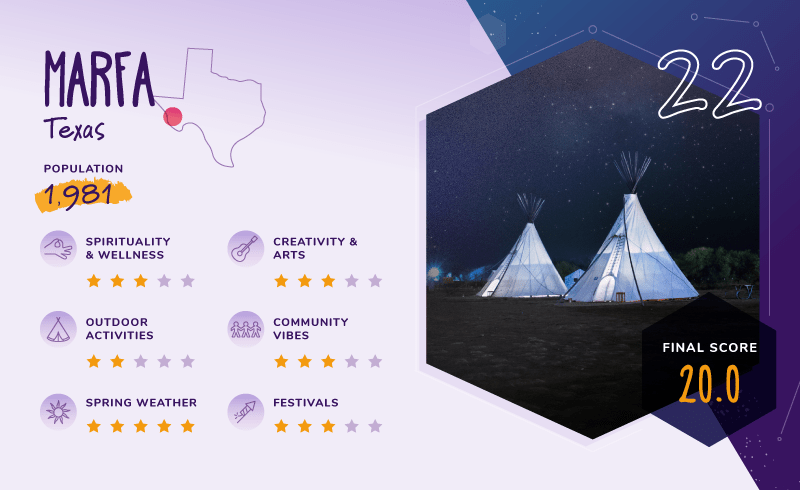 Do you want to see magical, inexplicable ghost lights glimmering or spend a night in a yurt? 
Here you can do both. 
Not far from Big Bend National Park in the Trans-Pecos desert, this small artist commune is a place for large-scale, wide-open minimalism. You can visit the modern art installations at the Chinati Foundation or simply soak in those vast star-soaked desert skies. 
23. 
Yellow Springs, OH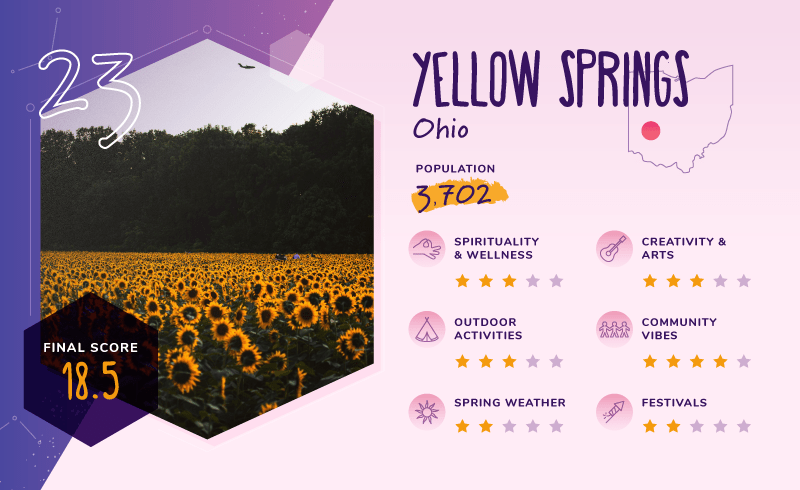 Founded originally as a sort of utopian Welsh society, the idea of attaining an alternate ideal has always persisted in Yellow Springs. 
Other than exploring the colorful city and locally grown eateries, there are a number of places to awaken and find enlightenment.
You can reach out into nature by visiting the lush Glen Helen Nature Preserve, once believed to have medicinal spring water. Or simply focus on your inner work by looking in and taking a class at the Dharma center. 
24. 
Summertown, TN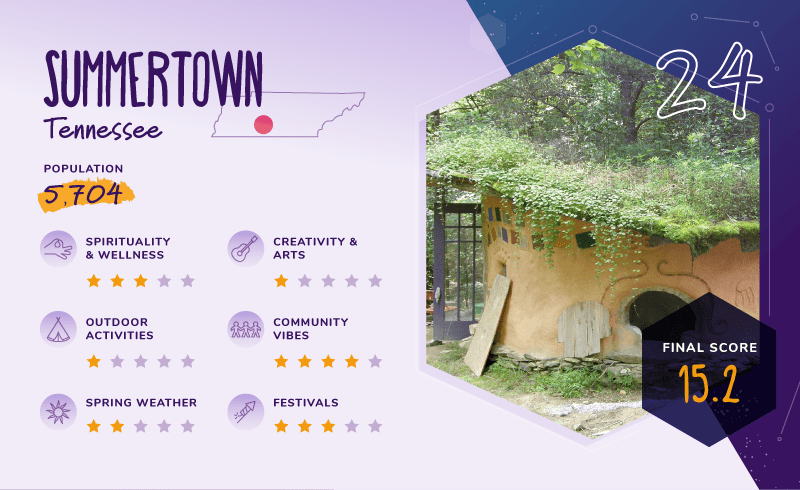 The Farm is the most famous establishment located in this green, environmentally-conscious intentional living community. Truly a peaceful place to call home as the founding principles are of nonviolence and respect for the Earth. These principles were originally established by The Farm's founder, Stephen Gaskin. 
This Summertown community hosts a number of workshops and events to promote peace, presence, balance, awakening, and transformation. Living in spiritual communion with nature and giving back to the earth marks their ideology. 
25. 
Lily Dale, NY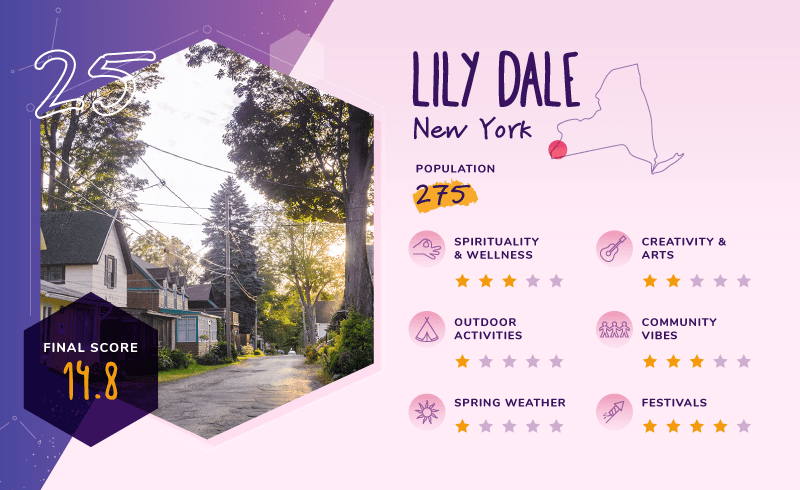 A small hamlet of New York is an unsuspected home to the largest number of Spiritualists. Only Spiritualists are allowed to live in the community and visitors must pay $10 to enter. 
Spiritualists are known for their ability to interact with spirits. Their mystical abilities attract about 22,000 visitors annually looking to celebrate services at The Healing Temple or The Forest Temple, receive messages from spirits, and uncover mysteries that only these mediums can help them unfold.