Do your vacations normally consist of sitting poolside, admiring white-sand beaches, or maybe a casual walk in the city? Perhaps it's time to kick it up a notch on your next trip by adding an adventurous tour to your itinerary.
Planning your trip and deciding which companies to go with takes time and research so we did the work for you. Whether you're an adrenaline junkie or just looking for something unique to do on your next trip we have the experience of a lifetime waiting for you.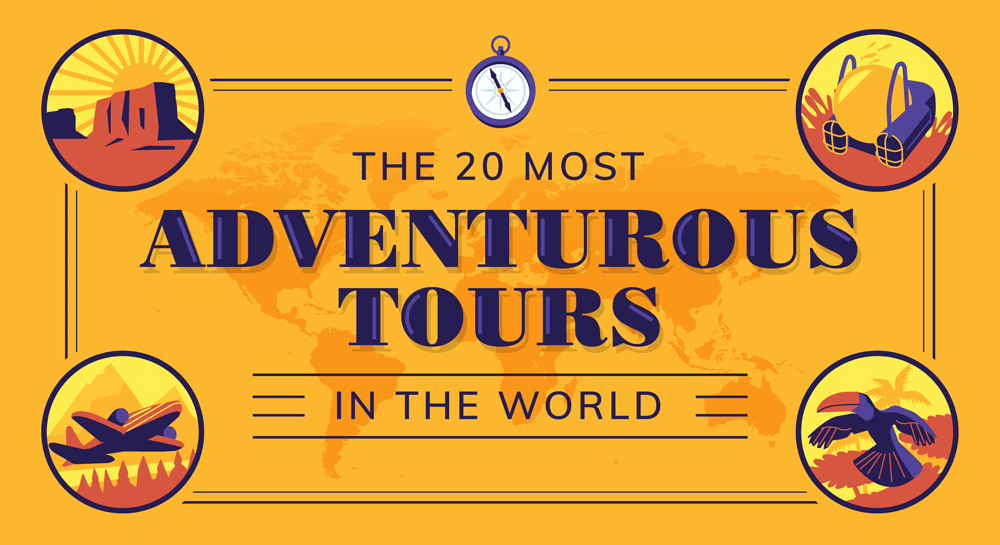 We rounded up the 20 most adventurous tours in the world that are definitely worth adding to your bucket list. From diving between two continents to volcano surfing, you are bound to find your next thrill.
1. Heli-Skiing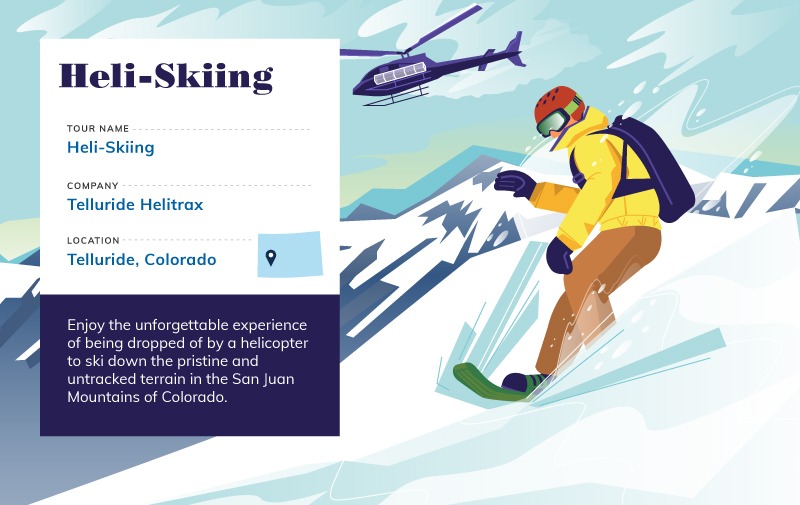 Adventure: Heli-Skiing
Tour Name: Heli-Skiing
Location: Telluride, Colorado
Company: Telluride Helitrax
Tour Link: https://www.helitrax.com/book-now/
Description: Boasting some of the highest elevations in North America, this Colorado terrain is coupled with a crew of expert guides that hand-deliver a truly unforgettable experience.
You get to have the thrill of being dropped off by a helicopter to ski or snowboard down the pristine and untracked terrain in the San Juan Mountains of Colorado.
Enjoy customized helicopter skiing trips that cater to your inner ski-soul so you can have the best ski or snowboard day ever!
2. Hike to Machu Picchu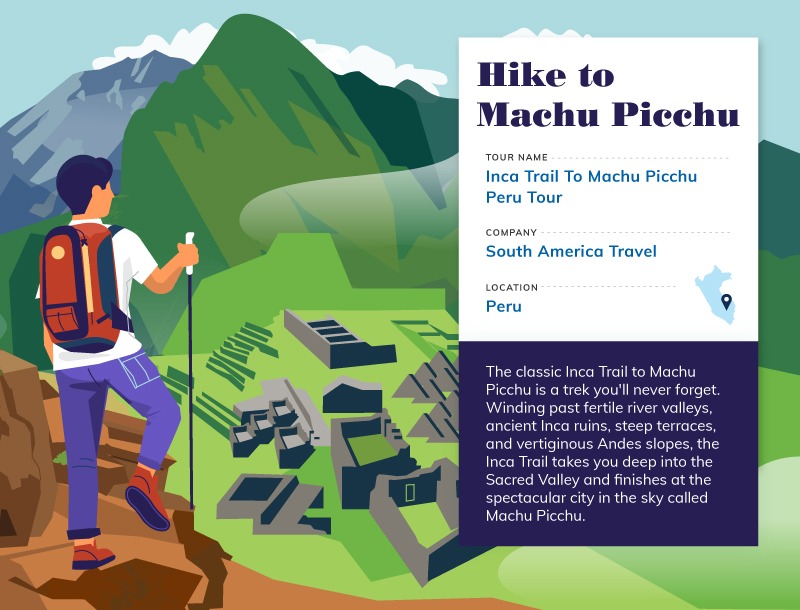 Adventure: Hike to Machu Picchu
Tour Name: Inca Trail To Machu Picchu Peru Tour
Location: Peru
Company: South America Travel
Tour Link: https://www.southamerica.travel/UNESCO/Machu-Picchu-Tours/
Description: At once challenging and thrilling, the classic Inca Trail to Machu Picchu is a trek you'll never forget. Winding past fertile river valleys, ancient Inca ruins, steep terraces, and vertiginous Andes slopes, the Inca Trail takes you deep into the Sacred Valley of the Incas, from where the Inca Empire ruled during the 13th and 14th centuries.
The Inca Road system was highly developed and was one of the keys to the Inca's success in managing an expansive empire. You'll experience what it was like to walk in the footsteps of the Inca on this 4 day, 3 night Inca Trail tour, starting in the heart of the Sacred Valley, and finishing at the spectacular city in the sky called Machu Picchu.
3. Fly a Fighter Jet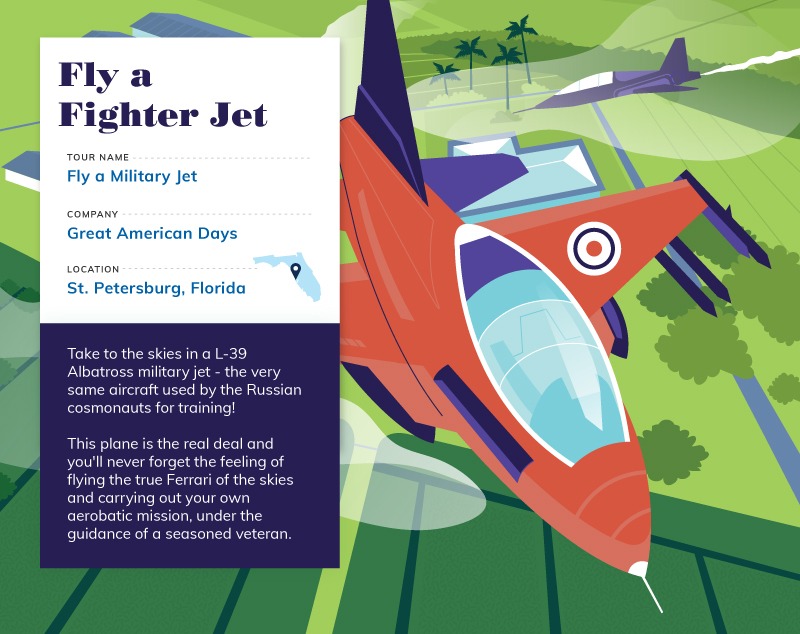 Adventure: Fly a Fighter Jet
Tour Name: Fly a Military Jet
Location: St. Petersburg, Florida
Company: Great American Days
Tour Link: https://www.greatamericandays.com/fly-military-jet-st-petersburg

Description: This is not a simulation, you will actually push your limit and fly a military jet for the ultimate aerial adventure. Soar across the sky in a real fighter jet and live out your wildest dreams. Take to the skies in an L-39 Albatross military jet – the very same aircraft used by the Russian cosmonauts for training!
This plane is the real deal and you'll never forget the feeling of flying the true Ferrari of the skies and carrying out your own aerobatic mission, under the guidance of a seasoned veteran. In this tour, you will get a thorough pre-flight briefing from a veteran himself who will prepare you for the time of your life in the beautiful blue skies.
4. Galapagos Islands Adventure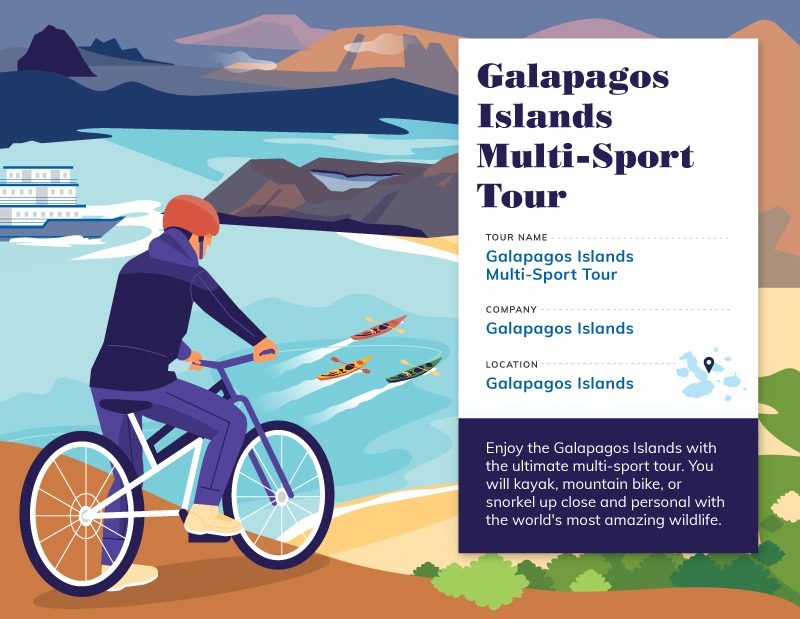 Adventure: Galapagos Islands Adventure
Tour Name: Galapagos Islands Adventure
Location: Galapagos Islands
Company: GalapagosIslands.com
Tour Link: https://www.galapagosislands.com/tours/hotel-based/multi-sports
Description: There are many Galapagos tours in which you will get to see the usual tourist sites on the Island but this is the ultimate adventurous package in which you will get to deeply explore the island and all its excitement it has to offer.
Galapagos Islands active adventure travel allows you to kayak, mountain bike, or snorkel up-close and personal with the world's most unfearful wildlife. The combination of land-based accommodations and travel between islands by small private planes or speedboats gives you more time to enjoy amazing wildlife encounters while participating in your favorite adventure sports.
5. Shark Diving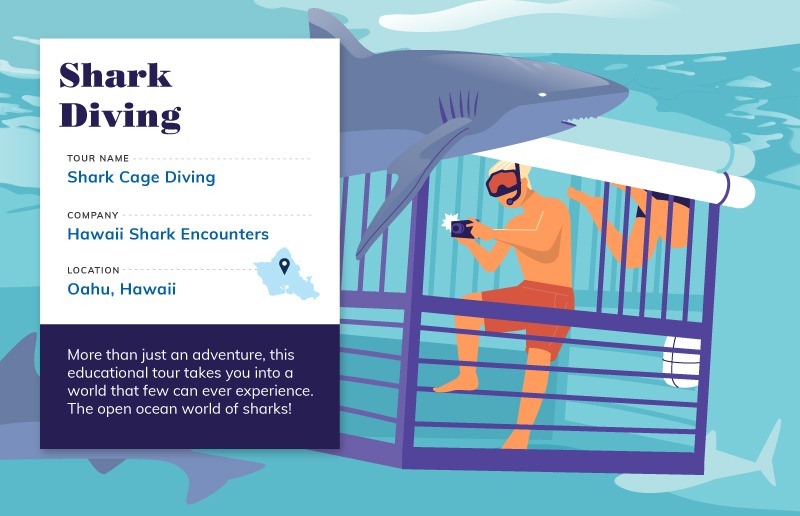 Adventure: Shark Diving
Tour Name: Shark Cage Diving
Location: Oahu, Hawaii
Company: Hawaii Shark Encounters
Tour Link: https://hawaiisharkencounters.com/index.php/tour/
Description: Have you ever wondered what it. would be like to swim fearlessly next to a predator of the sea. With Hawaii Shark Encounters, you can do just that! It's more than just an adventure, this educational tour takes you into a world that few can ever experience: The open ocean world of sharks!
Located on the North Shore of Oahu, this tour takes you into the open ocean, over three miles offshore, where you can observe Galapagos and Sandbar sharks in their natural environment from the safety of a cage.
6. Volcano Surfing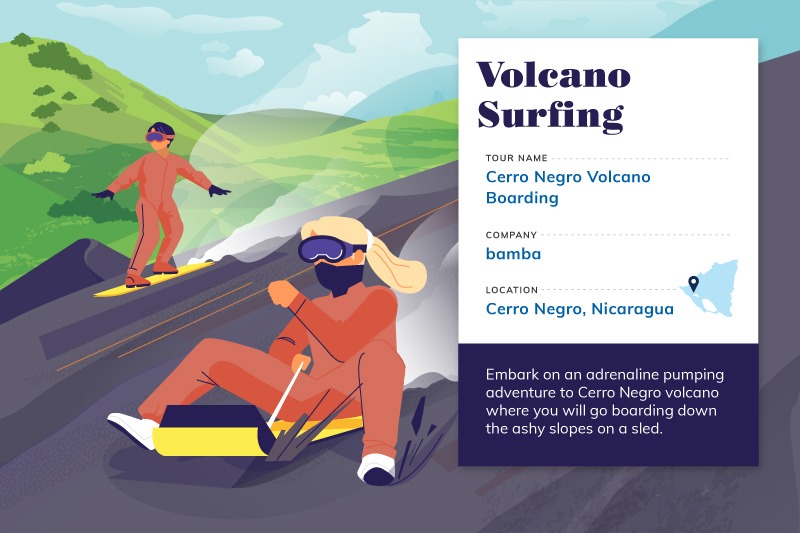 Adventure: Volcano Surfing
Tour Name: Cerro Negro Volcano Boarding
Location: Cerro Negro, Nicaragua
Company: bamba travel
Tour Link: https://bambatravel.com/adventure/Nicaragua-Group-Adventures-Nature-&-Adventure/Cerro-Negro-Volcano-Boarding/4499/115
Description: Set out for an exciting adventure to the active volcano in Nicaragua known as Cerro Negro. You will get to hike the top of the mountain and take in the magical scenery and landscapes from the peak of the volcano that affords sweeping views of the lush surrounding forests and the multi-colored active crater.
Enjoy your ride down the ashy slopes of the volcano on a sled that will bring you to the base of the volcano. Take a moment to catch your breath and relax in nature to recover.
7. Snorkeling Between Two Continents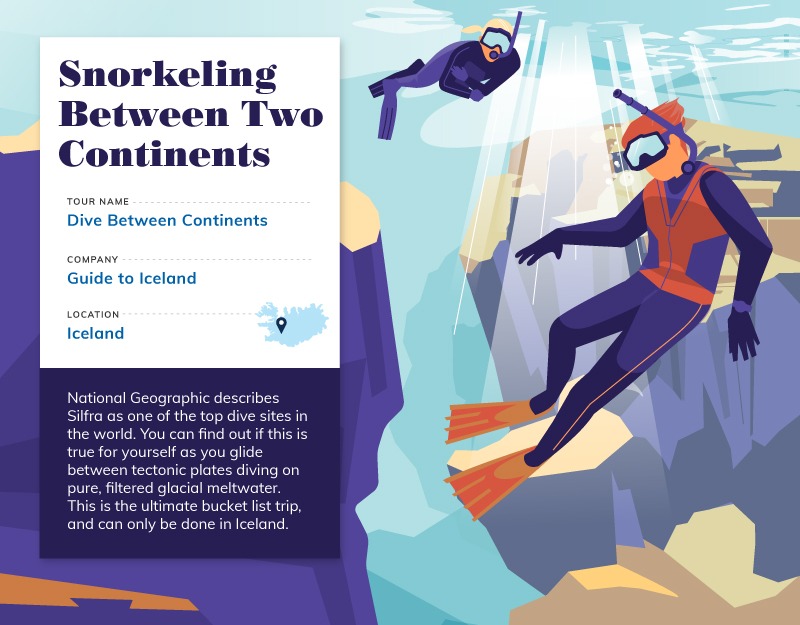 Adventure: Snorkeling between two continents
Tour Name: Dive Between Continents
Location: Iceland
Company: Guide to Iceland
Tour Link: https://guidetoiceland.is/book-holiday-trips/apnea-freedive-breath-hold-silfra-iceland
Description: Have you ever wondered what it's like to be in two places at once? This experience will top any ideas you could have imagined. You will get to snorkel deep between North American and Eurasian tectonic plates. The National Geographic even describes Silfra, the most historic landmark in Iceland, as one of the top dive sites in the world.
You can find out if this is true for yourself as you glide between tectonic plates diving on pure, filtered glacial meltwater. This is the ultimate bucket list trip, and can only be done in Iceland.
8. Rock Climbing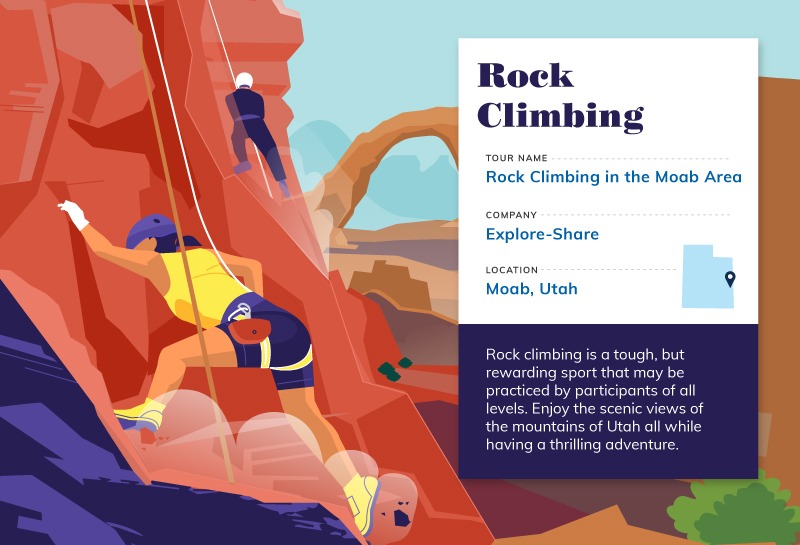 Adventure: Rock Climbing
Tour Name: Rock Climbing in the Moab Area
Location: Moab, Utah
Company: Explore-Share
Tour Link: https://www.explore-share.com/rock-climbing-trips/
Description: Rock climbing is a tough, but rewarding sport that may be practiced by participants of all levels. Enjoy a full day of rock climbing with Explore-Share. You will be exposed to the beautiful sandstone in the classic location: Moab, Utah. Climbers from all over the world gather here because of the stunning natural location.
Regardless if it's your first time or if you're experienced, there's a rock climb with you with over 4000 climbing options. The possibilities are endless!
9. Amazon Adventure Cruise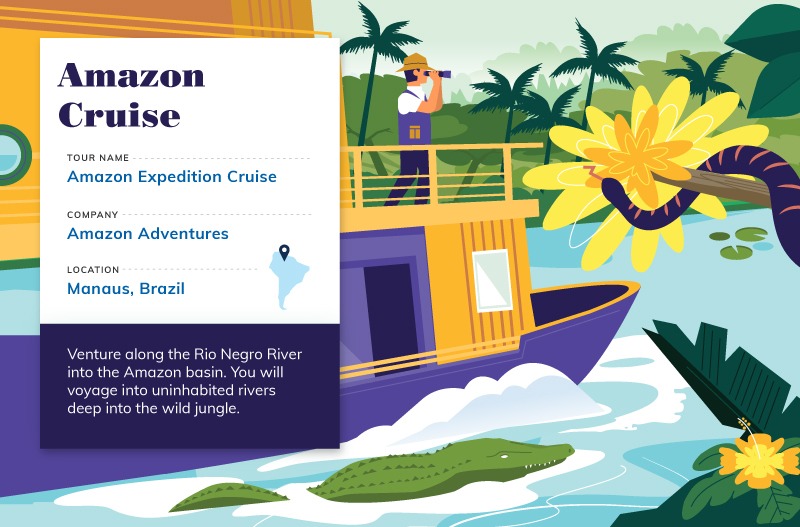 Adventure: Amazon Cruise
Tour Name: Amazon Expedition Cruise
Location: Manaus Brazil
Company: Amazon Adventures
Tour Link: https://www.amazonadventures.com/amazon-expedition-cruise.html
Description: This Amazon expedition is otherwise known as "Voyage to the Heart of Amazon" and indeed you will truly experience all that this beautiful place has to offer. You will explore deep into the forest by foot and for 7 days and 6 nights
Venture along the Rio Negro River into the Amazon basin voyaging into uninhabited rivers and discovering the exotic plants and wilderness that is exclusive to the Amazon.
10. Submarine Diving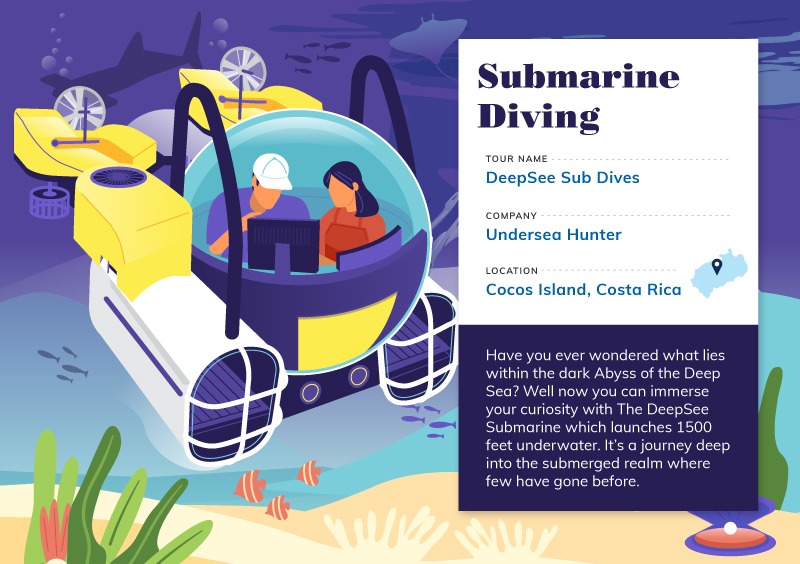 Adventure: Submarine Diving
Tour Name: DeepSee Sub Dives
Location: Cocos Island, Costa Rica
Company: Undersea Hunter
Tour Link: https://www.underseahunter.com/b187/introduction.html#.XajVQJNKjEY
Description: Have you ever wondered what lies within the dark Abyss? Since the first deep ocean explorations, venturing to these depths was reserved for a very few privileged scientists and military personnel. Undersea Hunter is actively involved in extending that list of the fortunate few.
The DeepSee is a custom-built one-atmosphere submarine, capable of carrying a pilot and two passengers to a depth of 1,500 feet.
The view from DeepSee's acrylic sphere is unparalleled, with a 360-degree field of vision. The 4-inch thick acrylic sphere actually disappears when immersed, giving the astonishing sensation of total freedom.
11. Mountain Biking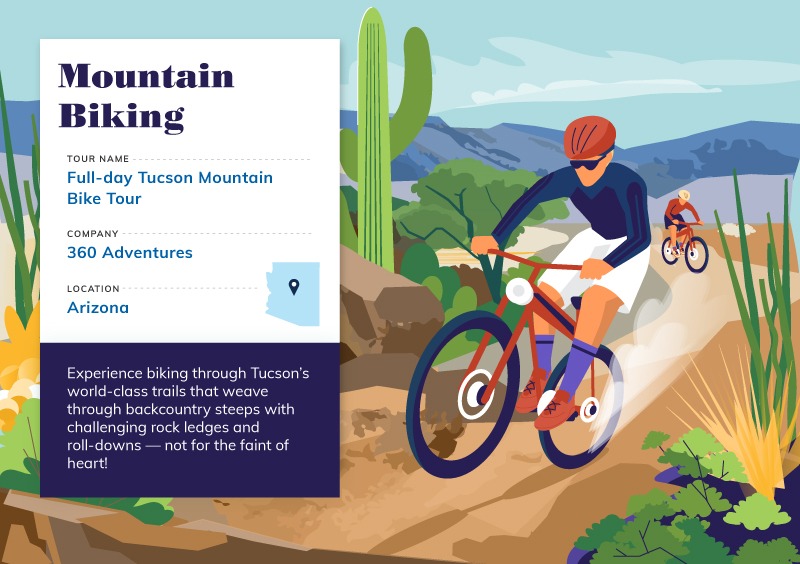 Adventure: Mountain Biking
Tour Name: Full-day Tucson Mountain Bike Tour
Location: Arizona
Company: 360 Adventures
Tour Link: https://www.360-adventures.com/tucson-full-day-mountain-bike-tour/
Description: Experience biking through Tucson's world-class trails that weave through backcountry steeps with challenging rock ledges and roll-downs — not for the faint of heart!
The Sonoran Desert boasts some of the most stunning scenery anywhere, and Tucson's world-class trails offer a bird's eye view. From smooth, sinewy singletrack that weaves through Saguaro forests to backcountry steeps with challenging rock ledges and roll-downs, Tucson riding has it all.
12. Sandboarding in Morocco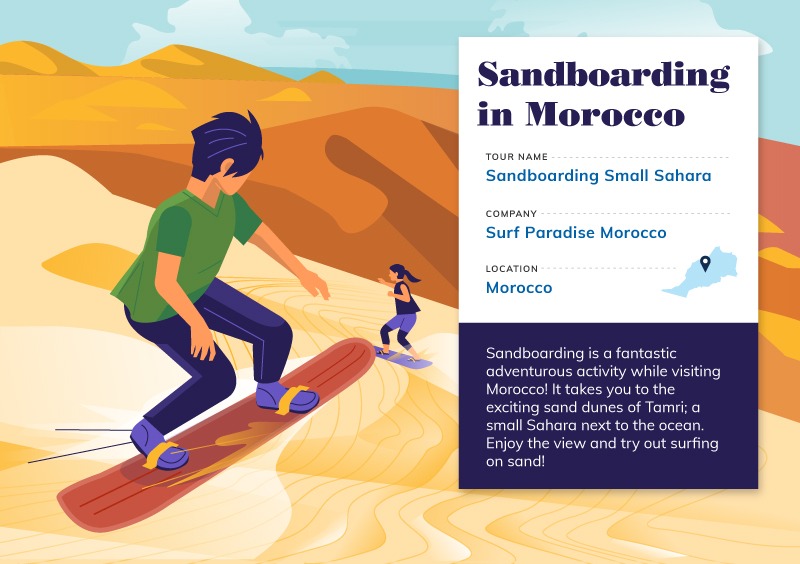 Adventure: Sandboarding in Morocco
Tour Name: Sandboarding Small Sahara
Location: Morocco
Company: Surf Paradise Morocco
Tour Link: https://surfparadisemorocco.net/itinerary/sandboarding-small-sahara/
Description: A visit to Morocco isn't complete without visiting the sand dunes in the Sahara desert.  While you're there glide across the smooth glistening sand and on a board.
Sandboarding is a fantastic adventurous activity while visiting Morocco! It takes you to the exciting sand dunes of Tamri; a small Sahara next to the ocean. Enjoy the view and try out surfing on the sand.
13. Canyoneering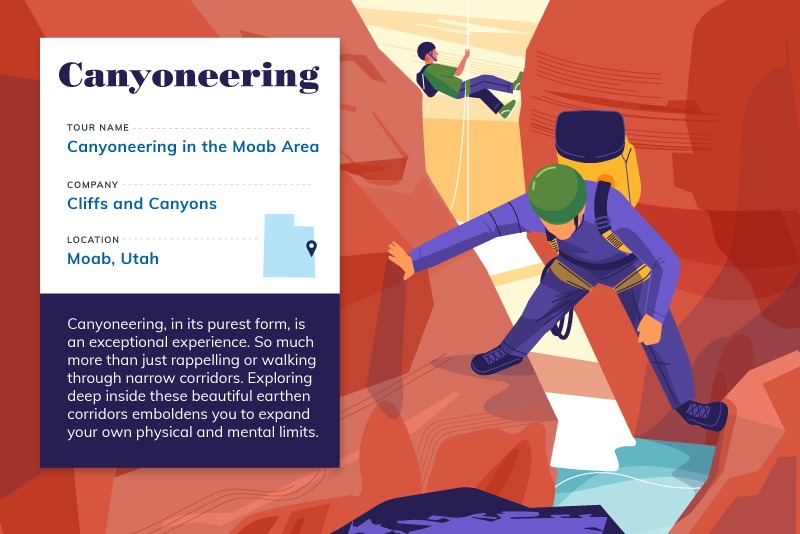 Adventure: Canyoneering
Tour Name: Canyoneering in the Moab Area
Location: Moab, Utah
Company: Cliffs and Canyons
Tour Link: https://cliffsandcanyons.com/guided-canyoneering-tours-near-moab/
Description: Canyoneering, in its purest form, is an exceptional experience. So much more than just rappelling or walking through narrow corridors. Exploring deep inside these beautiful earthen corridors emboldens you to expand your own physical and mental limits.
Few people can resist peering into a deep canyon. It is a work of art, always in progress. Specialized tools and techniques allow us to probe the ever-changing canyon floor creating one of the most memorable and exciting experiences of life.
14. Mt. Everest Tour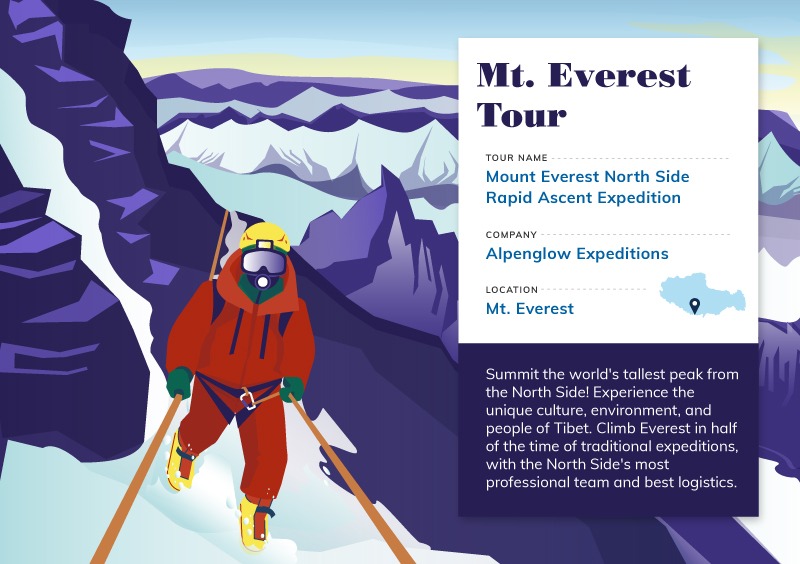 Adventure: Mt. Everest Tour
Tour Name: Mount Everest North Side Rapid Ascent Expedition
Location: Mt. Everest
Company: Alpenglow Expeditions
Tour Link: https://alpenglowexpeditions.com/expeditions/mount-everest-north-side-rapid-ascent/
Description: Mount Everest is Earth's highest mountain above sea level, located in the Mahalangur Himal sub-range of the Himalayas.
With Alpen Glow, you can summit the world's tallest peak from the North Side! Experience the unique culture, environment, and people of Tibet. Climb Everest in half of the time of traditional expeditions, with the North Side's most professional team and best logistics.
15. Extreme Ziplining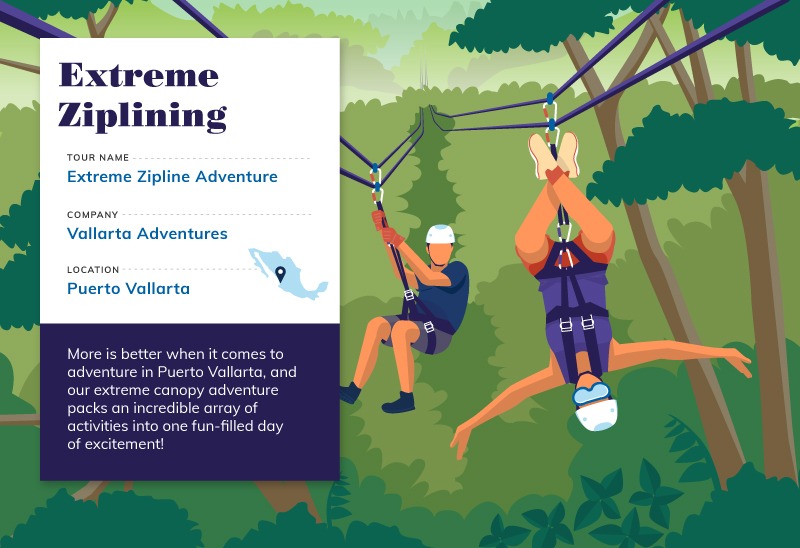 Adventure: Extreme Ziplining
Tour Name: Extreme Zipline Adventure
Location: Puerto Vallarta
Company: Vallarta Adventures
Tour Link: https://www.vallarta-adventures.com/en/tour/extreme-zip-line-canopy-adventure
Description: More is better when it comes to adventure in Puerto Vallarta, and our extreme canopy adventure packs an incredible array of activities into one fun-filled day of excitement!
With 7 thrilling, double-safety wire zip lines, you can ride upside down, right-side up, and fly up to 70 miles per hour on Mexico's longest and fastest "Superman" zip line.
When you book this Extreme Adventure, you get the added bonus of experiencing the Flight Skydiving Simulator. Feel the total freedom and weightlessness of a free fall as you safely float on a bed of air strong enough to lift you up!
16. Dive the Great Blue Hole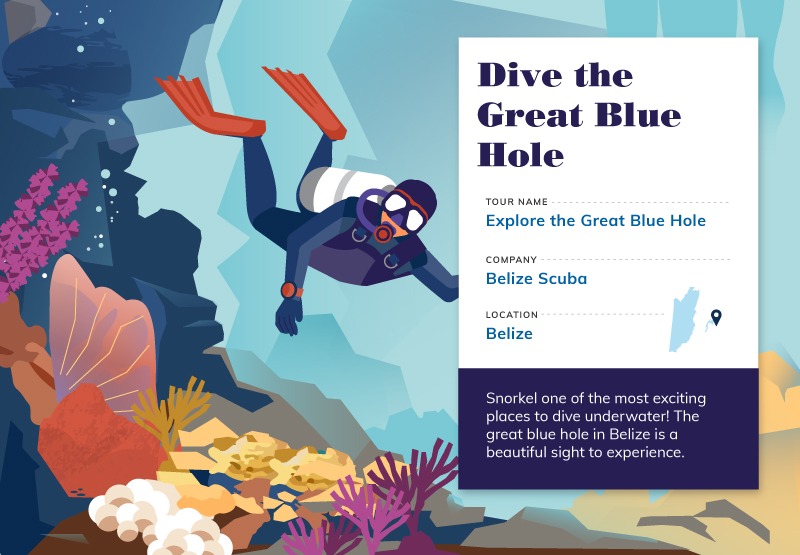 Adventure: Dive the Great Blue Hole
Tour Name: Explore the Great Blue Hole
Location: Belize
Company: Belize Scuba
Tour Link: https://belizescuba.com/diving-snorkeling/belize-blue-hole/
Description: The Great Blue Hole is a large underwater sinkhole off of the coast of Belize. It lies near the center of Lighthouse Reef atoll about 65 miles from Placencia.
While the snorkelers explore the fringing reefs, divers descend along the wall to a depth of 130 feet. At a depth of 120ft divers can clearly see the stalactites which were form from dripping water when the cave was above sea level.
The second dive is done at Half Moon Caye Wall which is known for its abundance of marine life. The seascape is cover with varieties of sponges, sea fans, and a wide variety of corals which makes for a kaleidoscope of colors.
17. Running with The Bulls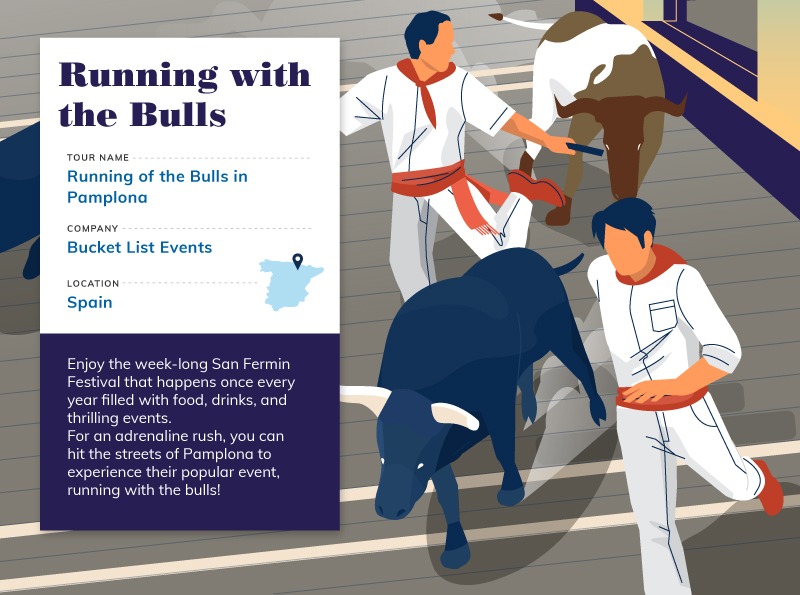 Adventure: Running with the Bulls
Tour Name: Running of the Bulls in Pamplona
Location: Spain
Company: Bucket List Events
Tour Link: https://www.mybucketlistevents.com/event/experience-pamplona/
Description: Enjoy the week-long San Fermin festival that happens once every year filled with food, drinks, and thrilling events. For an adrenaline rush, you can hit the streets of Pamplona to experience their popular event, running with the bulls!
From the Chupinazo (Opening Ceremony) to the bullfights, from the tapas to the wine, from exclusive viewing balconies to the intimate Probre de mi (Closing Ceremony), the tour has you covered. Bucket List Events is at your service to ensure that your San Fermin Festival experience exceeds all expectations.
18. South Island Adrenaline Junkie Tour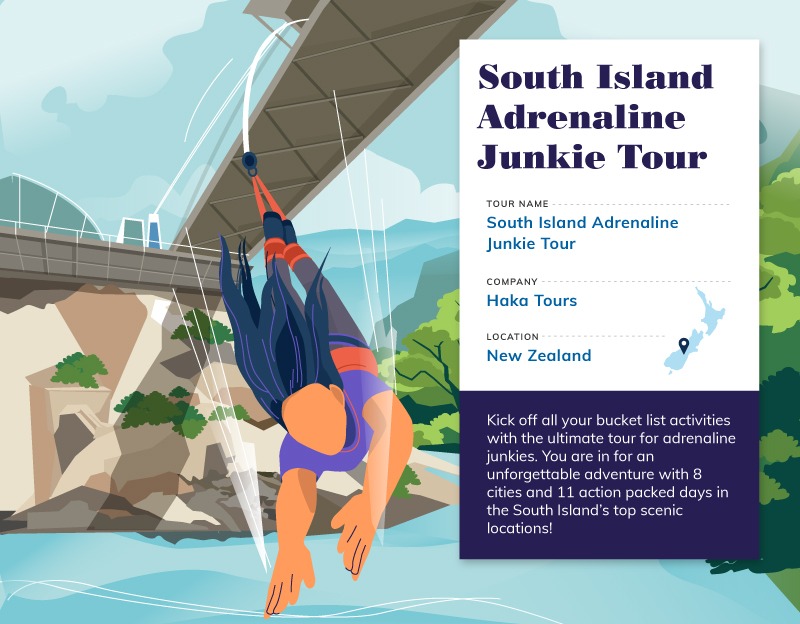 Adventure: South Island Adrenaline Junkie Tour
Tour Name: South Island Adrenaline Junkie Tour
Location: New Zealand
Company: Haka Tours
Tour Link: https://hakatours.com/new-zealand-tours/adrenalin
Description: Kick off all your bucket list activities with the ultimate tour for adrenaline junkies. You are in for an unforgettable adventure with 8 cities and 11 action-packed days in the South Island's top scenic locations.
Get ready to experience it all! Want to leap from the very place that bungy jumping was invented? You can! Perhaps you yearn to take on New Zealand's highest bungee? Step right up! Want to experience a high-speed jet-boat ride through a canyon close to where jetboating was invented? You got it!
19. Swim with Sea Lions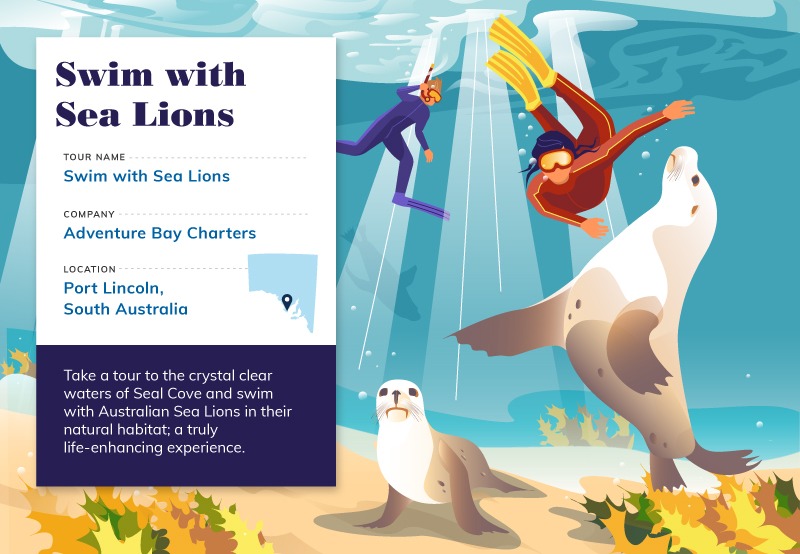 Adventure: Swim with Sea Lions
Tour Name: Swim with Sea Lions
Location: Port Lincoln, South Australia
Company: Adventure Bay Charters
Tour Link: https://adventurebaycharters.com.au/marine-adventure-tours/swim-with-sea-lions/
Description: Witnessing the rare and endangered Australian Sea Lions in their natural habitat is one of the most life-enhancing, wildlife experiences on offer. The inquisitive, gentle nature of these stunning sea creatures is unparalleled in the underwater world.
Set out on a half-day tour to the crystal clear waters of Seal Cove. Here, the gorgeous puppies of the sea welcome your arrival by bounding toward the boat with their unmistakable glee. Performing somersaults and graceful swirls, they invite you to join in and we doubt you'll be able to refuse!
20. Ultimate Helicopter Tour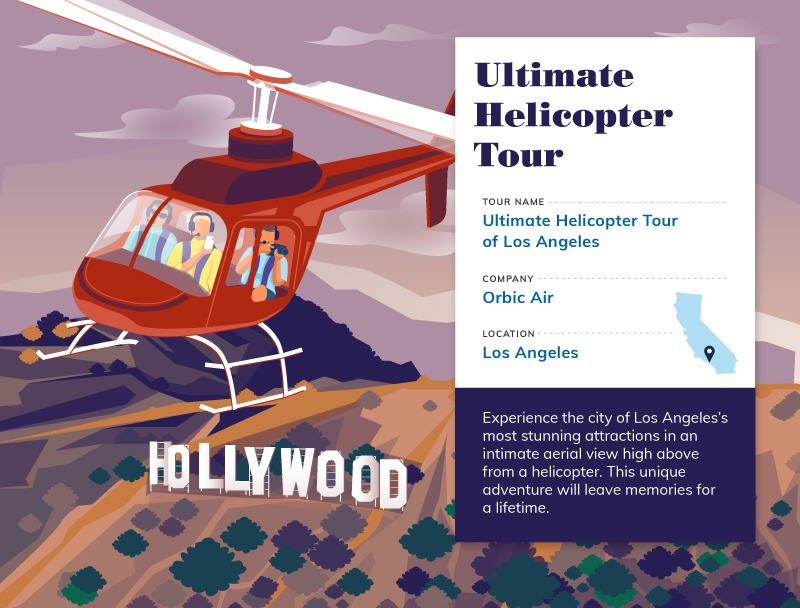 Adventure: Ultimate Helicopter Tour
Tour Name: Ultimate Helicopter Tour of Los Angeles
Location: Los Angeles
Company: Orbic Air
Tour Link: https://orbicair.com/i-7261699-ultimate-helicopter-tour-of-los-angeles.html
Description: Experience the city of Los Angeles's most stunning attractions in an intimate aerial view high above from a helicopter. You will be whisked over exclusive celebrity homes of Beverly Hills, eclectic Sunset Strip, and the striking Downtown Skyline.
Marvel at the historic Hollywood Sign and jaw-dropping sights of Walt Disney Concert Hall, Dodger Stadium, Griffith Observatory, and Hollywood Bowl. Soar over the breathtaking coastal areas of Santa Monica, Pacific Palisades, Venice Beach, and Marina Del Rey. This unique adventure is guaranteed to last a lifetime!