By Emily Winter
This December, I was lucky enough to win a Reservations.com contest to write about eight Irish coffees in NYC with a $500 stipend and $1500 pay. I know.
As a standup comedian and comedy writer, I know a lot about the act of drinking, but little about culinary arts and mixology, or as I call it, "mouth stuff."
All I do know is that I hate things that are really, really sweet. Like those thousand-calorie, super artificial, flavored coffee creamers? Nasty. But I do love booze. And coffee. And getting whip cream on my nose. And above all else, I love bar culture.
My mandate was to try bars in different neighborhoods that had good reputations for their Irish coffee. What resulted was a quest that turned me into a tourist in my own city.
So, here's where I went.   
The Dead Rabbit (FiDi)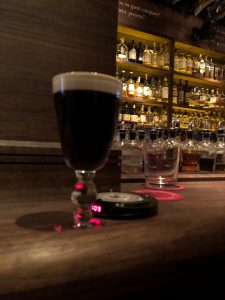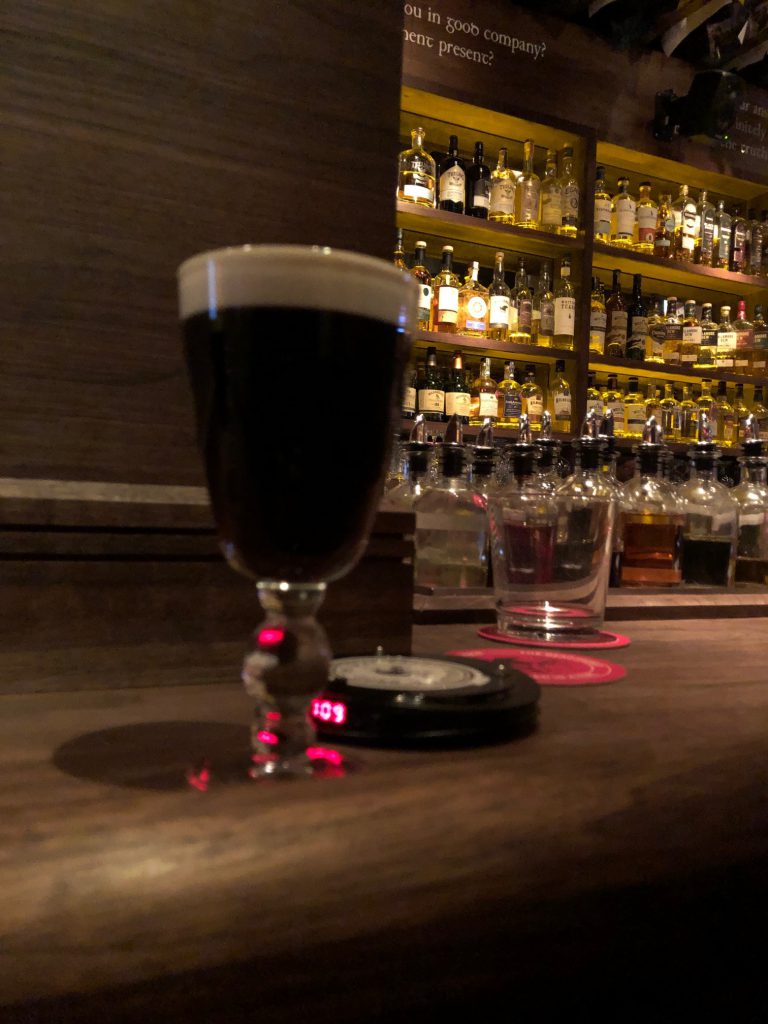 This big, crowded Irish pub topped nearly every internet list about Irish coffees I could find, so I had to try it. When I walked in, I was enamored by the dim, warm lighting, sprawling whiskey selection, and sawdust on the floor. I thought, "How could I have lived in NYC for more than a decade and never have set foot in this wonderful place?"
And then I remembered: It's in the Financial District. But if you have the existential energy, heading down to Manhattan's cultural wasteland for the Irish coffee and ambiance is worth it. Sure, you may find yourself sitting next to a man who unironically says, "Coffee's for closers." But, like me, you may also find yourself beside a kind British guy "on holiday."
As I waited for my pal Frank to join me at The Dead Rabbit — named, by the way, after an Irish gang in Lower Manhattan in the 1850s — I told my new British acquaintance about my December dream job as an Irish coffee taster. He was into it. In fact, he said there's a restaurant in his town in England that has the best Irish coffee he's ever tasted. Possibly the best in the world.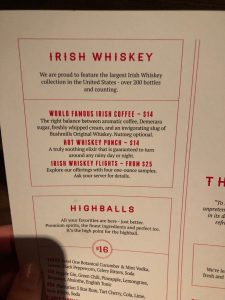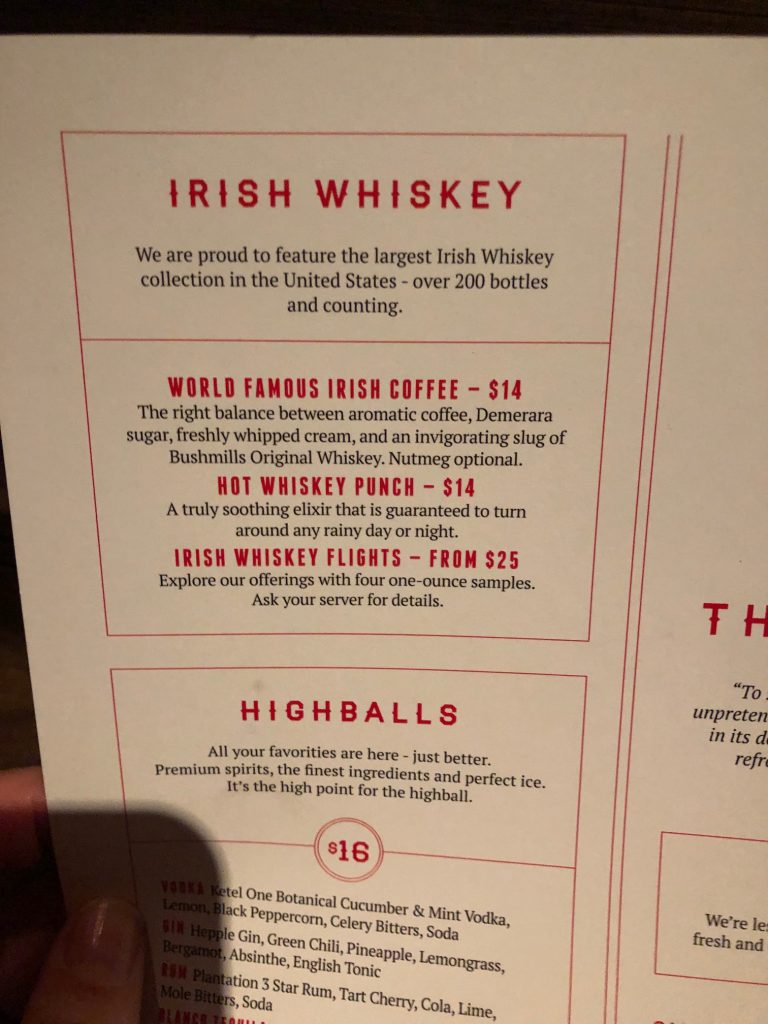 I pointed to the "World Famous" Irish coffee on The Dead Rabbit's menu, and the British guy, interest piqued, ordered one for himself.
We received our $14 Irish coffees lightning fast, and I took a sip. Cold, refreshing cream on top. Hot coffee and whiskey on the bottom.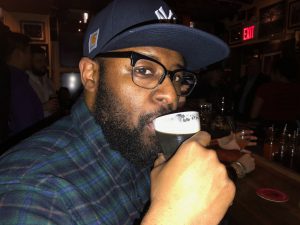 Not bitter, and not too sweet. Delicious.
My new friend took a sip, too.
"Oh, no," he said. "When it comes to the Irish coffee in my town in England, and this? This is better."
It's the only bar where I had two.
TL;DR: A+++ Irish coffee
Lucky Strike (Soho)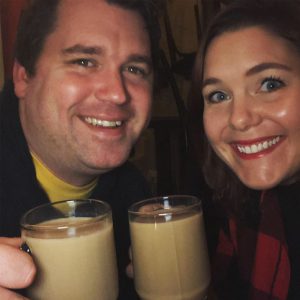 This shabby chic Soho bar and restaurant is a scene. It's loud. It's cramped. It's frantic. And it's… "out of whipped cream tonight."
Granted, I did go on a Friday evening — undoubtedly one of Lucky Strike's busiest times. But even after telling our waitress that my friend Larry and I were specifically there to review the Irish coffee, the whip-less drink that resulted was… meh.
It burned a little, meaning the bartender definitely didn't skimp on the whiskey. There was a nice Bailey's aftertaste. But overall, I'm surprised this place made any "top Irish coffee" internet list.
All that said, Lucky Strike has a fun atmosphere that to me screams "semi-wealthy-but-not-showy downtown NYC," and I'd be happy to get a (different) drink there during a less busy time.
TL;DR: Would go back for a drink, but not an Irish coffee.
Sweet Science (East Williamsburg, Brooklyn)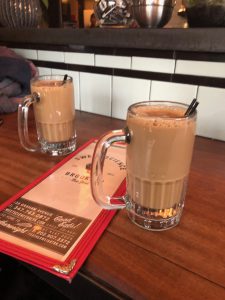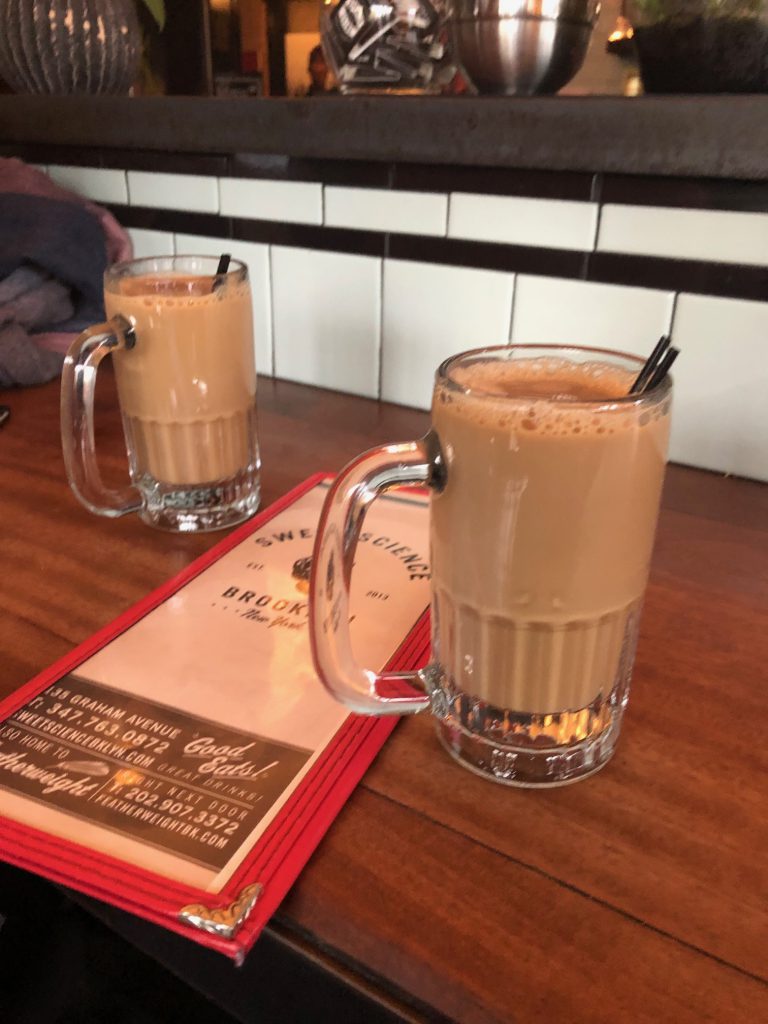 Sorry to be a Debbie Downer, but this place *snaps fingers* DOES! NOT! GOT IT! I think going to Sweet Science was my only truly negative experience on my tour. I entered the big bar and restaurant and immediately loved the vibe. It's eclectic but clean, with lots of soothing, light turquoise accents. "I'm going to like this place," I thought.
I sat at the bar unacknowledged for fifteen minutes. It wasn't especially busy on this Saturday afternoon, but for some reason, I was invisible to the two bartenders. As I waited to order, a man near me sent back his Bloody Mary due to too much horseradish. As a Bloody Mary enthusiast myself (I organize an annual bar crawl called The Bloody Marython), I could tell just by looking at it that he was right.
Then my friend Mara arrived. Mara's a fellow standup comic and radiates positive energy, and as soon as she sat next to me at the bar, a bartender took our order. It took Mara to make me un-invisible. We got our very light-colored Irish coffees and sipped.
"There's nothing to it," Mara said.
"More like TOO Sweet Science," I said, and no one laughed.
On the plus side, the glass was big, and there was booze in it, so it wasn't all bad. But with that kind of service and those kinds of drinks, I'll absolutely pass on returning.
TL;DR: Not going back. 
Woodland (Park Slope, Brooklyn)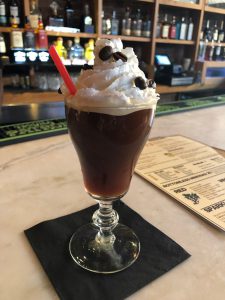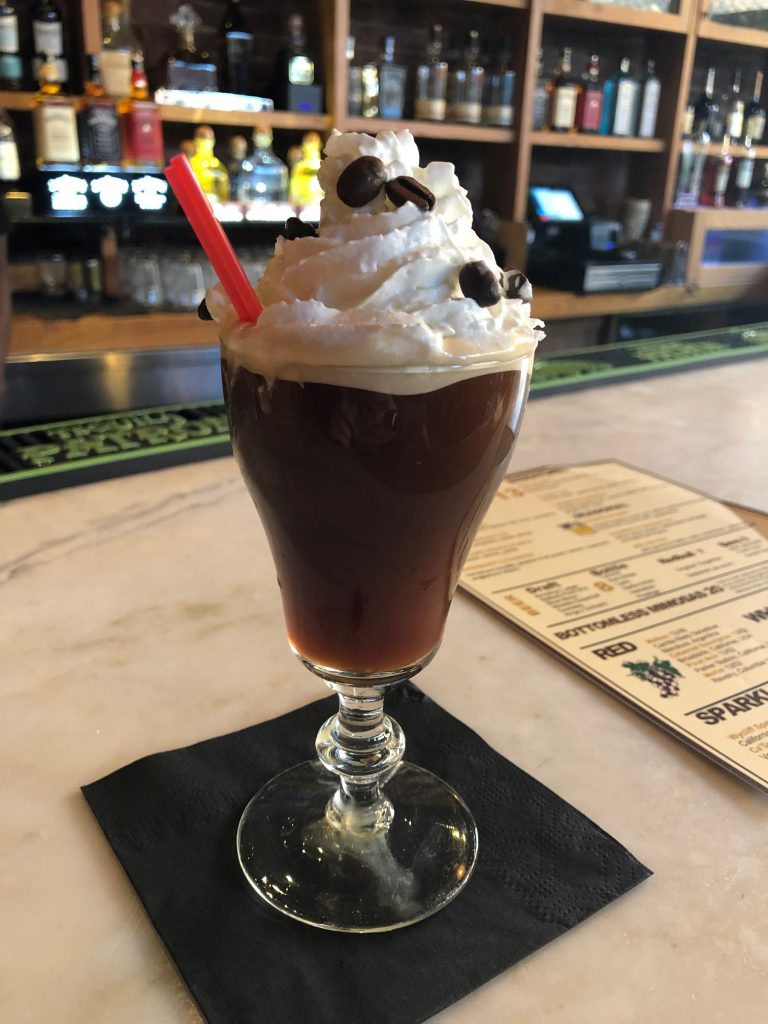 As a white Brooklynite in my 30s, I sometimes forget that not every space is designed with me as the target clientele. Woodland made me remember this.
I was carded outside, where I was surprised by the blaring music playing on a Sunday afternoon. Clearly, this was a place to be. I entered, and when my glasses unfogged, I made my way to the beautiful marble bar of the sunlight-filled space. Then I realized: I'm the only white person here.
Unfortunately, lots of people know what this feels like as they experience it on a daily basis. It most often happens to me when, as a standup comedian, I enter a green room before a show and it's filled with all men and no other women. The vibe is this: "We're not going to tell you to leave. You're technically allowed here. But this isn't your space." It's deeply uncomfortable, but everyone should experience it.
At Woodland, I also realized I was dressed comparatively crappy. I suddenly wished I hadn't thrown on dirty tennis shoes and wrinkled pants. Everyone else, with their crop top sweaters and trendy jeans, looked like Instagram influencers.
Self-conscious as I was, I collected myself and ordered a drink. The bartender said they'd taken their signature Irish coffee off the menu, but nevertheless made me a legitimate masterpiece.
Of all the places I tried, Woodland had the only cold-but-not-frozen one. It was also the only Irish coffee with piled-high whip cream sprinkled with delicious espresso beans.
The drink itself could have been an Instagram influencer. And though I prefer a hot Irish coffee on cold days when I can't feel my feet, Woodland's Irish coffee was undeniably special.
I left with a good metaphoric slap in the face to acknowledge my privilege and a good whiskey buzz.
TL;DR: Great, cold Irish coffee.
Ryan's Daughter (Upper East Side)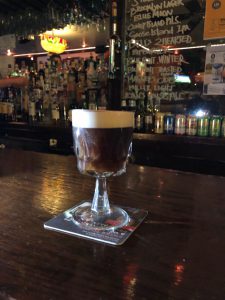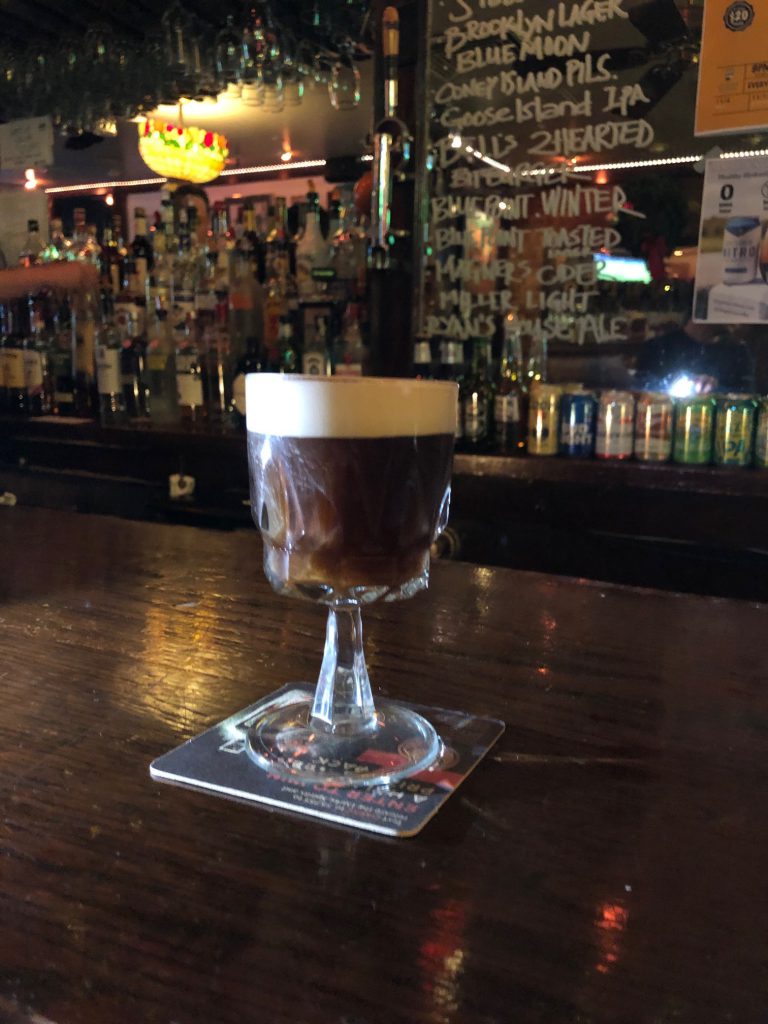 My friend Amos has lived on the Upper East Side his whole life, and when we walked into Ryan's Daughter, he immediately said, "Why haven't I been here before?"
The cavernous Irish bar is warm and inviting. And we soon found out the bartenders were, too. Plus, this is one of the only bars I've been to that offers FREE SNACKS. (Seriously, you just ask for a bag of chips and they… give them to you? This blows my New York mind.)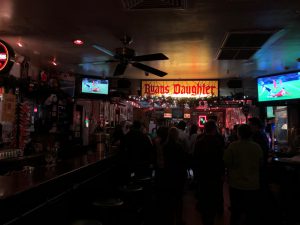 When we ordered our Irish coffees, the bartender took care to pour cream over the back of a long spoon so that the cream sits atop the dark whiskey and coffee mixture without diluting it, "just like they do in Ireland!" my Irish dad later told me. So, points for that.
While the Irish coffee at Ryan's Daughter wasn't particularly special, my afternoon with an old friend and fun bartenders was. We liked the atmosphere so much that we stayed to enjoy a second drink — this time, a beer. As we left, Amos told the bartenders he'd be back soon.
TL;DR: Fun place to hang, but I wouldn't consider the Irish coffee "iconic."  
Cleo at the Modrian (Midtown)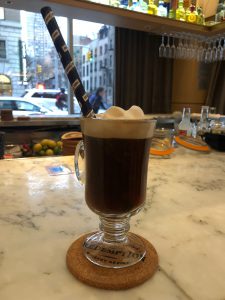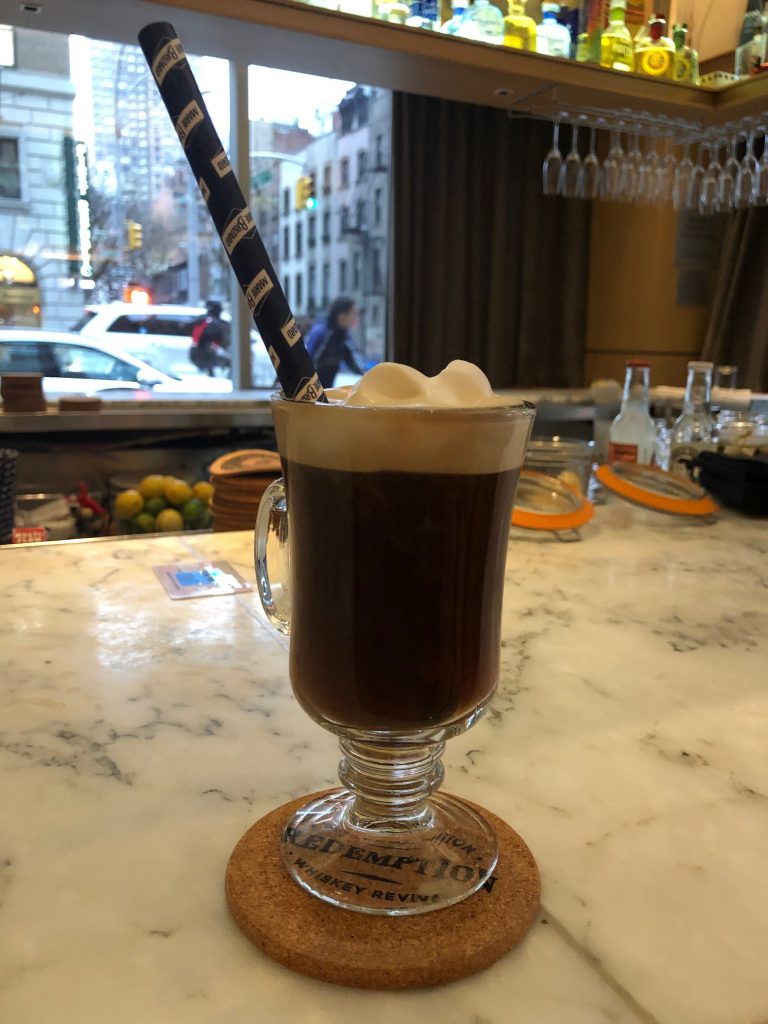 I'm a broke, pragmatic Brooklyn gal who'd never think to stop in a sleek, classy, overpriced hotel bar for a drink. But this particular hotel bar, Cleo, had made a list for its exceptional Irish coffee, so I gave it a whirl.
I sat down at the marble bar that looks onto Park Avenue South, and immediately felt fancy. There was big art over the windows, minimalist-but-warm furnishings, perfectly chill music, and everything seemed just so. Not a napkin out of place.
I asked the bartender for an Irish coffee, and he told me he was out of cream before trying to sell me on something else, like a coffee-flavored martini. I explained I was writing an article on Irish coffees and he rolled his eyes, then left for a long time. He returned with sugar, cream, and ostensibly a recipe he'd looked up on his phone.
Then he made an Irish coffee with so much Tullamore Dew it nearly knocked me off my chair.
I'm not saying I hated this $20 drink. It wasn't too sweet, and I liked the feeling of sitting at the swanky bar. But the bartender kept calling me "Princess" and I couldn't tell if he was annoyed at how wildly demanding I'd been (you know, asking for a specific drink so I could do my job), if he was flirtatiously teasing, or both.
In any case, the Irish coffee here is not special, but I didn't mind returning to my Brooklyn hovel with a belly full of whiskey on a Monday afternoon.
TL;DR: Will not return without a trust fund.
Passage (Astoria, Queens)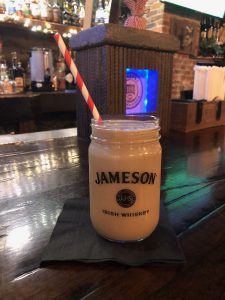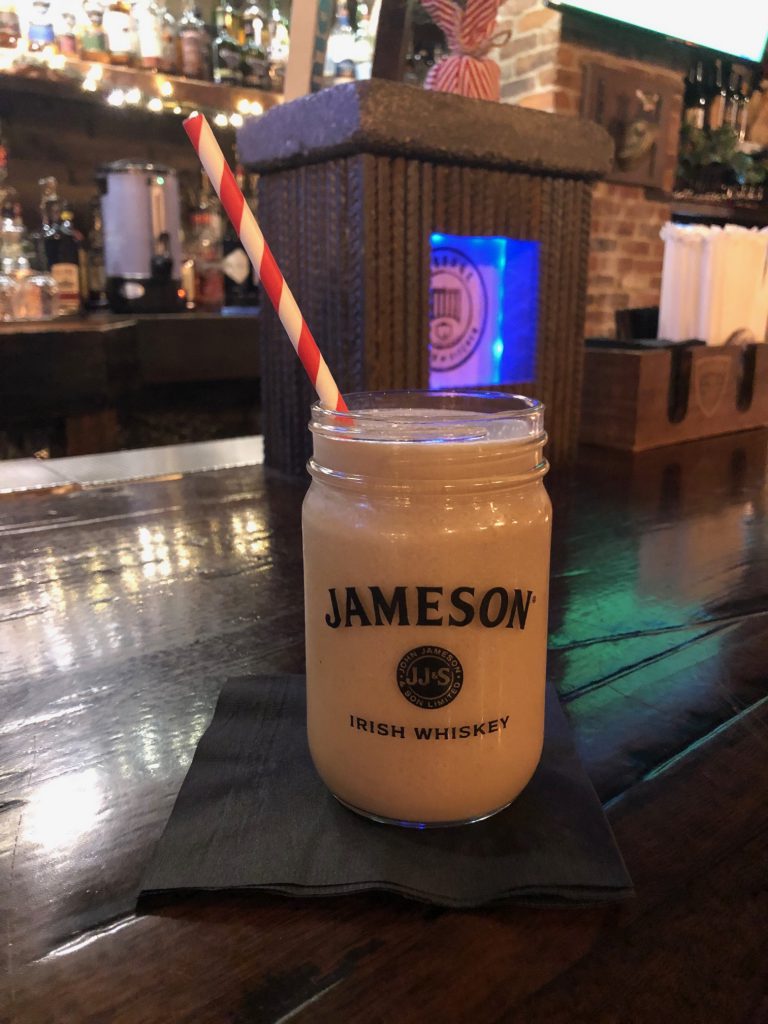 If we're talking Irish coffee, we have to talk about Queens, the borough filled with Irish immigrant neighborhoods. It would have been, like, unethical to ignore Astoria, Queens — a place that's home to more Irish bars than you can count. I went to the biggest one, Passage, on a Tuesday afternoon.
 AND! IT! WAS! GREAT!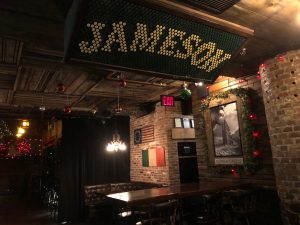 First of all, I love a big, empty, dark, wood-paneled bar. Passage is the kind of bar you could walk into at 2 PM and then suddenly realize it's 10 PM and how did that happen?! If it wasn't so dang far from where I live in Brooklyn, it'd be an ideal place to throw a casual birthday, though I'm sure it gets crazily crowded on the weekend.
Back to the praise. The bartender embodied what I love about Queens itself: the fast pace of Manhattan without the pretention. She was so friendly, and for just $10 she quickly served me their take on the Irish coffee: Frozen, in a Jameson jar, with a paper straw.
Carefully, I took a sip. Frozen drinks run the risk of being too sweet, so I was nervous. Not nervous like "Peleton Wife's eyebrows nervous," but, you know, slightly concerned. But it wasn't too sweet. It was creamy and icy and coffee-y, and I sucked it down. And then I got a brain freeze. And then the whiskey hit — ohhhh yeah, there's whiskey in this! — and I felt like Santa himself was giving me a really big hug.
TL;DR: Great frozen Irish coffee!
Fort Defiance (Red Hook, Brooklyn)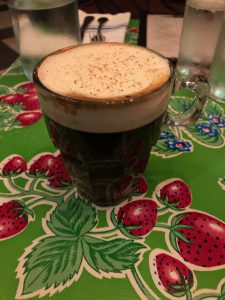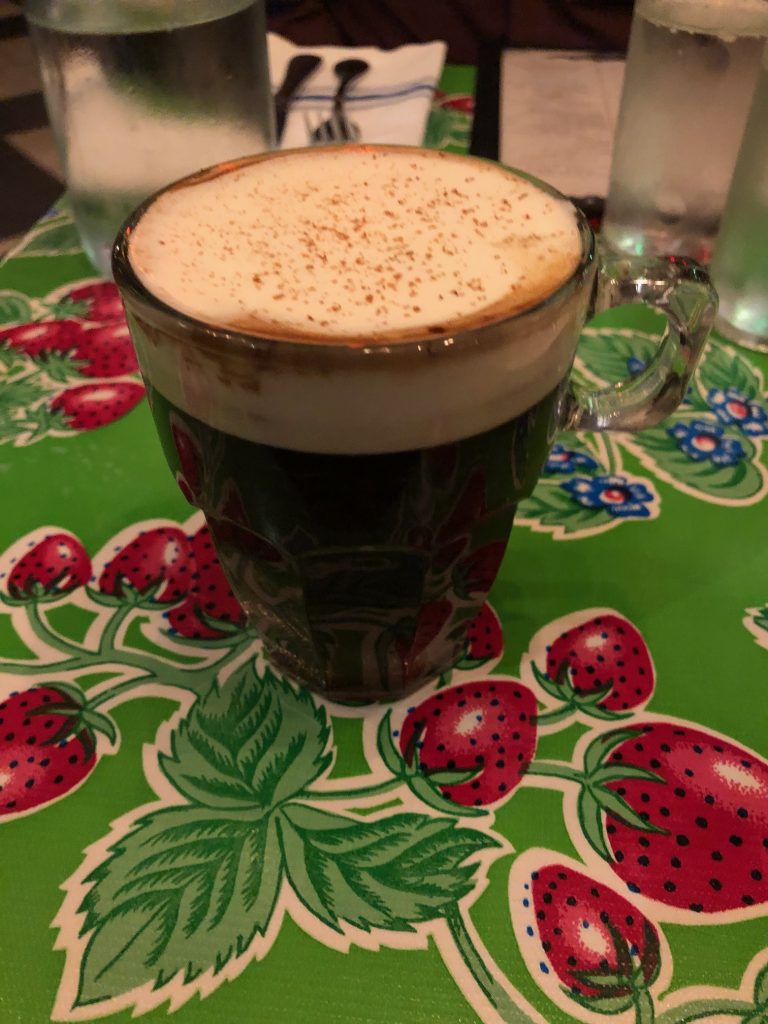 I'd been told by multiple people and the internet that Fort Defiance was a must-do. And I'd been there before. It's a small, unpretentious-but-stylish restaurant in my very own neighborhood of Red Hook, Brooklyn. But for the few times I've enjoyed brunch there, I'd never noticed the New York Times endorsement of the Irish coffee printed on the menu. My partner and I made a night of it and ordered Irish coffees, a burger, and a steak.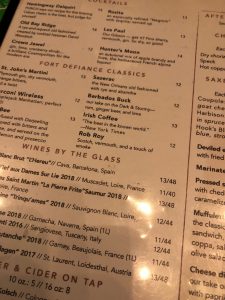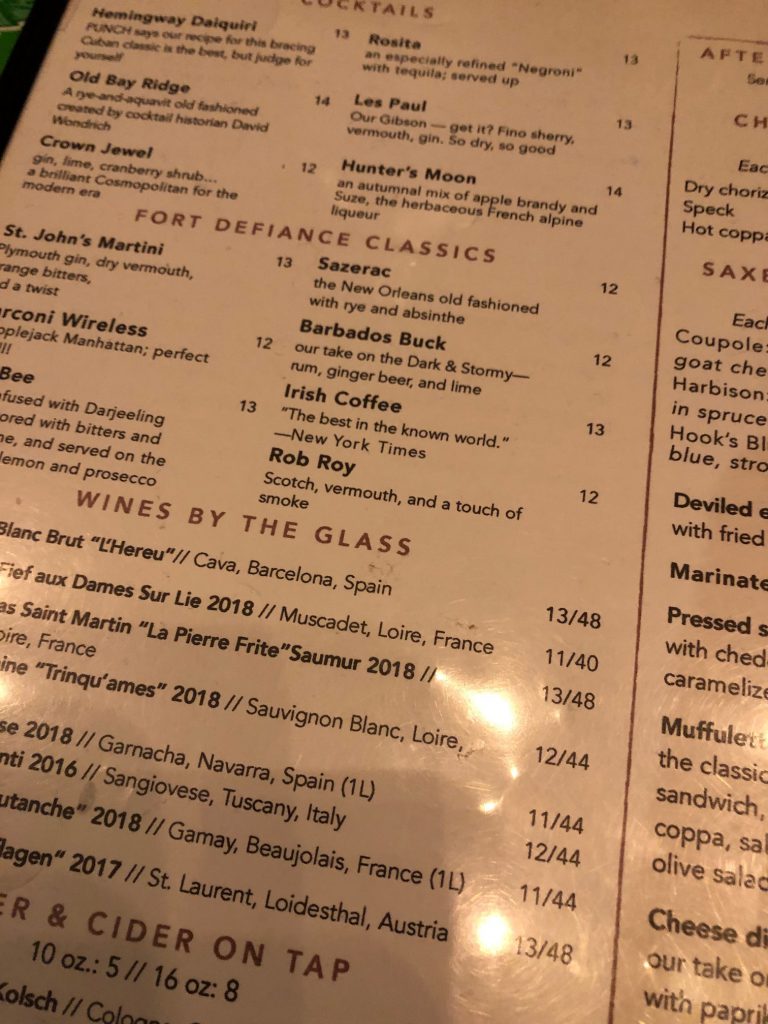 And it was all exceptional. When it came to the Irish coffee, in particular, the cold cream sat perfectly atop the hot coffee and was sprinkled with cinnamon. It was rich, but not overwhelming. The first sips are creamy and dessert-y, and the drink tastes boozier as you go. Fort Defiance, much like Dead Rabbit, has absolutely mastered this drink.
In addition, the waiter was kind. The burger was delicious. (I rarely eat meat, and was glad I did.) The restaurant had a lot of patrons but we'd managed to beat any significant Saturday night crowd by going at 6 PM. I found the black-and-white tile floor and bright tabletops trendy and comforting.
In the end — after pounding the New York pavement with many different friends — it just felt good to be back in Red Hook with my partner. As much as I loved being a tourist in my own city, I think everything tastes a little better at home.
TL;DR: A+++ Irish coffee
###